Are you planning for a warm, delightful, and appealing home makeover? You need to think creatively to introduce an amazing transformation. Today, you can come across many interesting and enticing rustic fall decor ideas that metamorphose the look and feel of your home. When you search for fall decorating ideas, you need to focus on every part of your home. Because people spend a lot of time around the fire, you can even find excellent rustic fall decor ideas for the fireplace.
No matter whether you are searching for fall decor ideas, such as a table cloth, a rustic fall centerpiece, a fall leaf tree, a pumpkin vase, a rustic mantel, porch decoration, bedroom decoration, or decoration ideas for any other space, you can come across many unique and innovative concepts nowadays. These ideas can be used to create an inimitable rustic charm during fall.
Life turns extremely busy for most people after the fund and relaxation during the summer. When you are busy with your activities, it can be stressful to find decorating ideas for fall. Fall decorating is certainly a detailed process, especially when you focus on the entire home. Don't worry about a whole lot of planning and work when it comes to decorating your home.
Here are 55 innovative, inspiring, and unique rustic fall decor ideas for indoor as well as outdoor spaces that help you make your home look stunningly beautiful. These simple ideas make use of easily available items that can be found at home. If you don't have these items at home, you can buy them online at highly affordable prices.
#1. mason jar with handle + white tealight candle + acorns
#2. glass candle holder + small pillar candle + sticks
#3. large branch + saw + large drill bit + tealight candles
#4. glass pillar candleholder + grapevine wreath + maple leaves + natural raffia + pillar candle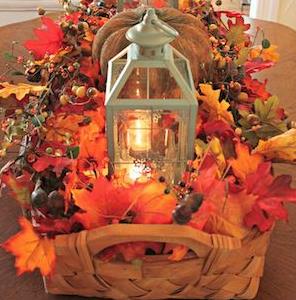 #11. Twine Tied Burlap Tablecloth
#12. burlap banner + stencils + black and red acrylic paint
#14. Pumpkin Pallet Sign
#20. Rustic Wagon Fall Porch Display
#21. Fall Harvest Wheelbarrow
#23. ladder + assorted pumpkins + fall leaf garland + fake crow
#29. Twigs & Fall Leaves Bucket
#33. Burlap Wreath from Just Call Me HomeGirl
#40. Acorn Wreath from Tried and True
#44. grapevine wreath + burlap ribbon + fake leaves + hot glue gun + wood letter
#46. Rustic Mantel from The Frugal Homemaker
#50. Pumpkin Vase from Pumpkin and A Princess
#52. cinnamon sticks + twine + vanilla pillar candle