We aren't exaggerating when we say that spring is the most colorful and beautiful season of the year. We all like enjoying the good spring weather, warm but at the same time fresh, it's not by chance that many people simply celebrate parties or start new projects as soon as the first flowers bloom. An idea to get off to a good start this season is to decorate the porch. The first thing that people will see when they approach will be some of the ideas that we give you to decorate your porch easily and with recycled and easily obtainable materials. So if you want to start spring on the right foot, read on!
1.Pots to display your house number
You need as many pots as the number of your house has digits. To capture the number, you can use stickers or paint the number by hand, in both ways it should be as easily visible as possible. You can use a smaller pot if you want to specify the word "No." Surely no one gets lost when looking for your home.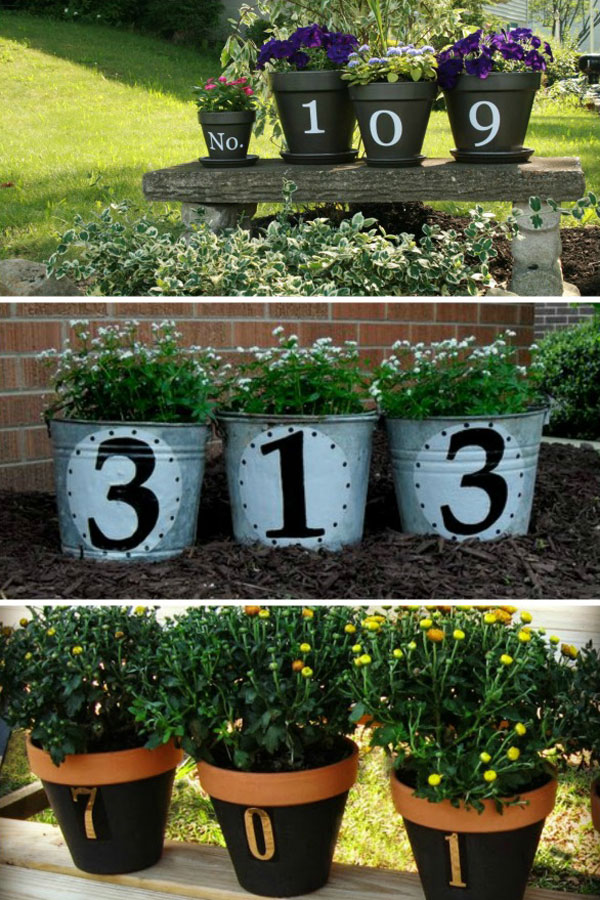 Check out the Tutorial: diyshowoff.com    mywonderfullymade.blogspot.co.uk    curbalertblog.com
Image via: positivelysplendid.com
2.Use an old pallet as a stepped planter
By placing a few boards on a used pallet you can give it new life by planting some plants for the porch there
Check out the Tutorial: aproverbs31wife.com
3.Use galvanized cans and group them on the sides of the entrance
Sometimes beauty comes from a grouping of not-so-beautiful objects, as in this case. A single can could even feel poor. Placing a small group gives an eco-friendly feel and gives the cans some placement.
Image via: littlefarmstead.blogspot.co.uk
4.Repurpose used cabinet drawers as window planters
By recycling and modeling some drawers from old cabinets you can take advantage of their decorations to hang them on the windows giving the impression of having drawers on the walls, in a good way. Another option is to use a shelf placed under the window on which to place the pots.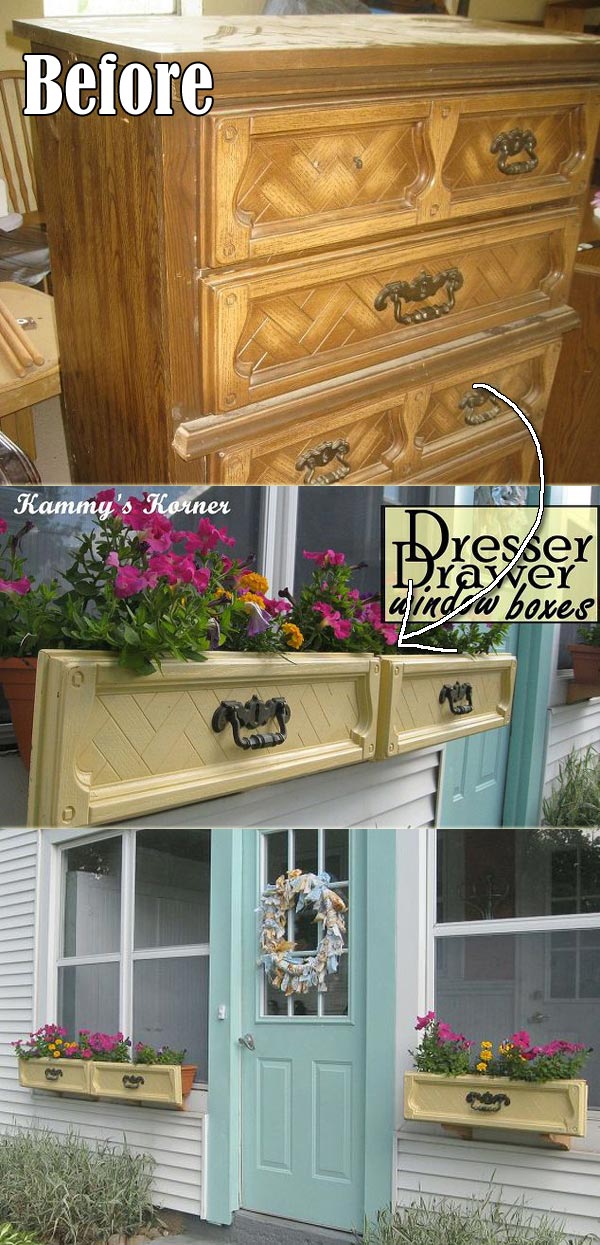 Check out the Tutorial: kammyskorner.com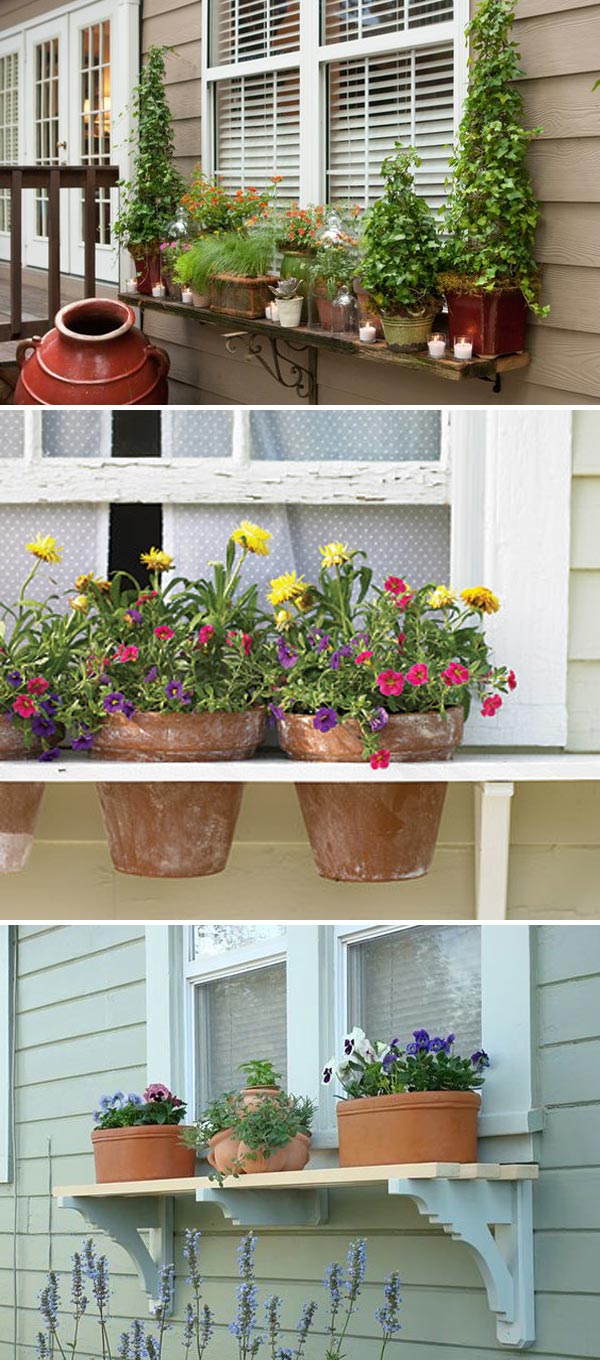 Source: southernliving.com & marthastewart.com
5.Pot with a combination of flowers, plants, and a nest with eggs
In the pots not only do the plants fit, if you place it strategically, you can also make good representations of nature by placing a nest with eggs surrounded by a variety of flowers and plants as if it were a still life.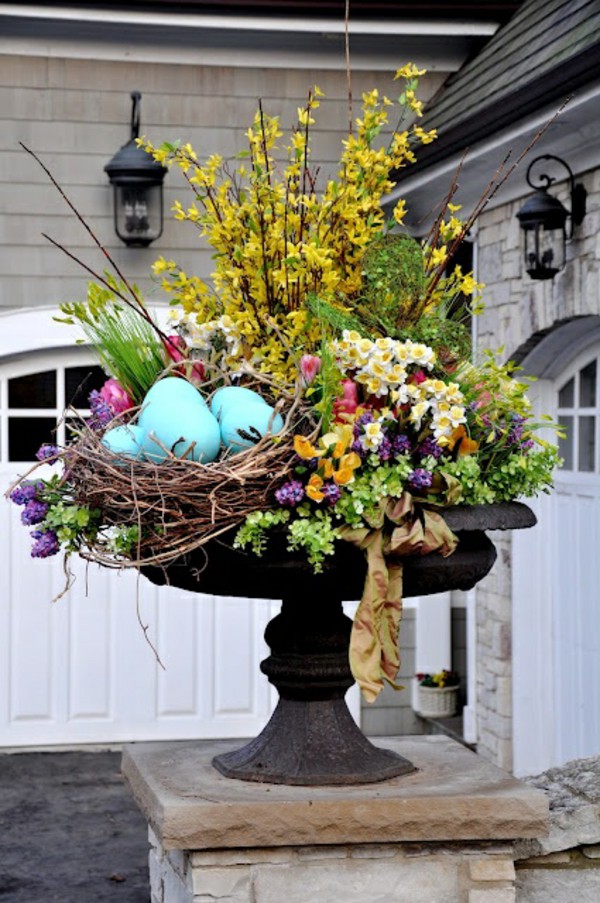 6.Use old rain boots as twin pots
Combining recycling, the natural beauty of plants and flowers, and the varied colors that the thousands of possible types of boots can offer not only a good decoration for the porch but a manual job for the little ones who want to help.
Image via: twelveoaksmanor.com  Check out the Tutorial: rosinahuber.blogspot.com
7.Planters with bare spirals stems sticking out of the plant
Although it is very difficult to obtain it naturally, you can always use artificial spiral filaments that emulate the stems of the plant coming upwards.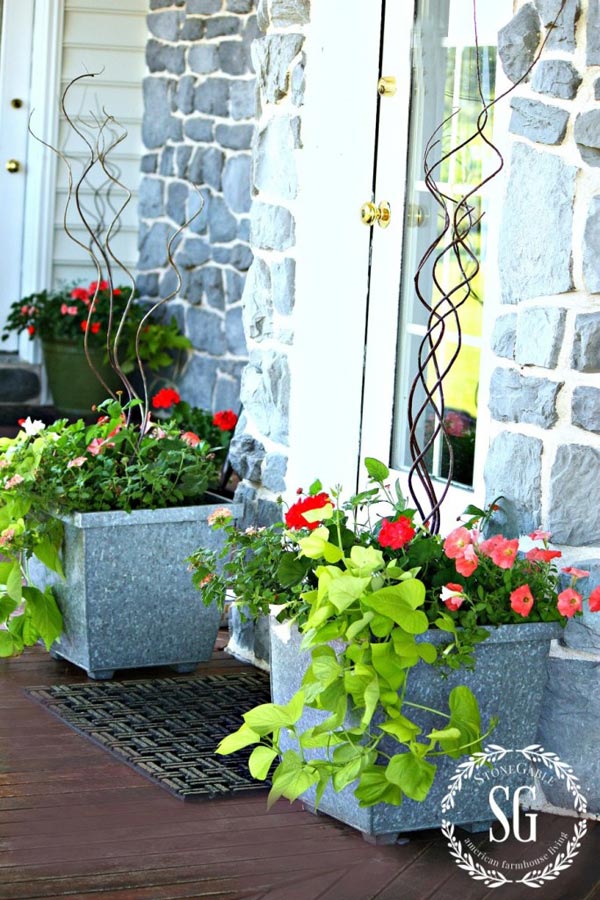 Image via: stonegableblog.com
8.Make a birdhouse with a decorative nest with eggs
At the same time that you give a home to your winged friends, you can use the DIY and natural aesthetics of a wooden house with the extra of the nest.
Check out the Tutorial: tuttiguardanolenuvole.blogspot.com
9.Create a giant pot with lots of flowers and color to turn heads
If your goal is to focus on a single point on the porch, this is the best option. The pot will also give a better impression if it's a lighter color than the more common clay brown.
10.Integrate an antique chair along with the pots
Unused wooden chairs can be placed to support other planters or be the vase itself. They tend to look better in the corners.
Source: evolutionlandscapeandnursery.com
11.Different containers, a flowerpot, tulips, and a basket of eggs
To receive visitors, you can place a pot and some flowers. Tulips in this case are a representation of spring, like eggs and Easter.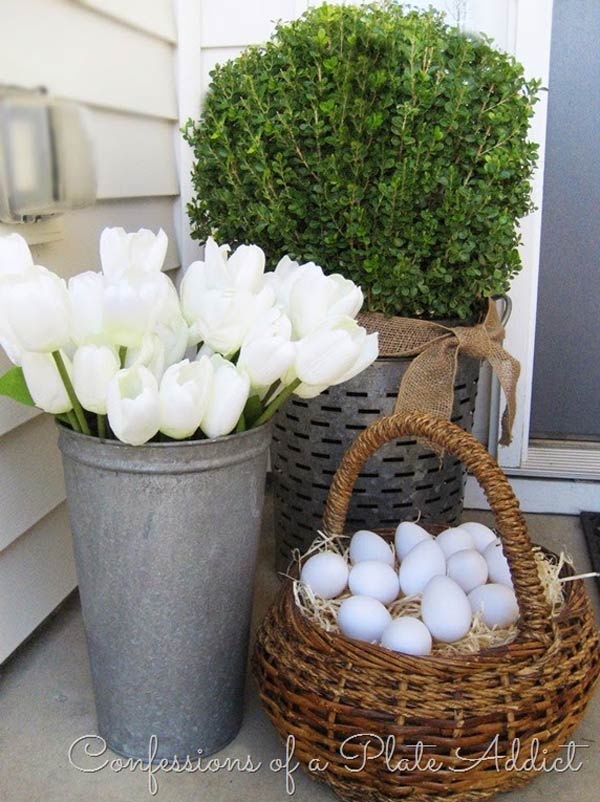 Image via: confessionsofaplateaddict.blogspot.com
12. Fence shaped welcome sign
The sign welcomes you to the porch while conveying the feeling of home you enter. The fence shape makes more reference to a rural space.
Image via: achievingcreativeorder.com
13. Using vintage window frame to grow plants in it
Using window frames to grow climbing plants, along with other decorations such as chairs and pots, improves the overall aesthetic.
Image via: debbie-debbiedoos.com
14. House number sign on grass background
With a little skill, you can make a small poster with the back using artificial grass, and on top of it the numbers, giving a great look to the sign.

Check out the Tutorial: abeautifulmess.com
15. Easter egg tree on pot-barrel
Using some dry branches planted on the middle of a barrel, we can hang Easter eggs making a kind of "spring tree"
16.Signs made from fences to welcome guests.
The space left by the wooden fences, as well as its ease of painting and writing messages on them, is a perfect way to welcome visitors in the best way.
17. Make a colorful hanging gutter planter
The contrasts normally formed between the colored flowerpots and the walls on which they are hung help to visualize them and enjoy their vegetation.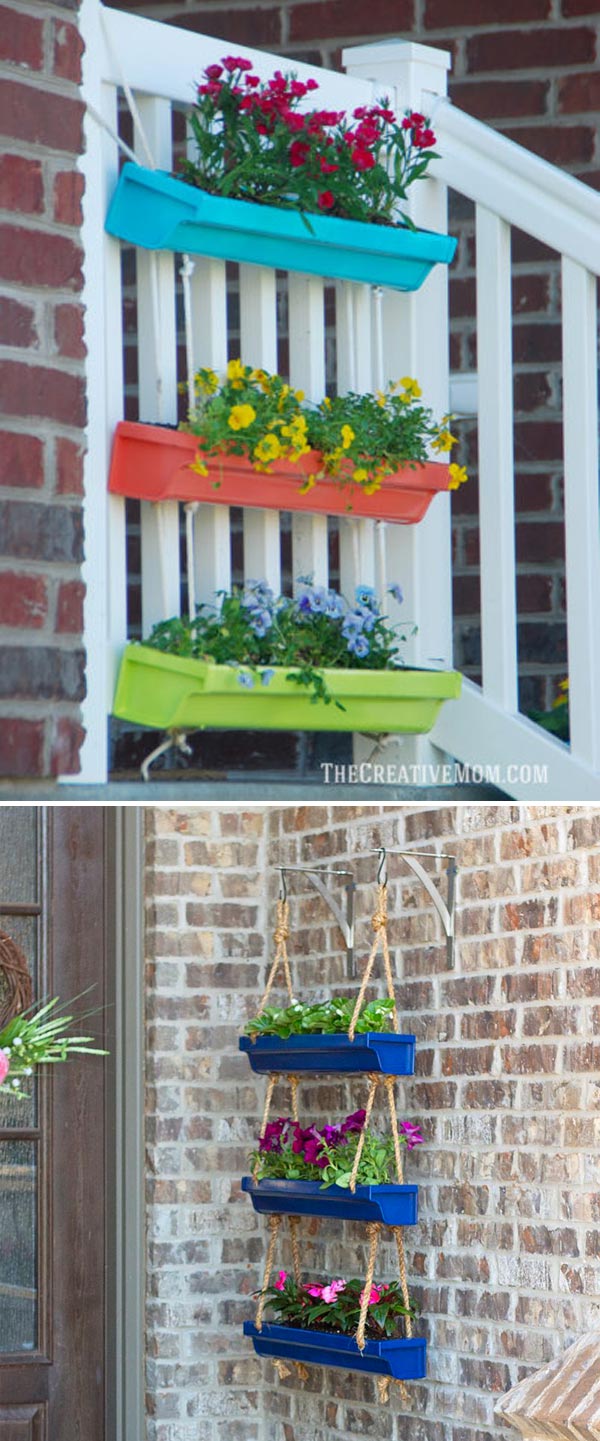 Check out the Tutorial: thecreativemom.com & makeit-loveit.com
18. Take advantage of chandeliers to make more sophisticated pots
A candle holder that isn't used or that is going to be thrown away is perfect for holding small pots and giving them a classic touch.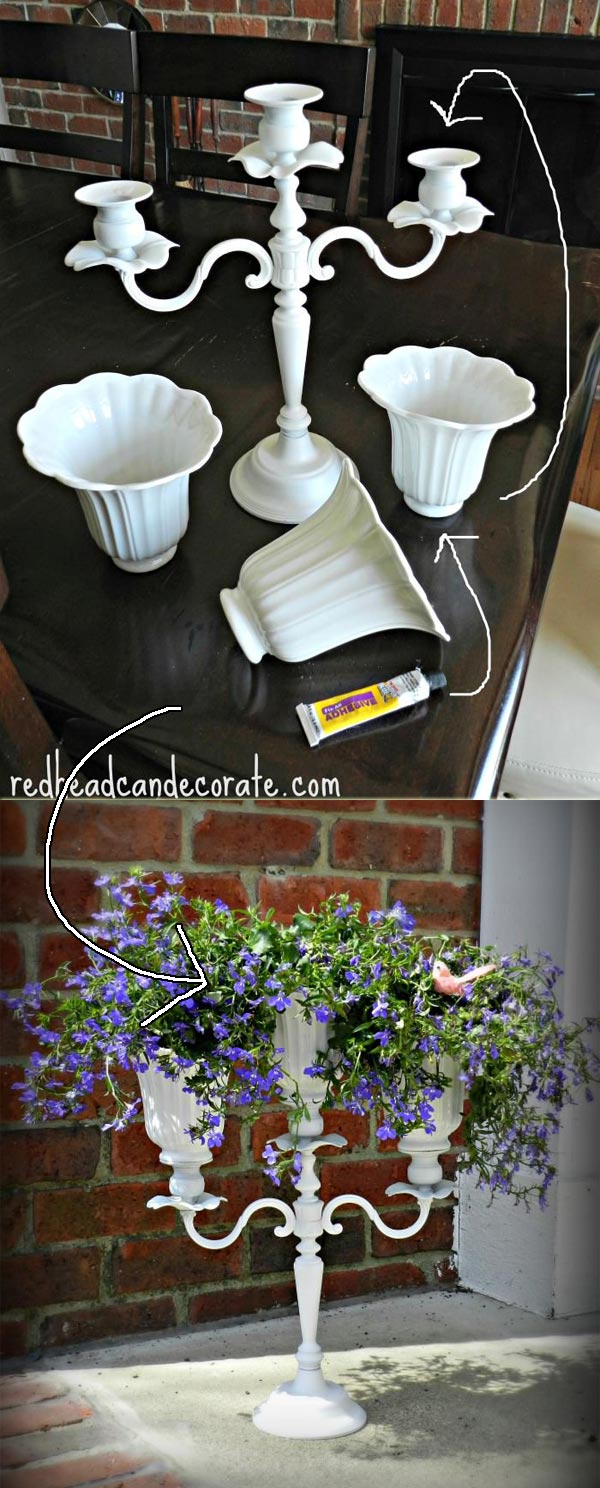 Check out the Tutorial: redheadcandecorate.com
19.Combine drawers and broken furniture legs to create custom planters
With enough skill in manual work of this type, you can take advantage of the usable pieces of used furniture and give them new life.
Check out the Tutorial: mylove2create.com
20.Use monograms as vertical gardens
You can create large letters for the entrance of your house, inside which vines and climbing plants can grow that give a lively tone to the decoration.

Check out the Tutorial: remodelaholic.com
21.Using a milk can as a flowerpot
Although they weigh more than an ordinary pot, it can be painted, allowing greater contrast with the store.
Check out the Tutorial: diywhyspendmore.blogspot.com
22.Using a horse trough
It allows the entry of many plants, in addition to obtaining more light and occupying a space that without horses really does not interest.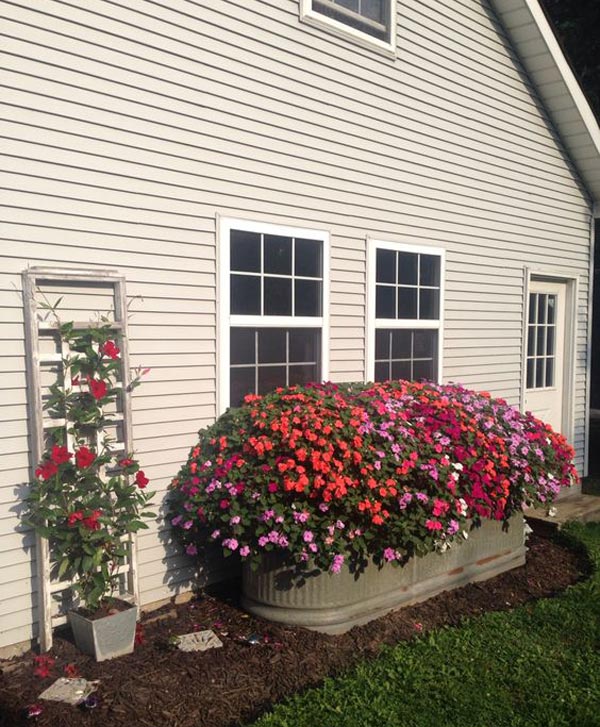 23. Address numbers post planter
If you don't want to put too much effort into embellishing your house number, it's as simple as drawing the numbers on a post right in front of the porsche and covering the post entrance with enough soil and vegetation
Image credit: shanty-2-chic.com    shanty-2-chic.com
24.Use wooden stars to hold glass pots
The center of the star can be used to hold these planters and literally put them in their center and increase their visibility.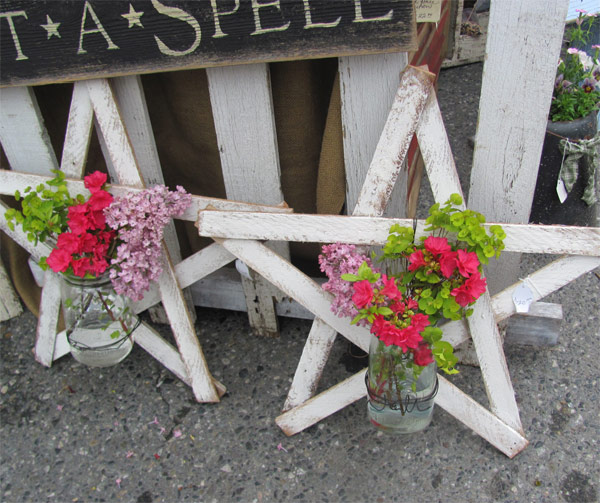 Image via: myshabbychateau.blogspot.com
25.Wooden pots with numerous fasteners to the fence
If the entrance to your porsche is covered by a fence, it's better for her to use these pots both as decorative and to give signs.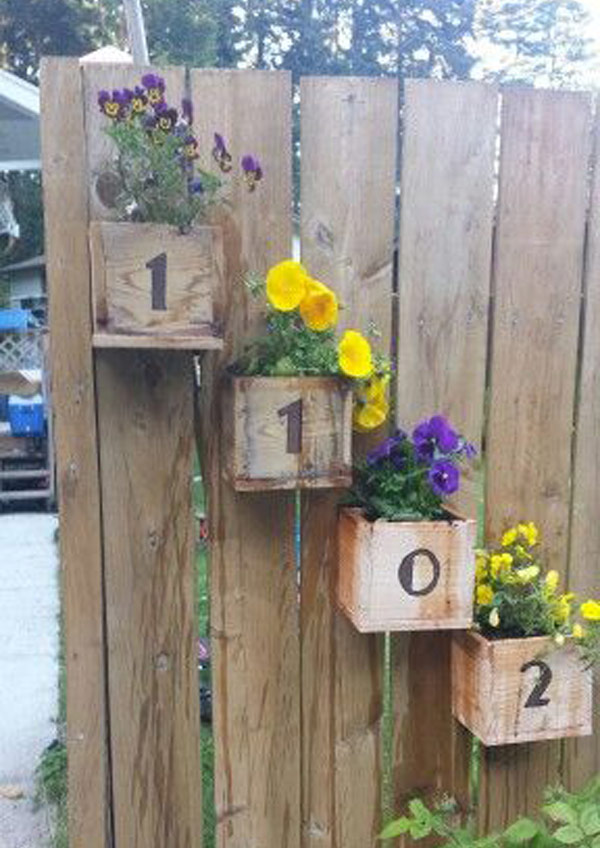 26.Collect sticks and branches to create a homemade ladder planter
You need that the bars are neither very broken nor very dry, in this way, it will be resistant to weight and with a little DIY it gives us a very homemade decoration.
Check out the Tutorial: ashbeedesign.com
27.Vertical wall planters with pots with interposed colored plants
Placing a vertical structure where to hang the pots, and alternating in the placement of the different types of plants, provides us with a good variety of patterns that we can make with the pots and their position.
Check out the Tutorial: cape27blog.com