Many people keep important records and mementos of their lives and their children's lives in a keepsake manual or a special memory box, but have you ever thought about keeping those treasured memories in a jar? The DIY memory jar is a superb way to store all your loving memories and keepsakes. The beauty of using a DIY memory jar is that you don't have to be particularly creative and you don't have to spend any money (unless you want to). You can just use an empty a jar you have at home (coffee, sweets, jam jar, etc). You can choose any size or shaped jar you like and you can jazz it up with paint, ribbons, glitter, or anything else you have to hand. Of course, you can leave the jar plain and let the inside speak for itself. Let's have a look at a DIY memory jar ideas ideas to get you started.
#1.
Fishing is a wonderful hobby for many and you can use your DIY jar to remember this. Simply add a few fishing-related memorabilia to your jar, together with your favorite photo. Don't forget to add details of when and where it was!  Above Image via: everydaydishes.com
#2.
Take a closer look at how to create your DIY memory jar. We've laid it out step by step for you below. Above Image via: acasadopedrinho.com
#3.
If you have an elegant jar, you could just fill it with your favorite photographs that start from your child as a baby right up until they grow up.  Above Tutorial: styleburb.blogspot.com
#4.
Why not create a vacation memory jar for each of your children? Half fill with sand and shells or pebbles and decorate the lid with a seashell. Finish it with a tag with their name on it (you can write the year and location on the back of the tag.  Above Image via: livinglocurto.com
#5.
Create a colored jar by coating the inside with olive oil to give a lovely sepia color. Add a black and white photograph and it looks stunning.  Above Tutorial: augandeverythingafter.blogspot.com
#6.
How about creating a solar light from your DIY memory jar? You can buy mason jar with solar light lid and they are relatively inexpensive. Just fill with your favorite memories and watch it light up at night.  Above Tutorial: gardentherapy.ca
#7.
A jar within a jar!! Create a DIY memory jar with a favorite family photo and team it up with a small phial filled with tiny shells or anything else that is relevant to you. Add a date and location and you will have endless hours of joy.   Above Tutorial: echoesoflaughter.ca
#8.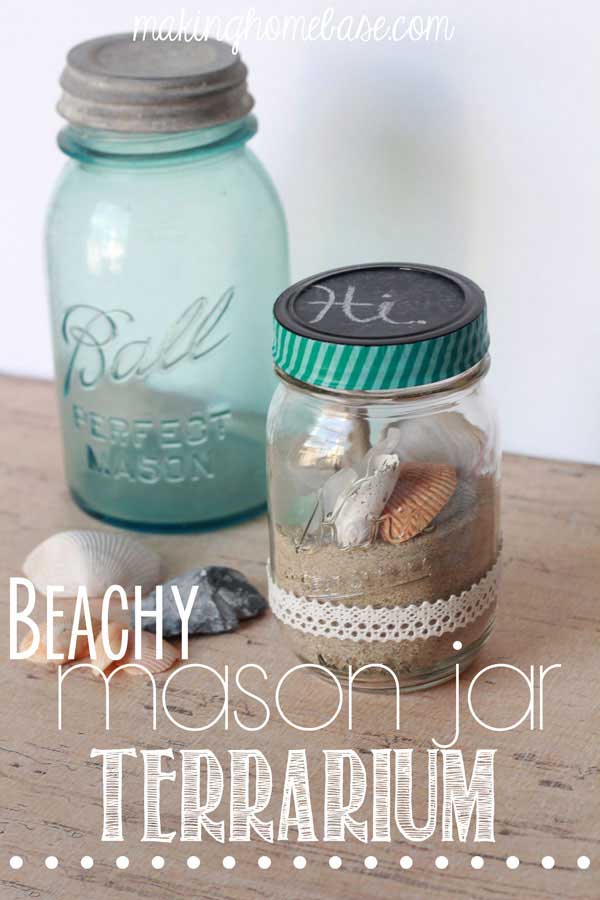 Create a miniature terrarium with this spectacular beach-inspired memory jar.  Above Tutorial: mom4real.com
#9.
You can add as many photographs as you want to create your favorite beach vacation. This lovely shaped sweetie jar is perfect. Heap the sand so you can embed the photos at different levels and complete it with shells.  Source Unknown.
#10.
I love this DIY memory jar ideas idea. Copy a favorite photo onto vellum and affix to the inside of a lidless jar using double-sided tape. Add a small tea light candle and watch it glow. Perfect!  Above Tutorial: ourbestbites.com
#11.
Tiny starfish make the backdrop to this creative DIY memory jar. You can team it up with other pebbles and shells as well.   Above Image via: urbancomfort.typepad.com
#12.
Don't forget to get creative with your memory jar. This stunning DIY memory jar ideas idea uses a variety of beach items, such as shells, small stones, feathers, etc. to make a beautiful memory.  Source Unknown.
#13.
Simply cut out your favorite beach picture of your child running and create the jar around it. It will bring it to life!  Above Tutorial: pagingfunmums.com
#14.
Celebrate your vacation or honeymoon by adding a picture of the two of you and anything you can find that reminds you of the location. If you have mementos, so much the better.   Above Tutorial: diaryofamadcrafter.wordpress.com
#15.
Different shaped or colored jars make super memory jars. You can fill with any vacation memories, whether that is from the beach, countryside or anywhere else!  Above Image via: marthastewart.com
#16.
Why not fill a dome-shaped glass jar with your child's favorite childhood toys.  Above Image via: thatssolittlerue.tumblr.com
#17.
Remember your wine tasting vacation by keeping the bottle corks in your memory jar. Add a tag and date and it's perfect.   Above Image via: marriedwithstyle.com
#18.
Create a beach mason jar terrarium. You don't need actual items from the beach if you don't have them – but you can use a variety or beach-related items.   Above Tutorial: thecountrychiccottage.net
#19.
This lovely lighthouse DIY memory jar ideas idea has the dates of your vacation painted on the small stones within. This is a lovely idea.   Above Tutorial: eventtrender.com
#20.
This square shaped glass jar is a beautiful DIY memory jar ideas idea. It is created with natural beach items and hessian. Teamed with your family photos makes it perfect.  Above Image via: fey-next2heaven.blogspot.com
#21.
Why not commemorate all your vacations in one memory jar? Just collect a handful of sand from each location as you visit and add to a jar. Don't forget to label it with the location and the year. A beautiful sand layered memory.  Above Image via: indulgy.com