If you think creatively, an outdoor kitchen offers numerous possibilities. Innovative farmhouse style outdoor kitchens also contain a space to dine al fresco. You can place many things, including an ice machine, fridge sink, stove, and dishwasher in a well-designed outdoor kitchen. Many people also add bar stools, dining areas, and lounges to these spaces to make them more functional.
You can prepare food while talking to the guests without confining yourself in the indoor kitchen. As guests arrive, you must keep your outdoor kitchen fully prepared. Here are 22 innovative and inspiring farmhouse style outdoor kitchens that can be created in your backyard:
#1. (Above) Homeowners can create a casual outdoor kitchen with a relaxed ambiance. Create a beautiful and relaxing lounge area using Gray Adirondack chairs. Guests can sit and relax as you demonstrate your cooking skills.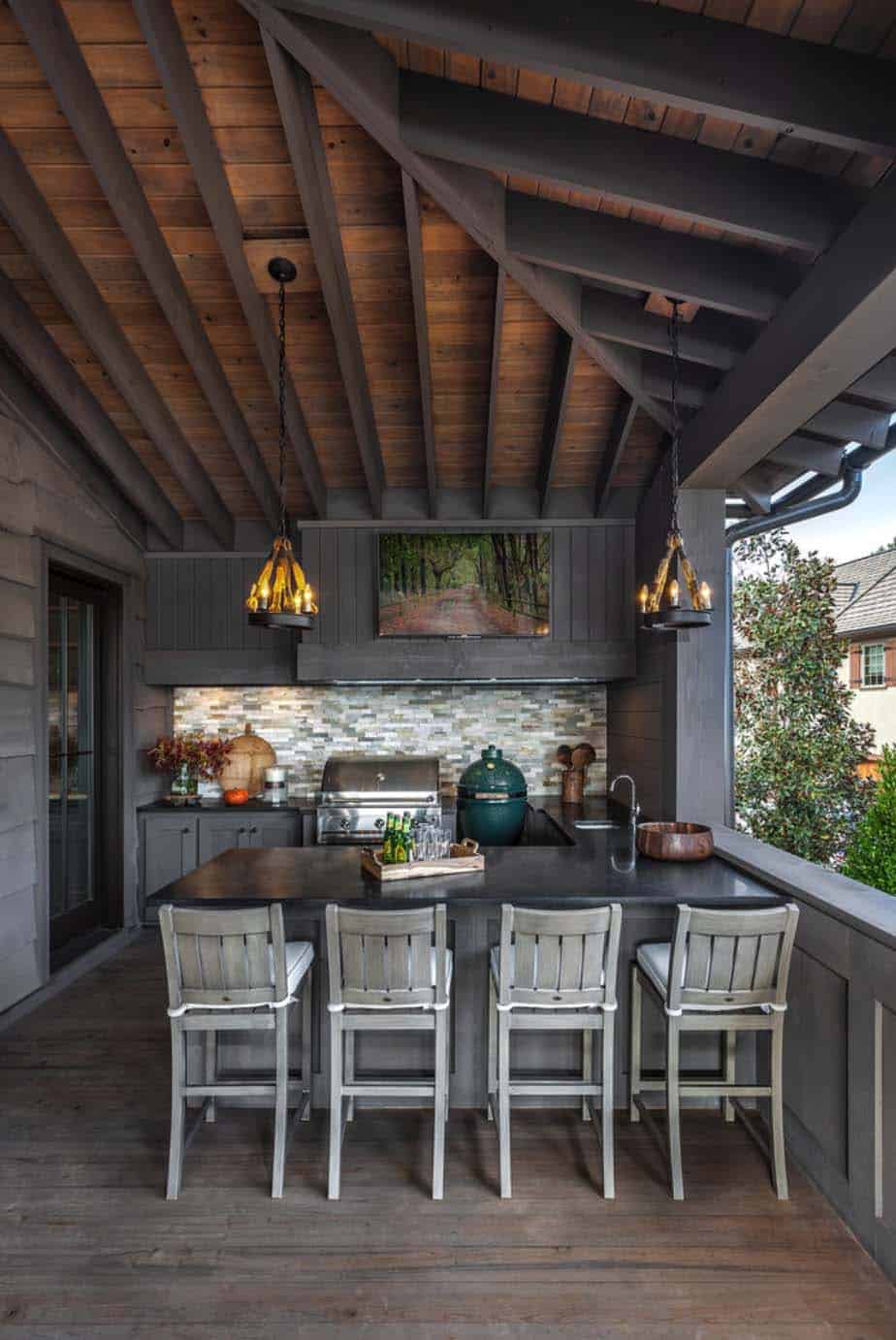 #2. (Above)You can create a highly functional outdoor kitchen using a farmhouse-covered porch. This type of kitchen is an ideal spot for entertainment. With a dishwasher, fridge, sink, grill, and BBQ, you can take the functional benefits to optimal levels. Focus on adding many storage spaces. Spacious countertops let you create casual seating using barstools.
via Wright Design
#3. (Above)With the help of Treslewood and Pickelwood, you can create a simple, yet appealing island kitchen at your home. Add a limestone countertop with sealing to get better protection against stains. Adding a broom finish, a light grey Davis Colors concrete flooring makes the space more inviting.
#4. (Above)An exceptional outdoor kitchen with nature as a background can be developed in an urban farm backyard. Be creative by welcoming guests with a chalkboard that displays the menu. Be inventive by using an attractive Wayfair dining table and chairs with bright yellow color. You can also use livestock water troughs containing plants to enhance the aesthetic appeal of your outdoor kitchen.
#5. (Above) A farmhouse porch can be converted into an attractive outdoor kitchen. You can use sliding barn doors to hide the kitchen when you don't use the space. To create a welcoming al fresco dining area, you can use a resin wicker dining table.
#6. (Above) An outdoor kitchen can be made on a farmhouse-covered porch. It meets your grilling and entertainment purposes perfectly. You can create a rustic feel with a barn wood bar with a granite countertop. These types of farmhouse style outdoor kitchens provide adequate storage area and countertops. You can also place a Big Green Egg ceramic grill, BBQ, and a sink comfortably.
#7. An innovative outdoor kitchen idea uses pebble tiles as a counter surface. It also comes with an integrated sink and grill. The cabinetry is covered by rustic wood to create a farmhouse ambiance. You can also add indoor bar stools from Tolix to enhance the aesthetic appeal and functionality of the area.
via: ilumus photography
#8. Many rustic barn-style homeowners create exceptional farmhouse style outdoor kitchens to meet their grilling and entertainment needs. The beautiful surroundings add to the overall charm of the kitchen admirably. With a clear focus on compactness, you can use stainless cabinetry to ensure adequate storage space.
#9. Another unique idea is to transform a covered outdoor porch into a beautiful outdoor kitchen with an integrated grilling station surrounded either side of a fireplace. A relaxation area for guests can be created using a television and lounge chairs as you cook food.
#10. An elegant outdoor kitchen is an inspiring idea that you can emulate. It comes with an in-built grill, a sink, and large countertops, along with a wood-fired pizza oven. The entire space can be illuminated using large industrial lamps.
via Joseph Farrell Architecture
#11. You can develop an appealing and functional outdoor kitchen in a wine country retreat. A rustic feel can be created using a stone façade for the kitchen island base. A wood-clad feature wall is also a good choice. This outdoor space can be made better with an integrated grill, sink, dishwasher, and fridge. It is also a smart idea to add a bar counter for casual dining using bar stools.
via Artistic Designs for Living
#12. You can make a simple yet compact and functional outdoor grilling station in your home. Offering clean lines, concrete counters make your kitchen incredibly appealing. You can cook and serve tasteful food with the help of a Big Green Egg ceramic grill.
#13. You can come across many farmhouse style outdoor kitchens that make use of red-painted wood and corrugated metal. Featuring under-counter storage, a spacious countertop, a sink, and a grilling station, they create an instant appeal. You can also add signage to make the space more inviting.
#14. Some creative farmhouse style outdoor kitchens make use of corrugated metal and wood to make the covered space. The swings add a special charm to these spaces. You can easily impress your guests with this creative idea.
#15. You can make a stunningly beautiful outdoor kitchen using a lounging area and spacious wall. A porch swing can be added to make the space more inviting.
via Superior Custom Homes & Remodeling
#16. Stone cladding can be used to make a stylish farmhouse-style covered outdoor kitchen. This type of space also contains dual integrated BBQs. You can also add a pleasant dining space and inspiring landscaping to enhance the overall ambiance.
via Structure Works Construction
#17. Another impressive idea is to create an outdoor kitchen that has been equipped with BBQs, cooktops, a wood-burning oven, and outdoor TV. A shelter can be provided using a wood-beam overhang. It is also a good idea to add an egg ceramic grill.
#18. With an integrated BBQ and concrete counters, you can design a built-in stucco kitchen island. S casual dining area can be developed using a picnic table. To make a welcoming area for an afternoon siesta, you can use a hammock.
#19. Many people love to create modern farmhouse style outdoor kitchens where a grill and a pizza oven have been integrated into the rear façade. To define the area, you can use a casual patio space of pea gravel. These types of kitchens also come with an outdoor dining table with an umbrella to deliver the best protection against the harsh elements of nature.
#21. With wooden rafters and elevated ceilings, you can make a beautiful outdoor farmhouse kitchen. It comes fully equipped with sufficient counter space and a proper storage area. You can also add a TV and a dining table with metal chairs to enhance the overall farmhouse vibe of the area.
via Eaton Designs
#22. Another remarkable idea is a pergola-covered outdoor kitchen. It is loaded with a wide range of things, including a fireplace, warming drawers, a sink, a pizza oven, and a stove. Sturgis Materials' Cottonwood Limestone can be used as the countertop material. You can use Western Red Cedar to custom fabric the dining table.