Not knowing where to store those fresh produce that don't need a fridge has given us all headaches. We often put them stacked in a fruit bowl, or in a box, but sometimes we lack storage space for all the products.
That's why in this article we bring you 17 easy ideas to do yourself. You will only need some old materials, a couple of tools and the desire to build new spaces in your kitchen to have it organized to your liking.
1. Convert some of your kitchen drawers into well-ventilated hinged doors to reach products quickly and comfortably.
via: kitchendesigns.com
2. For a rustic-looking piece of furniture, you can use an old blanket rack. Just paint it and arrange some boxes made of wire as if they were displayed at a farmhouse stand.
Instructions: redoityourselfinspirations.blogspot.com
3. Above the countertop, against the wall, you can put a rod to hang tools. On it you can hang some wire trays where you can store the products that you need to have on hand.
via: thekitchn.com
4. You can create a small corner cabinet for your countertop. It can be more or less the same height, with a similar color and create some ventilated drawers to put the different produce.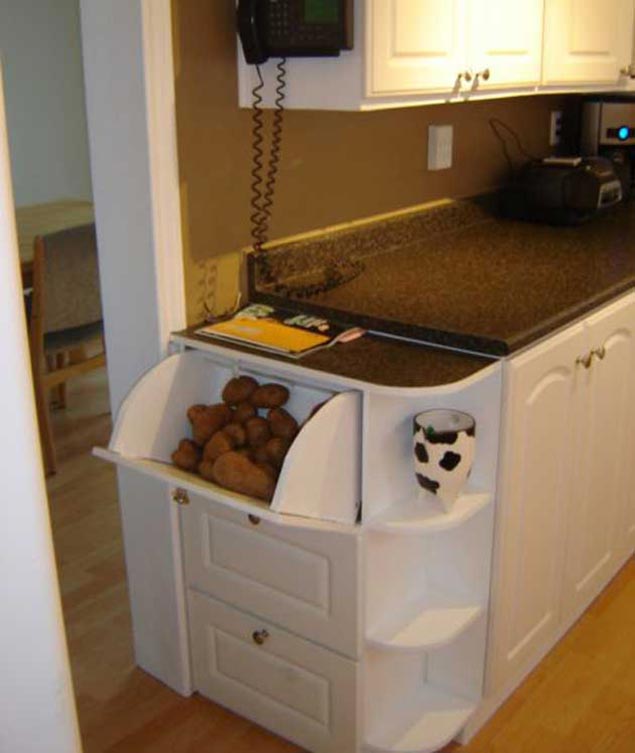 5. If you have an old piece of wood and some baskets that you no longer use, you can use them to hang on the wall and make a hanging shelf.
via: facebook.com
6. Where there should be the doors of the drawers or kitchen cabinets, you can put some wooden boxes. It will be comfortable to use in addition to giving a rustic look to your kitchen.
via: apartmenttherapy.com
8. If you have a lot of wood and fruit boxes available, you can create your own kitchen island with all the spaces for fruit and vegetables you want. You won't even need to buy a structure, you can do it all by yourself!
instructions: mylove2create.com
9. For an inexpensive and less rustic solution, you can use wire baskets directly hung on the wall. The same ones that are used to organize folders in the office will work.
via: instagram.com  &  livejournal.com
10. You can create your own shelf with multiple retractable trays. Also, if you add four wheels it will serve as a cart for the kitchen!
via: fordiyers.com
12. With some old cutting boards you can make retractable drawers for your cabinets. Cut out a rectangle inside and place a wicker basket or similar in it.
13. You can also choose to change the normal drawers for ventilated drawers made of stainless steel, wire or other materials.
14. You can make your own woven or wicker baskets and place them between two vertical supports. It will look like a farm market, and will give your kitchen a very personal look.
15. With some wooden blocks and some fruit boxes, you can make your own stackable fruit and vegetable boxes.
instructions: thewoodgraincottage.com
16. If you have a ladder that you hardly use anymore, you can lean it against the wall and hang some baskets on it at different levels.
via: instagram.com
17. Or between two vertical supports you can hang classic wooden boxes of fruits and vegetables. If you place them diagonally, it will give a rustic and unique look.
via: kj.com    and   littlepieceofme.com
If you don't know where to store your fruits and vegetables, we hope these creative DIY ideas convince you. You will only need to have the materials and be eager to give your kitchen your personal touch.