The kitchen is the chief candidate for defining the entirety of your home within a single space. It's the place that captivates guests and nourishes residents, and it's through the things that come from the kitchen where bonds are both strengthened and formed. It's time to appreciate the kitchen for all of the great things it does, and there's no better way to show appreciation to your home than by letting it express its character through some eye-catching visual upgrades. No more neglect.
"But," you object, "I am not a fountain of cash."
While this is a relatable situation, we're sorry to say that it's no longer an excuse. Enter reclaimed wood, the cheap (and often free) material from the heavens. With these decor projects, a beautiful reclaimed wood kitchen provides you with jaw-dropping changes while saving this valuable material from the landfills. Take a look at these great ideas to easily and affordably fix a dull and lifeless kitchen:
1. A Decorative Wooden Support Beam – Straightforward to make with a result that's rustic and utterly charming.
2. Striped Kitchen Ventilator – With reclaimed wood, you don't need to settle for a box of metal hanging from your ceiling.
3. Create a Distressed "Bakery" Sign – Let your guests know where to go for the best homemade cupcakes and warm, oven-baked croissants.  Tutorial: hometalk.com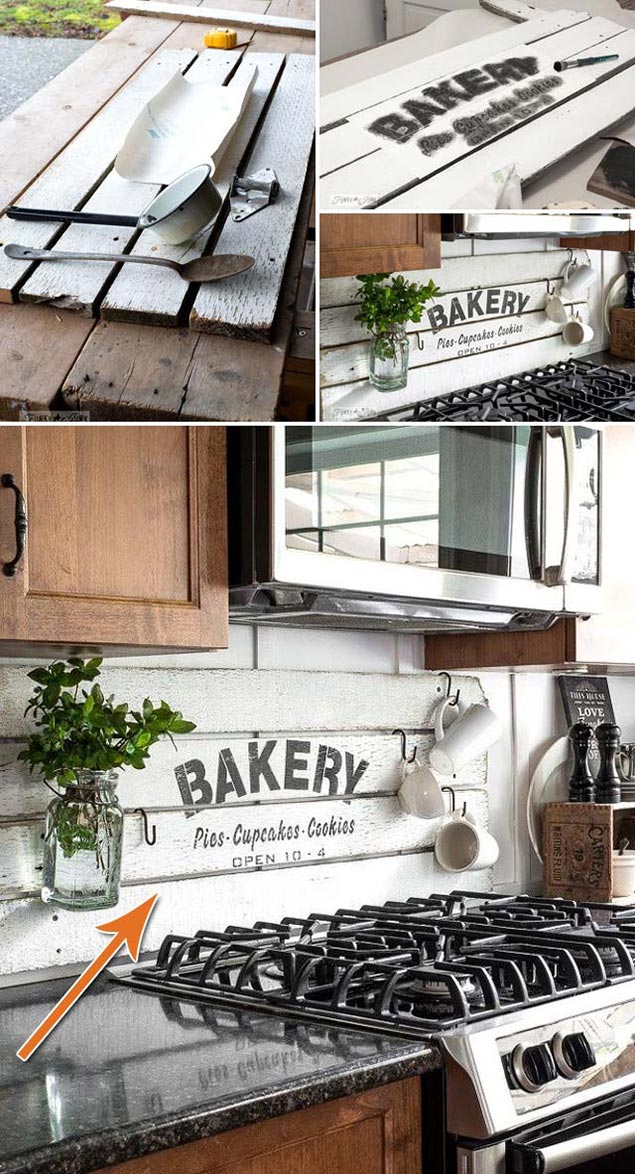 4. Reclaimed Wood Kitchen Tray – A practical and aesthetic means of tidying-up your kitchen counter.  image via: huisentuinliefde.nl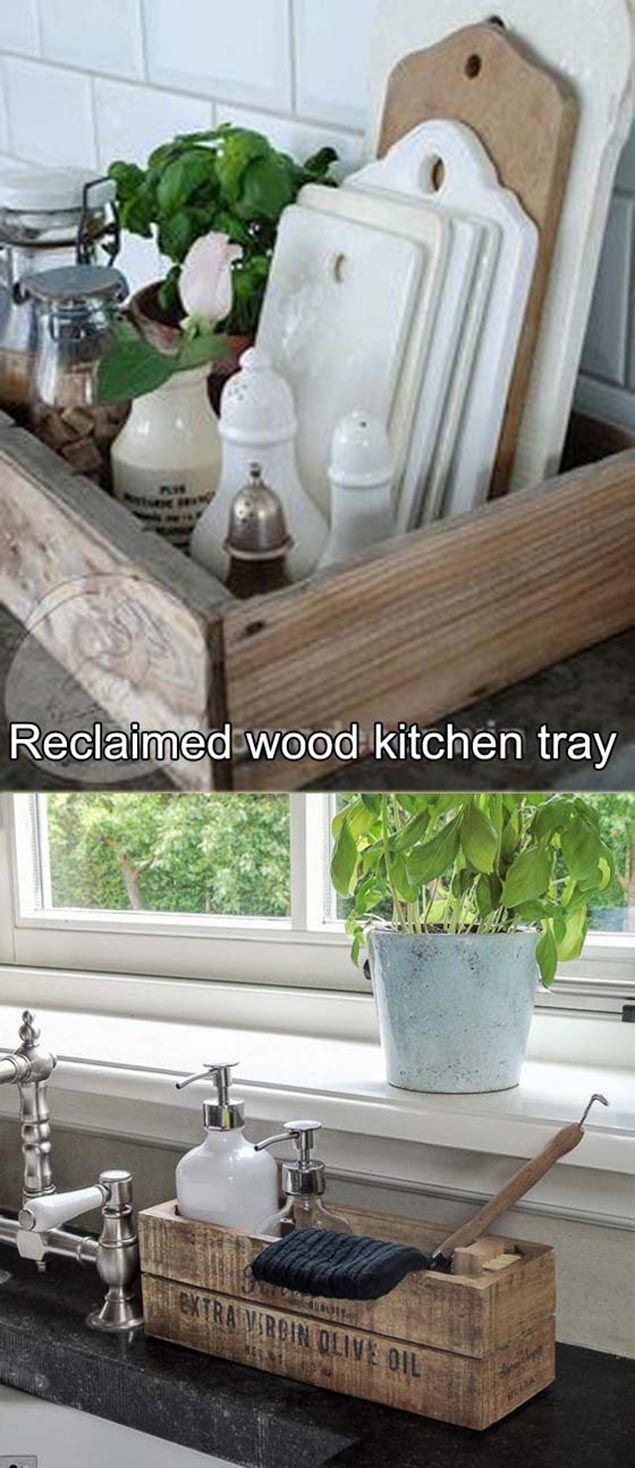 5. Faux Wooden Beams – An easy way to give your kitchen a classical or transitional theme. Compliments many styles. Tutorial: jennasuedesign.com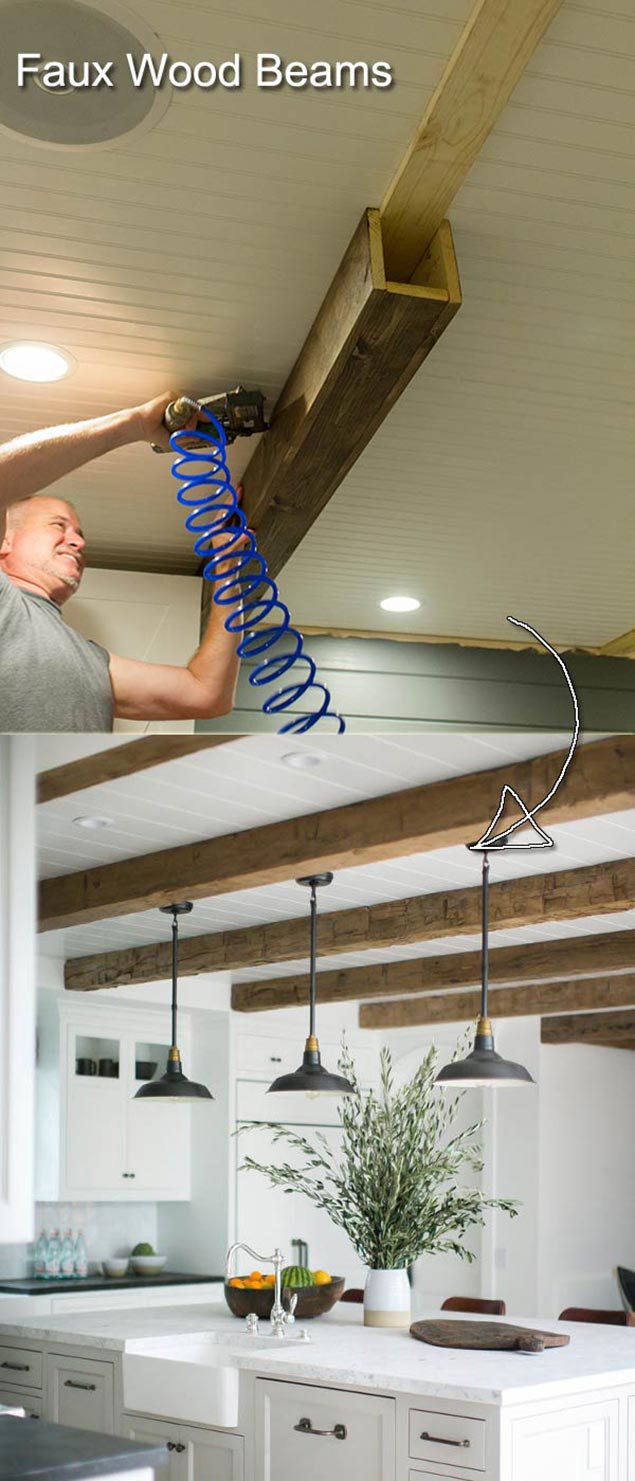 6. Reclaimed Wood Shelves – Create effective storage with the help of metal brackets. image via: ourvintagehomelove.blogspot.com
7. An Oak "Waterfall" – With appropriate placement of boards, you can emulate the comforting sensation of dining beneath a waterfall. Sounds like a fantasy, right?  image via: houzz.com
8. Make a Sign with Giant Decal Letters – E, A, and T are appropriate letters for what typically goes down in a dining area. Tutorial: sweetpickinsfurniture.com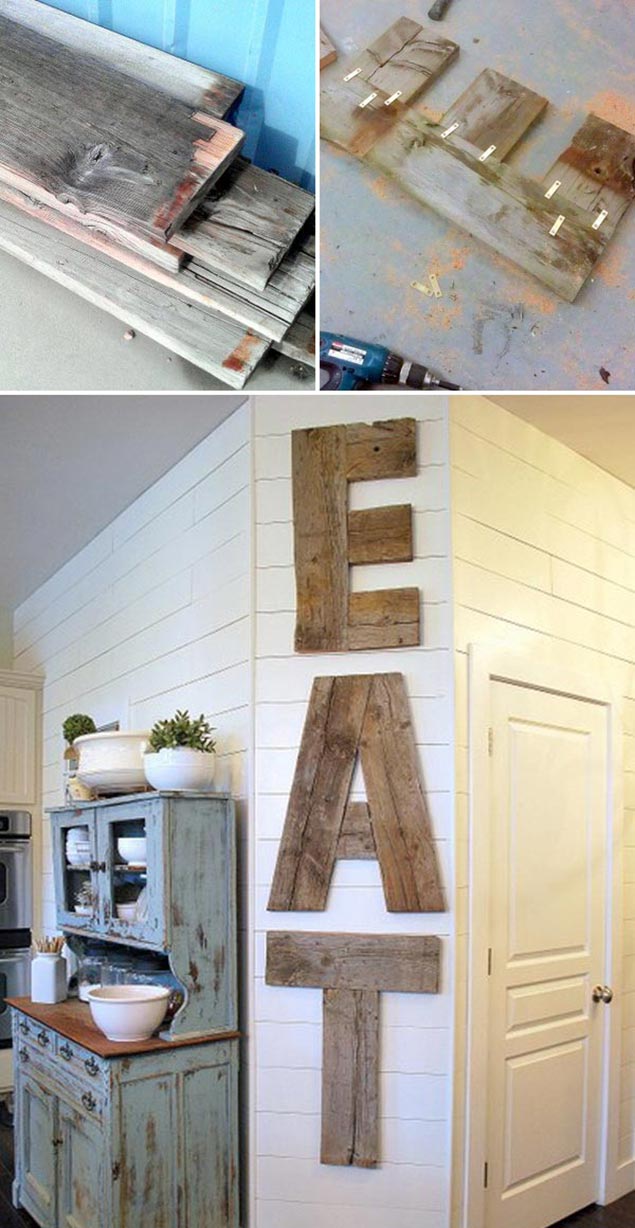 9. Kitchen Island Clad with a Diagonal, Wooden Pattern – Some reclaimed wood and a chop saw set at an angle create this intriguing effect.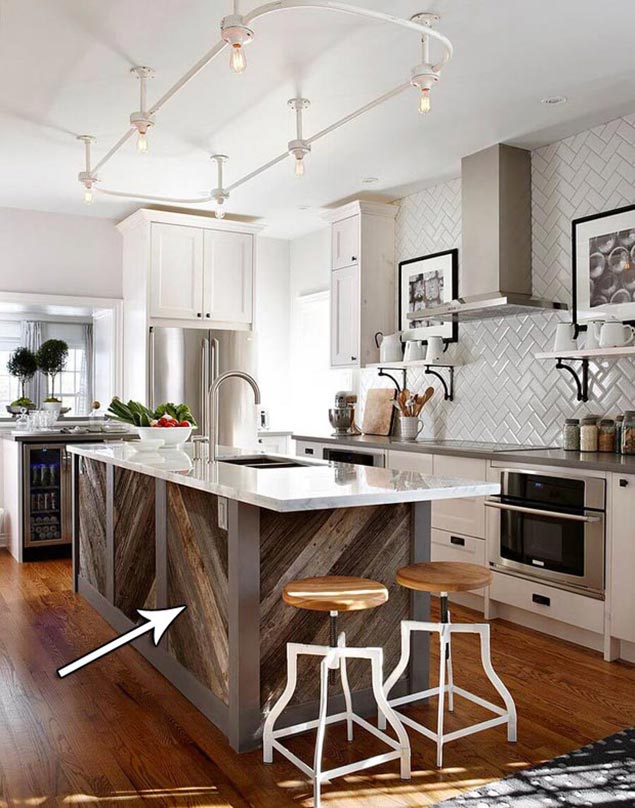 image via: houzz.com

Tutorial: remodelaholic.com
10. Hanging Rack for Pots and Pans – Did you know a pallet jack can provide easy access to your cookware? Plus, it gives your kitchen a rugged, "git-r-done with some good home cooking" type of attitude.
11. Add Some Splash – What can't be done with reclaimed wood? Not creating a gorgeous backsplash for a fraction of the cost of ceramic tile. image via: houzz.com
12. Kitchen Island Made with Wooden Pallets – Inspired by step 9 but don't have an island? Make your kitchen proper by building an island from scratch with nothing more than these common materials.
13. Mason Jar Chandelier – Using plenty of super-duty glue, you can create a perfect base for an illuminating dining experience.
14. Reclaimed Wood Vent Hood – This simple accent makes a world of difference in giving your kitchen some extra countrified character.
15. Give Your Ceiling Some Much-Needed Character – White walls, white counters, white ceiling… (Yawns). How about a dynamically textured reclaimed wood ceiling in your kitchen instead? Ceilings don't have to be boring.