Ducks are renowned for their large eggs and tasteful meat. If you raise your own ducks, you will get eggs and meat without buying them at higher prices from stores. You need to build a solid duck coop or house to raise them healthy. The key is to create innovative, functional, and creative duck pens that offer the best protection.
When you offer them a good house and take care of their health properly, ducks grow fast and keep laying large eggs. It is always advisable to discover the best DIY duck house plans or ideas that suit your needs and circumstances. Here are some simple, easy-to-build, and creative DIY duck coop plans that you can follow to meet your requirements perfectly:
1. Remodeled Doll House Plans
An old dollhouse can be repurposed to make a duck house. With a few wooden repairs, touch-ups, and finishing strokes, you can remodel a dollhouse into a beautiful duck coop.
2. Cob Duck Coop Plans
You can create a small cob duck pen using lumps of earth mixed with water, straw, and sand. It is an extremely simple plan that makes use of only sustainable materials. You don't need to use any special equipment for this project.
via: diynatural.com
3. Barn Duck Pen Plans
If you plan to make a large coop for ducks, you can follow barn duck pen plans. This type of netted enclosed barn duck house contains multiple levels that are merged into one large coop.
via: backyardchickens.com
4. Round Top Duck House Plans
A perfect blend of a rustic feel and modern look can be associated with these DIY Duck House plans or ideas. You need to use a metal sheet to create a round roof. Offering a small running space outside the roofed area, these coops provide enough space for the ducks to move around.
Tutorial: roostandroot.com
5. Ark Duck House Ideas
An ark duck house comes with a triangular shape. It follows a simple A-Frame construction technique and keeps the birds extremely comfortable with proper air circulation.
Tutorial: smithssectionalbuildings.co.uk
6. Country Duck Coop Plans
Offering a marvelous cabin feel, these coop plans come with large windows. These spacious duck houses let birds fly and roam around freely.
7. Simple English Duck House Plans
These coops offer a comfortable and functional space for ducks. You can make them more appealing by adding a splash of color. Based on your creativity, you can modify them in many different ways.
via: flickr.com
8. Hotel Duck Coop Plans
Seeking inspiration from an old western hotel concept, these plans make use of detailed designs to make beautiful duck houses. Hotel duck coop plans let you add a little character to a normal coop.
Tutorial: backyardchickens.com
9. A-Frame Duck Pen Plans
The A-frame duck house plans or ideas are traditional but trendy even today. You can use repurposed wood, glass, metal, and paint to redesign these pens creatively. With proper ventilation and a vaulted ceiling, you can ensure smooth air circulation and extra space to move around for ducks.
Tutorial: diydiva.net
10. Poolside Duck Coop Plans
These simple designs consist of a four-way slanting roof and a cubic room. With a private pool attached inside the enclosure, a slightly raised duck coop lets ducks wade in freely.
11. Tiny Duck House Plans
Equipped with stylish Plexiglass windows across the coop top, these duck houses allow the sunlight to reach inside and create a modern feel. The inside area of this duck pen looks really cozy. The barn door can be made using old wooden pallets to add a vintage vibe.
12. Gingerbread Duck Pen Plans
With a country cottage look, this Gingerbread duck pen can be made using some simple tools. You can use some basic cuts of wood to build this tiny yet comfortable duck house. It comes with a small ramp with beautiful railings on both sides.
13. Floating Duck Coop Plans
All homeowners who have a pond in their properties can build appealing floating duck coops. If you use sturdy wood, you can make the coop float freely. It can be anchored in one place as well.
via:  beckynaylor.co.uk
14. Wooden Pallet Duck Pen Plans
You can use wooden pallets to construct a wooden pallet deck house. These DIY duck house plans or ideas help you build highly durable and sturdy coops with a rustic underground shack look. By creating windows on top, you can ensure smooth air circulation.
15. Duck Tractor Plans
The duck tractor is one of the most effective sheltering methods available today. Offering the best protection against predators, these coops meet your needs efficiently. To keep the birds comfortable, you can place a water tub inside with a bird feeder.
via: zombiehunters.org
19. The Duck Harbor
20. The Duck Lake House
21. The Pallet Duck House and Run
Tutorial: tacticalhousewife.blogspot.com
22. A-Frame Duck House
via:  backyardchickens.com
23. Duck Paradise
24. The Under $100 Duck House Plans
25. The 'Waddle On' Inn
Via:  backyardchickens.com
26. The Cable Spool Duck House
Tutorial: instructables.com
27. The Float Duck House
28. DIY Duck House has a metal roof and sturdier sides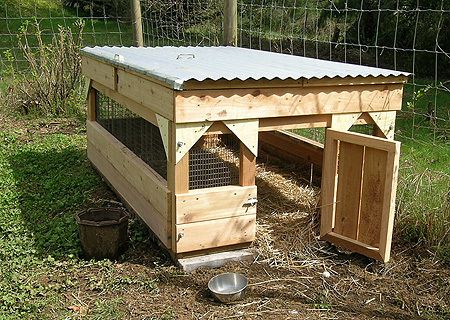 via: backyardchickens.com
29. The Simple Pallet Duck House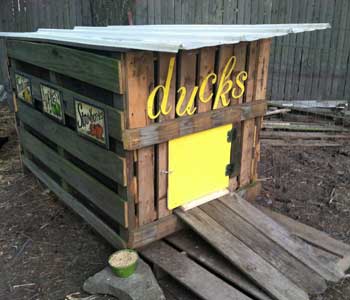 30. The Playhouse Duck House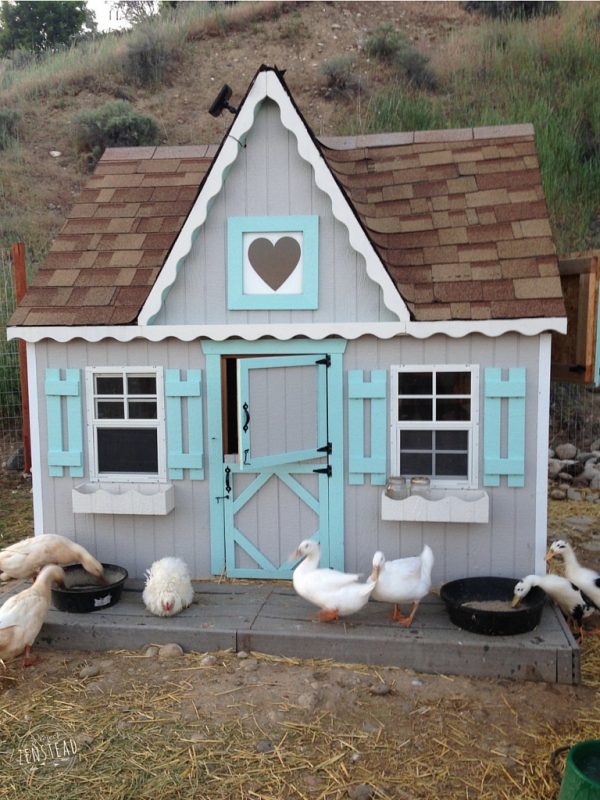 Tutorial:  rootedrevival.com
31. The 'Ducks Only' House
32. The Enclosed Duck House
33. Duck/Rooster House made out of recycled pallets
via:  backyardchickens.com
34. DIY Sample Duck House Plan
via: backyardchickens.com