Christmas is coming and the idea of what we are going to give to our families is already around our heads. We love to go shopping, stroll through the stores, and think about each of the members of our family to give them the best and most unforgettable gift. But sometimes, finding something new, different, unique, and special is very complicated, and it's something that we can only achieve by creating it ourselves. That is why in this article we bring you more than twenty wonderful ideas for you to make some DIY Christmas gifts that are fun, easy, quick, and cheap to do. In addition, they are all kid-friendly so they can also participate.
#1. You can decorate personalized mugs.
TUTORIAL: youtube.com
#2. If you can only gift them some money, turn it into origami trees.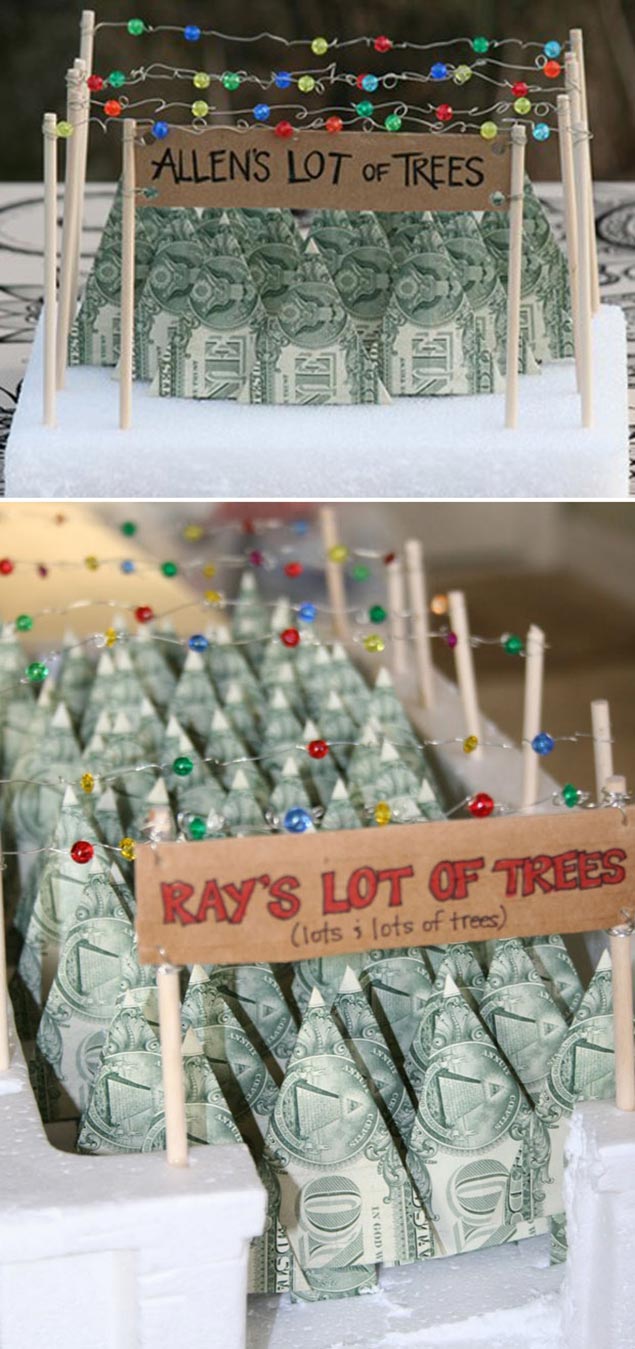 TUTORIAL: Youtube.com
#3. In a glass jar, write personalized notes with messages, memories, and songs that remind you of that person.
#4. For those who prefer money, you can make a scratch lottery advent calendar.
SOURCE: mydancingrain.wordpress.com
#5. Decorate a bottle with Ferrero Rocher like a pineapple and hide the neck of the bottle between the leaves.
#6. You can also make handmade tea bags with Christmas shapes.
TUTORIAL: dearedna.com
#7. Or you can make bath bombs that mix classic Christmas colors (white, red, and green) with cozy scents.
TUTORIAL: fleecefun.com
#8. If you want to give away kitchen tools, you can wrap them in kitchen clothes.
TUTORIAL: hip2save.com
#9. For tea lovers, you can make a Christmas tree out of tea bags that they can tear off whenever they want to use them.
TUTORIAL: thirstyfortea.com
#10. Make packages of sweets and chocolates arranged in the shape of a sleigh.
TUTORIAL: ellynsplace.blogspot.com
#11. Fantasy terrarium
With a mason jar and some small plastic figurines, you can create a fantastic terrarium. Add rocks, dirt, and moss and plant plastic mushrooms, gnomes, and fantastic creatures on top.
Source: alldressedinblue.blogspot.com
#12. Custom jewelry
Print on sticker paper the images you prefer that you prefer and make earrings, necklaces, and everything you can think of. You can get creative and use everything from family photos to funny memes.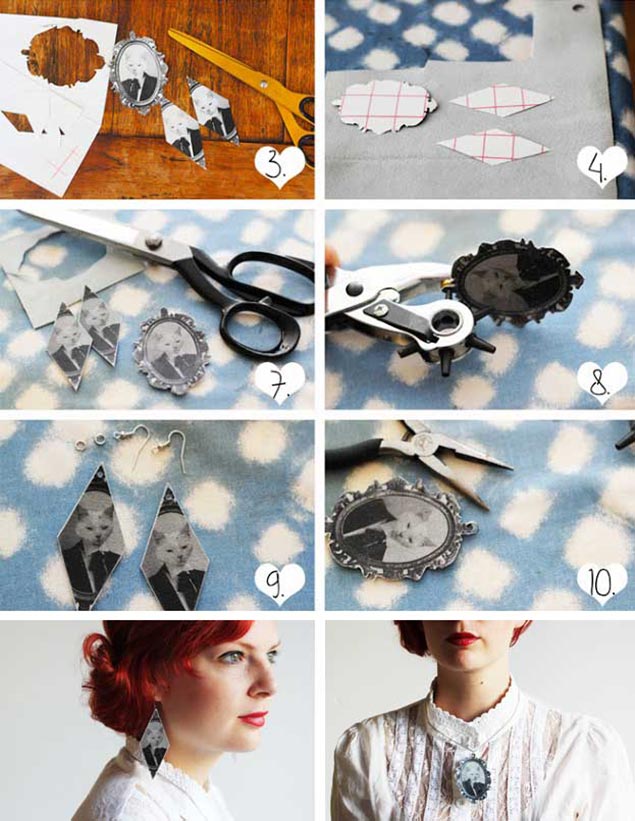 TUTORIAL: lanaredstudio.com
#13. Pyramid box
If you bought a small gift, you can make pyramid-shaped boxes out of colored paper. You will see how this particular way of wrapping attracts attention!
TUTORIAL: linesacross.com
#14. Decorate jars with homemade food
Homemade food is always one of the favorite options as a Christmas gift: make homemade butter, jams, or cookies and store it in personalized mason jars for each of them.
TUTORIAL: cutoutandkeep.net
#15. A unique scarf
With an old t-shirt, scissors and a lot of imagination, you can gift scarves for your whole family!
TUTORIAL: rabbitfoodformybunnyteeth.com
#16. Slate coasters
With small decorated slates you can make some beautiful coasters that everyone can customize to taste. It's a fun way to set the table for Christmas.
TUTORIAL: livingwellspendingless.com
#17. Dolar-tissue box
If you don't know where to spend the money to buy a gift for your friends, you can choose to make a tissue box full of money. Hide the money inside rolled up and when you go to get the first tissue, all the bills will come out behind. Surely their reaction is priceless!
Source: lotsofcraftyideas.com
#18. Mini-Santas cake
If your passion is cooking, you can make a strawberry shortcake and cut them in the middle to fill them with cream. Paint a face in the cream and you will have a cake full of mini Santa Claus.
TUTORIAL: youtube.com
#19. Handprint calendar
If the little ones want to participate, you can make calendars with your handprints. Dip your hands in paint and stamp your hands on the paper. Then you can decorate it as if they were fish, Christmas trees, or any idea that comes to your mind!
Source: teacherspayteachers.com
#20. The perfect idea to annoy your siblings
If you prefer a fun way to play a prank on your siblings, wrap their gift with zip ties. It will take forever to unwrap!
Source: facebook.com
#21. Starbucks soap
If making soaps is your thing, you can make a latte-shaped soap in a Starbucks paper cup. In addition, you can add cinnamon aroma to make it more realistic.
TUTORIAL: buzzfeed.com
#22. Custom kitchen gloves
You can customize oven mitts with patterned fabrics and colors with which they feel represented.
TUTORIAL: iheartnaptime.net
#23. Hot chocolate survival kit
If you have little time and you are going to make a gift for a chocolate lover, put it in a plastic cone with a mix to make a hot chocolate at the moment: cocoa powder, chocolate shavings, and mini marshmallows.
TUTORIAL: simplyjessicamarie.com
#24. Colored golf balls
If your family loves to golf, you can decorate golf balls with drawings, patterns, or personalized phrases. It is a very easy craft to do with children!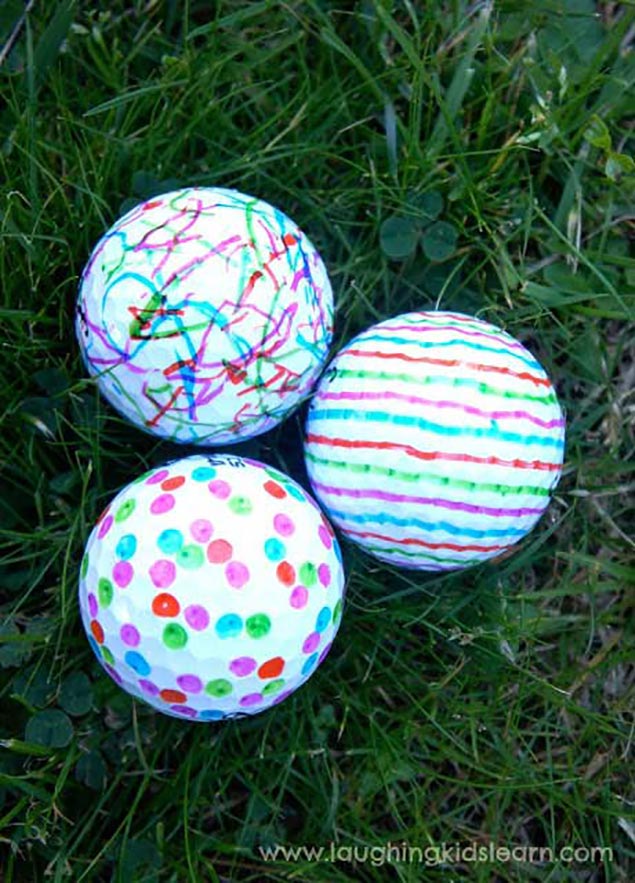 TUTORIAL: laughingkidslearn.com
#25. Rice Krispy kisses
If you want to cook something special for your partner, you can make sweet treats for your lover. You can also use this idea on Valentine's Day!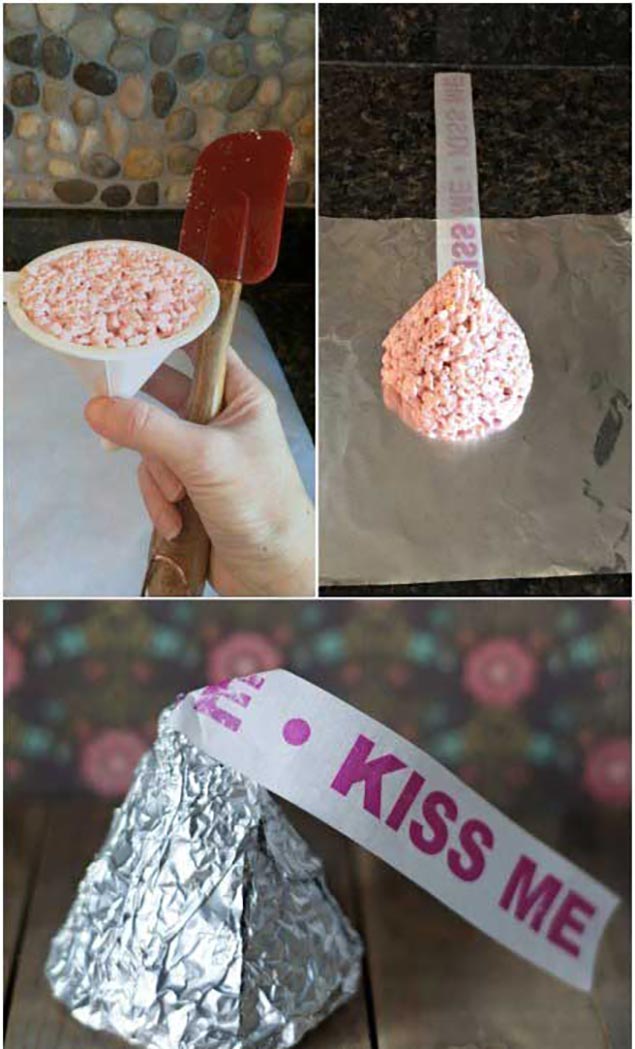 TUTORIAL: homestoriesatoz.com
#26. Cotton tree
With some branches, cotton balls, and hot silicone you can create a tree full of color. Place the branches in a glass jar and gift it as a decoration.
TUTORIAL: wayaiulandia.com
#27. Candy wrapper
With colored paper and a little plastic, you can wrap small, cylindrical things like giant candies.
Source: marthastewart.com
#28. Desk jewelry
As a gift to your most conceited family member, you can make jewelry out of paper clips and some string. Wear her favorite color and make her stand out.
TUTORIAL: evie-s.com
#29. Rudolph towel
If you are good at sewing, with different colored towels you can create a beautiful Rudolph to wrap the little ones when they finish bathing.
TUTORIAL: crazylittleprojects.com
#30. Reading cushion
If you are making a gift for a book-worm friend, sew a pocket on a cushion to keep the book they are reading.
TUTORIAL: polkadotchair.com
#31. Clementine wreaths
With a soft plastic tube and some tangerines, you can make garlands to decorate the kitchen wall (until someone eats them!).
TUTORIAL: omiyageblogs.ca
#32. Teddy Bear Flower Pots
Surely at home, you have plastic jars of the syrup in the shape of a bear. You can clean the inside and paint it gold on the outside to get fun pots for your indoor flowers.
TUTORIAL: abeautifulmess.com
#33. Chocolate tree
With some colored paper and a pair of scissors, you can make a small tree by stacking the chocolates as if they were a pyramid. Wrap it with the green colored paper and add a log and decorations around it.
TUTORIAL: qbeesquest.blogspot.com
#34. Gemstone rings
You can manually make precious rings with precious stones from a natural store. Choose the one that has a special meaning for your friend or family member and you will see how it will make them very excited.
#35. For your most beer-loving family members prepare a jug with yellow and white sweets.
Source: utes-scrapblog.blogspot.com
#36. Snowman made of mason jars with the necessary ingredients to make a good hot chocolate.
TUTORIAL: hammerandthread.blogspot.com
#37. For those who love carpentry, you can make a kit of various tools necessary for any work.
#38. Turn a pot of their favorite flowers into a Christmas plant by decorating the pot with items from that era.
#39. You can make a survival kit for when you need an emergency hot chocolate, but keep this in a jar shaped like a Christmas ball.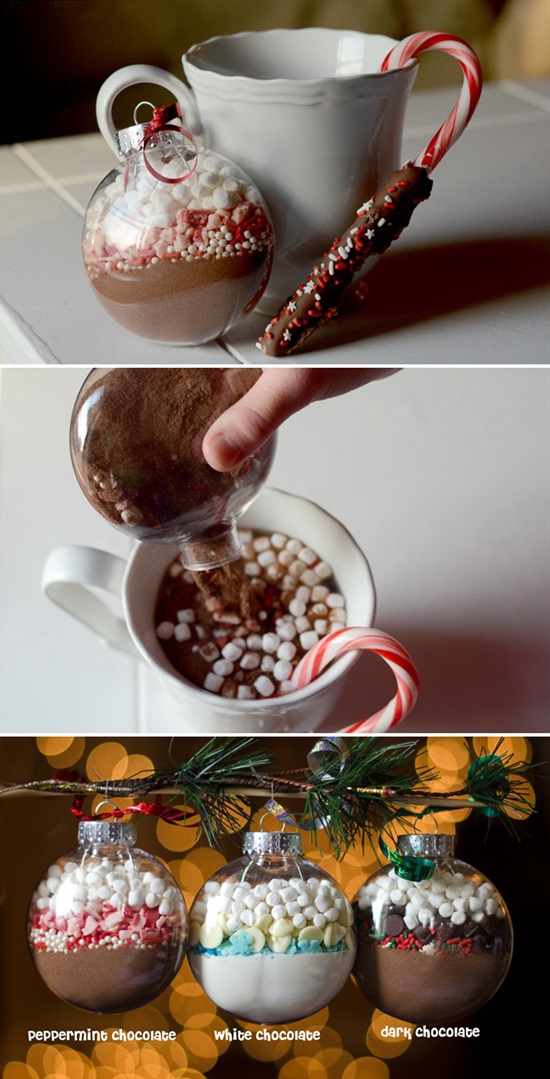 TUTORIAL: sprinklesomefun.com
#40. For the little ones, you can make a Lego base so that they can play in it without losing the pieces.
TUTORIAL:  jaimecostiglio.com
#41. You can also make the hot chocolate kit in the shape of an adorable Rudolph reindeer.
#42. For the most clueless, you can give them a kit with wrapping paper and tape in case they run out of it at the last minute.
SOURCE: itsalwayscrafttime.blogspot.com
#43. In a vintage lantern you can create a Christmas landscape inside.
#44. Make candy bags for each loved one.
See the more details at: ahomemadeliving.com tutorial:  livelaughrowe.com   and   ahomemadeliving.com
#45. In glass jars, you can draw landscapes and turn them into Christmas candles.
TUTORIAL: shabbyartboutique.com
#46. In small Christmas decorations you can place personalized scents.
TUTORIAL: sprinklesomefun.com
#47. Make an emergency box with sweets, chocolates, or coffee, personalized for each one.
Source: oliharricreations.co.uk   and  etsy.com
#48. You can make an advent calendar and hide small gifts.
Source: bysophialee.com
#49. Or make candy-filled tree ornaments.
#50. In a tall and thin spaghetti jar you can store a tower of cookies.
Source: acasarella.net
#51. Decorate small gifts as if they were snowflakes.
#52. You can also keep small gifts (even money!) inside balloons that your family must pop to find their gifts.
Tutorial: shescraftycrafty.com
#55. Or you can make a kitchen item basket with a little of each item needed to make the most delicious desserts.
And so far the coziest, sweet, and personal gift ideas for you to give your family the special touch they deserve. Merry Christmas!