While everyone knows that Christmas can indeed be the most wonderful time of the year, many with large families also know Christmas to be the most expensive time of the year. Certainly buying perfect gifts for friends and loved ones, taking time away from work, and facing an amped-up electricity bill as the temperatures drop and your central heating works overtime are all things that already put a dent in your wallet. If you want to be the envy of your guests and the neighborhood, elaborate yard decorations and an interior overhaul are going to demand even more unneeded expense.
Fortunately, you don't need to be swimming in dough thanks to a single, versatile item called spray paint. It's true! With these clever ideas, you can turn a variety of items you already have lying around into some truly inspiring spray-painted decorations for Christmas.
1. Plastic Pot Bells
Any unused plastic planters can be coated with silver, bronze, or gold spray paint to create giant holiday bells that exude imagined Christmas carols.
2. Concrete Block Gifts
Have some cinder blocks lying around? Of course you do. Paint them silver, green, and/or red and adorn with a bow to make gift boxes. instructions here: club chicacircle

3. Spray Painted Tree
Artificial green trees can be, well, boring. After doing some trimming, transform the typical into a whimsical white centerpiece.
more details at: jillruth
Image via: skiptomylou.org

4. Golden Candles
White candles can be easily enhanced with glamor with gold spray paint. tutorial: oleanderandpalm
5. Winter-Themed Branches
With a can of white spray paint and some debris from your yard's own trees, you can create an inviting arch at your front door. Image Source: containercrazyct
6. Magnolia Mantel
If you're fortunate enough to live around this wonderful tree, take a few branches with some gold spray paint to give your mantel the gorgeous presentation it deserves.  tutorial: view along the way

7. Straw Bale Gifts
Hold on to your fall decorations! They are the perfect canvas for yard ornaments.

8. Straw Ornaments
It doesn't get much easier than this. All it takes is a zip tie and a spray paint color of your choosing to create eye-popping starburst ornaments for your yard.

9. Painted Pinecones
Pinecones already give off a faint nod to Christmas, painting them metallic gives make the reference even stronger.
image : ribbon sand glue     Check out the tutorial here: tatertotsandjello

10. Pumpkin Ornaments
Again, a resourceful way to create Christmas décor is through reworking fall decorations, and spherical pumpkins make perfect ornaments.

11. Golden Pinto Beans
Okay, you can no longer eat them; but now they create a marvelous filler for vases without the need to buy marbles.
Source: WooHome.com

12. DIY Stencil Gift Tags
Simply cut a Christmas-themed pattern out of cardboard and use chalkboard spray paint for heartwarming, custom gift tags. Source: brooklynlimestone.com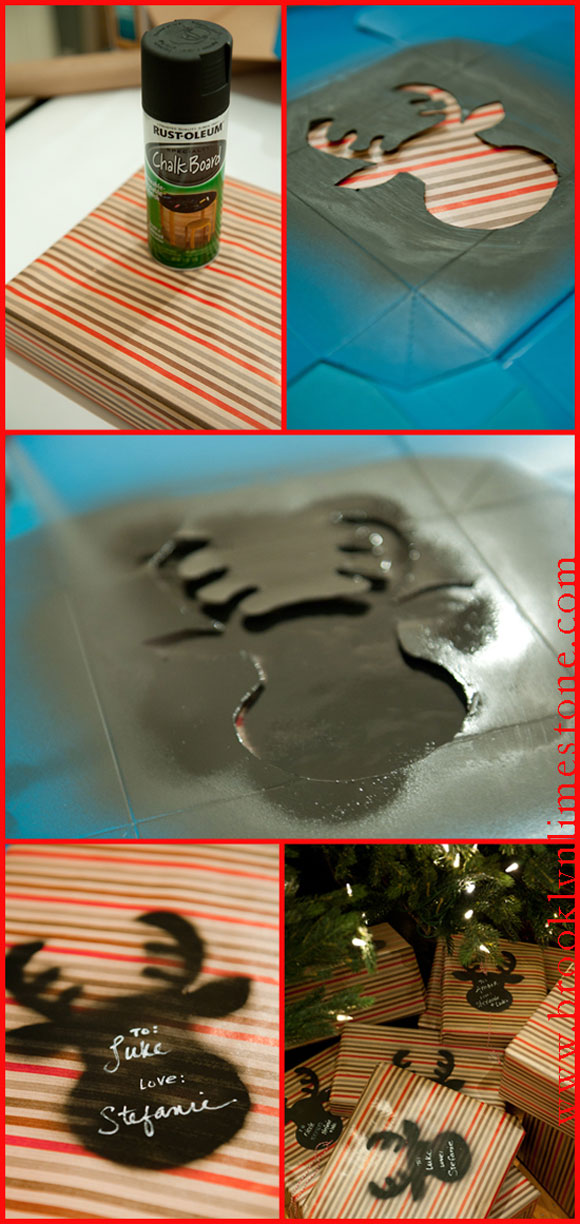 13. Decorative Logs
While gone may be the days that wood was the most efficient heat source, golden spray paint can make great use of firewood logs. tutorial: crafts by courtney   and   theproperblog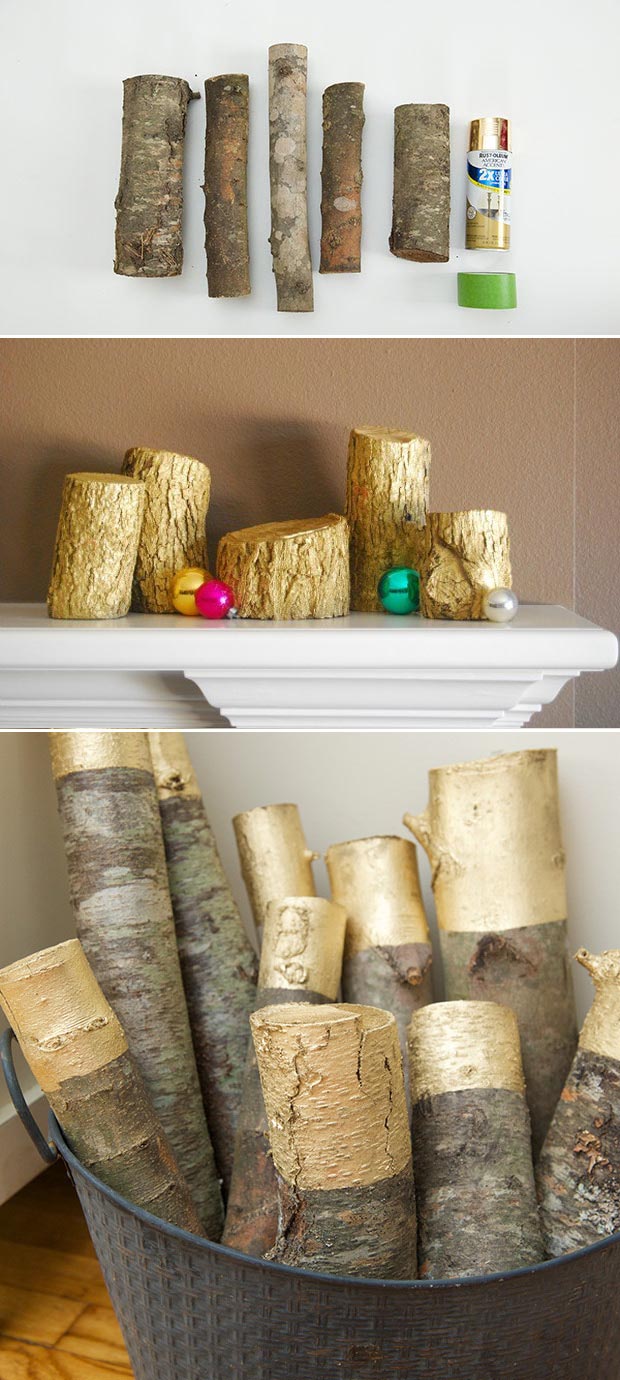 14. Spray Painted Hydrangeas
Before the bitter bite of frost takes these great flowers, coat them with spray paint so you can preserve their beauty throughout the winter holidays. tutorial: momcrieff.com

15. Golden Pears
Dip some artificial pears from the dollar store in gold glitter for a magical bowl of fruit.

16. Santa-Themed Coffee Cans
Don't throw them out, paint them red and wrap with a belt for to make the jolliest vessels for decorative plants. tutorial: sew any ways

17. Christmas Tree Bottle Brushes
This inventive way to repurpose bottle brushes makes for a perfect forest to wrap around your Christmas village. tutorial: restlessrisa.com   and   houserevivals.blogspot.com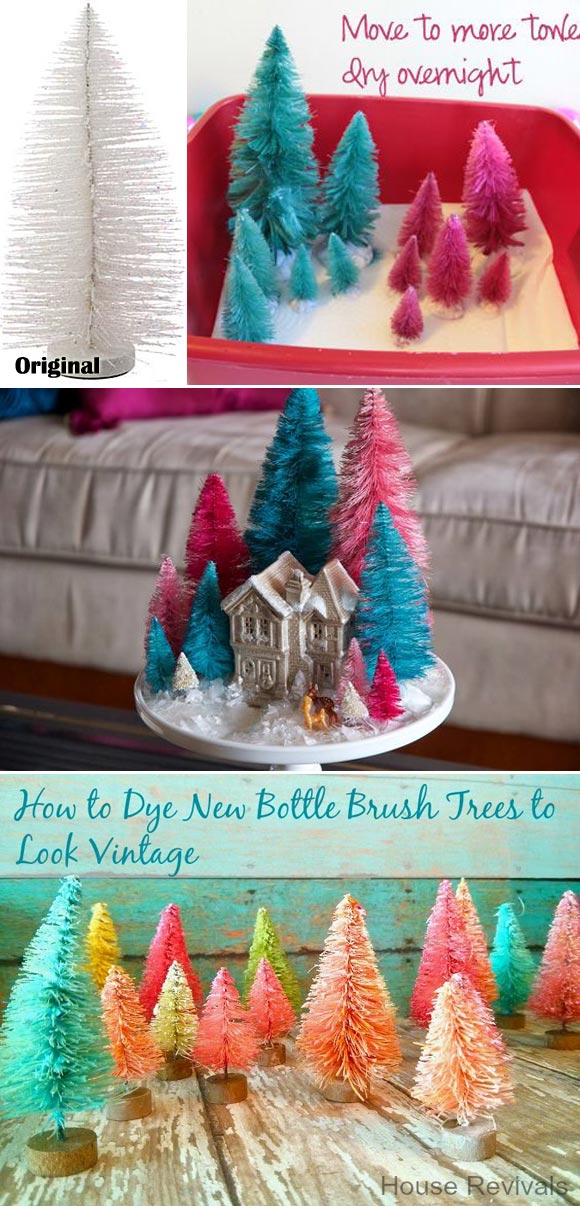 18. Spray Painted Husk Wreath
Also works with grapevines and twigs, there is no longer a reason to throw away the inedible parts of corn and fruit.
source: poppiesatplay.blogspot.com   source: tarynwhiteaker.com

19. Snowmen Hooks Made from Wooden Spindles
These inexpensive decorations also serve as a much-needed place to hang winter coats. Source: hgtv.com

21. Painted Letters Spelling "Joy"
The best way to summarize these creative efforts to decorate your home for the holidays is best summarized with the same word that summarizes Christmas.
image via: rosyscription.com