There's some indescribably youthful joy that can inspire even the busiest adults during the holiday season. Perhaps it's in the pursuit of warm, cozy feelings and family unity that is so appealing. Perhaps it's the convenient excuse to indulge in hot chocolate and eggnog in front of a fireplace or wood burning stove because it's just too cold to be outside. If you're a parent, you might say that it's the opportunity to spend time with your children and form pleasant memories while they eagerly await the chance to tear into their gifts beneath a colorful and vibrant tree.
How can you make this prized time of year even better? Through some hands-on Christmas creations, of course! Chances are, you already have some materials in your house ready to be recycled, and you don't even need kids to enjoy making many of these beautiful crafts. However, if a family member brings along their own children you might find some eager helping hands. From charming ornaments for the tree to a yard that is the envy of the neighborhood, these DIY projects and gifts are fun to make and heartwarming to see.
1. Paper Dolly Christmas Trees
Have a hot glue gun? Have some chopsticks or bamboo skewers? You have a winter wonderland. Tutorial: ouiouiouistudio.blogspot.fr
2. Snowman Frame
Don't throw away your old window until you see the potential results!
3. Herringbone Bead Christmas Tree
For far more than necklaces and bracelets, these versatile beads make an enticing tree straight from the most magical winter wonderland.  via: www.goodshomedesign.com
4. Reindeer Sleigh
If you like crafts, you should be saving all your egg cartons.  Tutorial: www.wellnourishednest.com
5. Adorable Reindeer with a Lollipop Nose
Add some construction paper, glitter, and glue and you have an easy homemade ornament. Tutorial : www.missymaccreations.blogspot.com.au
6. Snowman Shovel
Decorate your porch by turning those essential winter tools into something soulful.
7. Mickie and Minnie Mouse ornaments
Because Christmas can be about romance, too.  Tutorial: delightfullydisney.com
8. Log Snowman Decorations
Excess firewood? Spruce it up by creating some charismatic characters to greet your guests.  Tutorial: www.craftymorning.com
9. Tiny Pom Poms on a pinecone tree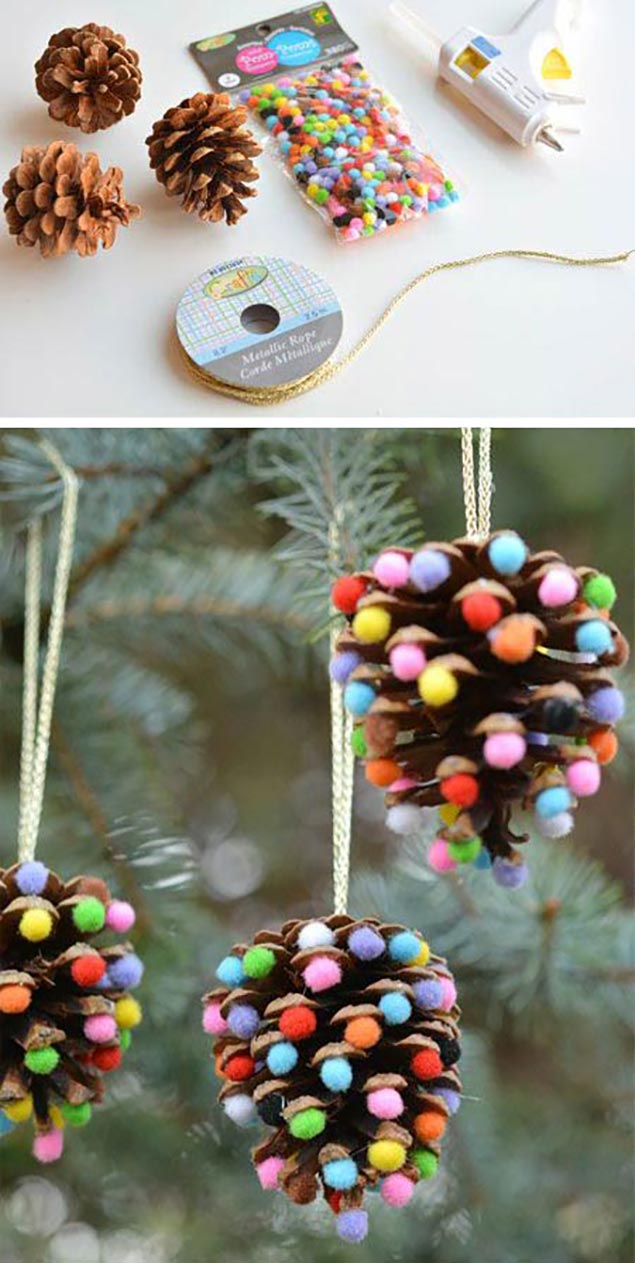 Why not hang miniature Christmas trees on your Christmas tree?  Tutorial: onelittleproject.com
10. Unusual Christmas Trees
Corks? Strawberries? A ladder? Christmas takes many forms.
11. Pool Noodle Mantle Wreath
Recycled pool noodles are perfect for attaching ornaments.  Tutorial: www.sweetpickinsfurniture.com
12. Deco Mesh Snowman Wreath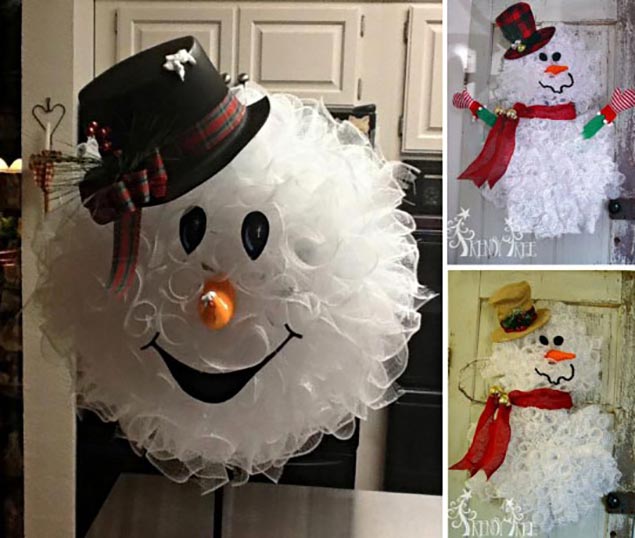 The perfect material for a jolly creation, turn deco mesh into a wreath with some personality.  Tutorial: grillo-designs.com
13. Wall Tree
tiny ornaments, string, and yard debris are all you need to make convenient hanging décor.  Tutorial: it.dawanda.com
14. Snowmen Made of Socks
a lone sock need not be thrown away, give it life with this "sockman" craft.  Tutorial: www.darkroomanddearly.com
15. Mickey Mouse bauble wreath
combine the magic of Disney with the magic of Christmas to greet your loved ones at the front door.  via: www.flickr.com
16. Light Up Magnetic Snowmen
Inexpensive LEDs and some mini Santa hats are a charming combination.  Tutorial: blog.consumercrafts.com
17. Cardboard Fireplace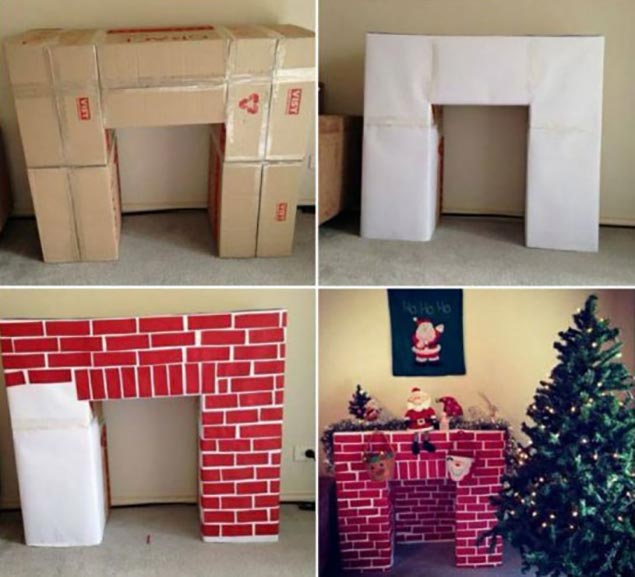 Don't be bummed if you don't have a mantle, creating your own is easy.
18. Christmas Tree Napkin
Hone your origami skills as you set the table.  Tutorial: www.instructables.com
19. Candy tree
A table centerpiece that bears sweet fruit.
20. Outdoor Chicken Wire Light Balls
With a result that looks like enchanted shrubbery in a winter wonderland, your neighbors may be envious.  Tutorial: christmaslightsetc.com
21. Santa Log
Couple with log snowmen for a jolly ensemble.  Tutorial: smartgirlsdiy.com
22. Reindeer Head Mount
Like a visitor peering through a wreath.  Tutorial: www.goodhousekeeping.com
23. Santa Pants Flowerpots
"Ho ho ho!" said the poinsettia. Indeed, this creative decoration is a great way to bring Christmas spirit even to plants.  Tutorial: chicacircle.com
24. Musical Ribbons
Accurately inscribed Christmas carols are perfect for the musically literate.
25. Styrofoam Cupcake Ornaments
Because Christmas is about sweet and delicious things, too.  Tutorial: factorydirectcraft.com
26. Giant Christmas Ornaments
Kids play balls are easy to come by and easily repurposed.  Tutorial: www.youtube.com
27. Sugar Cookie Christmas Kit
A convenient gift for the inevitable craving of freshly baked cookies.  Tutorial: www.thepartiologist.com
28. Minnie Mouse Wreath
Made with felt and a Styrofoam craft ring, this kid-friendly decoration is a perfect companion for number 15.  Tutorial: brandnewmamma.wordpress.com
29. Soda Bottle Penguins
Nothing is cozier than a huddle of penguins on Christmas.