A reading mind is a healthy mind. Through reading, people can gather fresh information about society, history, politics, culture, and almost anything under the sun. Which is why, it is crucial for kids to develop a reading habit as early as possible. However, in order to simulate a child's interests in reading stories, there are factors that need to be checked first such as a good reading environment.
First off, reading requires silence especially for children because they're in the process of "beginning reading" where they need a sufficient amount of focus on decoding letters and words. Therefore, kids who aspire to establish reading habits are deserving of great reading nooks too! Also, buying expensive materials is not really a necessity to create a good reading space for kids. If you don't have any idea in mind, try these fun kids' reading nook suggestions below:
1. Reading Area Within Closets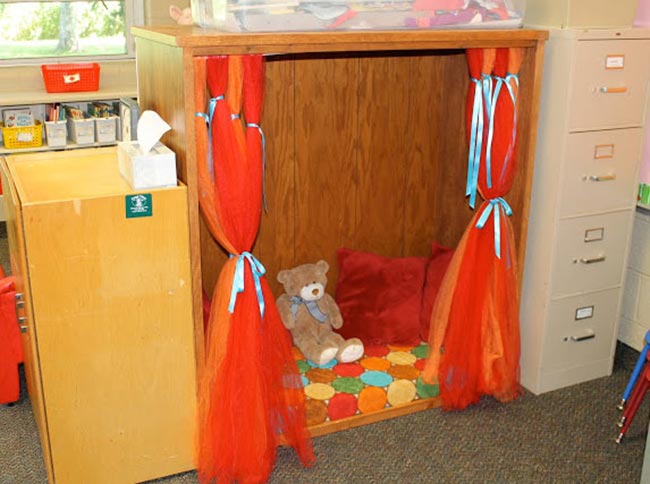 Nothing beats creativity. If you want to provide a good reading space for your kids, then try this idea where you can reuse old wooden cabinets or closets around your house. It is neat, an ultimate space-saver, and a good personalized reading area that will allow kids to explore different worlds inside pages.
2. Use Floating Shelves
via: realcoake.com
With few materials, you can already create a minimal floating shelf for your kids. Take note that it's better if you will place these shelves inside their room or beside their comfort space anywhere around the house.
3. Read on a Boat!
Unique reading nooks will always inspire kids to read even more! As you can see, this reading area in the picture above is reinvented from a simple woodwork to a classic boat reading space for kids. This idea will require you to make a boat-alike storage and get it painted. Put a few accessories inside and you're good to go!
4. Reading Bench
A bench has always been a good place to unfold a story. With white soft cushion, colored pillows, and neatly arranged organizers, a reading bench is now at arms' reach! Just place the cushion above the book organizers, throw some fluffy pillows to avoid discomfort and that's it, the look is complete.
5. Open for a Wardrobe Surprise!
Tutorial: blesserhouse.com
See how this classic wardrobe cabinet turned into a sophisticated kids' reading nook! This idea is refined by putting in a white soft cushion, patterned pillows, a reading organizer below, and a lamp for good lighting.
6. Playstation and Reading Station Combined
via: anabuji.blogspot.com
Little breaks are often necessary in reading stories. Well, there is no better way to do it but to combine your kids' playstation and reading station in one like the picture above. Through that, the kids will be able to pause and play between their readings. Remember, kids are so full of energy to just sit and remain in their place for a long period of time so it's better to provide them a few entertainments once in a while.
7. Pillows into One
Tutorial: youandmie.com
Four striped pillows and a medium wooden frame are all it takes to create a comfortable reading space for children. Plus, you can put a white mini shelf in the corner that will hold all the books together.
8. Make a Canopy Reading Space
Make your children feel like they're reading on an isolated island! With the use of white curtains and long fabrics, canopy reading nooks are made possible! Make sure to use materials that will complement each other for a cleaner look.
9. From a Kiddie Pool to a Reading Nook
via: enseignerlitteraturejeunesse.com and  thoughtfulspotdaycare.blogspot.com
Do you have any unused kiddie pools in your house? If yes, then don't think of throwing it yet because kiddie pools can turn into a pleasant reading nook. For starters, you can repaint your kiddie pool and throw in some gooey cushions, colored pillows, or anything that could make the set more comfortable.
10. Read in a Personalized Tunnel
Tutorial: homedepot.com
An elegant tunnel-shaped reading area with a soft mat and a perfectly designed letter on the wall, this personalized reading nook will surely capture the interests of kids. Plus, this design will give you more opportunity for additional customization such as putting more initials, chairs, wall posters, and fairy lights.
11. Read in a Cave!
Tutorial: wayne-wonder.com
A cavern looking reading nook with a batman-themed design is perfect for justice league fanatics especially the little boys out there. Now, this is a great proof that old cardboards can be used to establish reading areas for kids. With a shadow gray paint, red cushion, and a few batman stickers, your cave-style reading nook is made ready.
12. Cozy bed reading nook
Simple is attractive. If you want a minimal reading space for your children, then try this one. It is serene-looking with a fabric that makes up a little canopy on the top left corner, pillows of different sizes, and a simple tray that holds all the books below.