You've probably heard the common tidbit, from those giving interview recommendations to relationship advice, "First impressions matter." As much as those words may reek of a cliche, they smell also of truth; and it's not exclusive to humans. Your home heeds the same law, and the fact is that your first-time guests, whether they enter your front door intending to judge or not, will be making assessments the second they get a glimpse inside. Home renovation isn't cheap though, and it can be hard to justify redoing every dated, bland, or unappealing corner of your home to appeal to people's superficial nature. However, no doubt having visuals that pop upon opening the front door will satisfy not only your guests but your own tired self after coming home from a long day at work. Yep, it's entryway makeover time – read on to find something that grabs you.
1. Pallet Console Table for Tight Entrances
It doesn't take much space to make a statement and this discreet platform is perfect for displaying the photos and small items that define your home's character.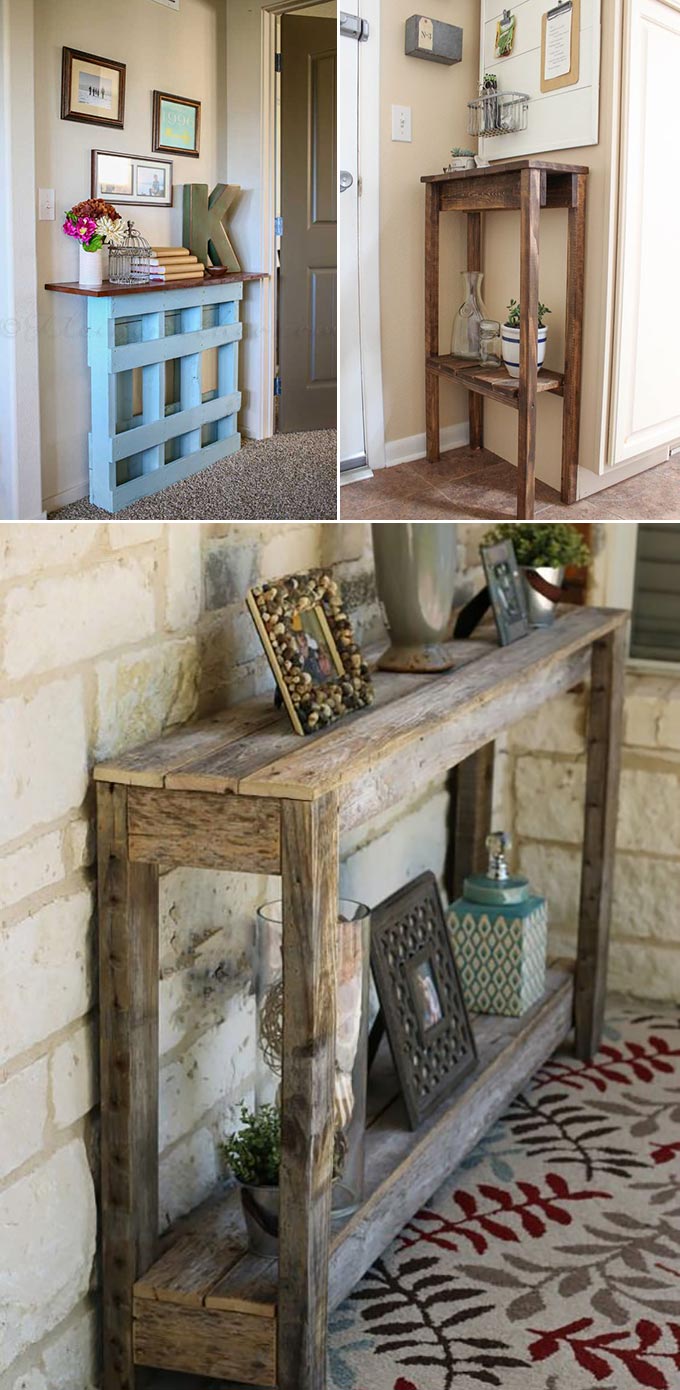 Source: kleinworthco.com     digsdigs.com
2. Build a Low Wall and Seating Bench
An extremely convenient upgrade that gives everyone a place to swap shoes without awkwardly bending over before and after a trek through the rain.
Source: bhg.com
3. A Wall for Backpacks
Perfect if you have multiple kids. A chalkboard alongside the hangers is a perfect way for your children to write their names or jot down something creative.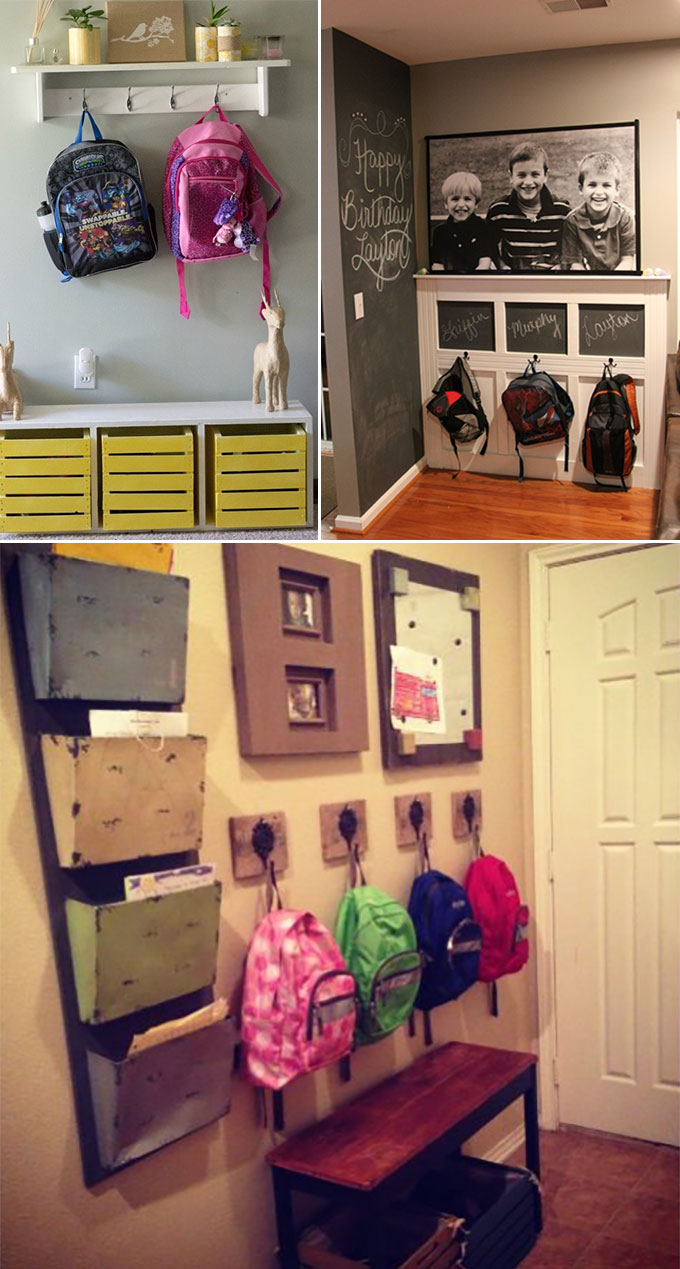 How to build it: imbatmom.com     gymcraftlaundry.com
4. Entryway Pallets and Crates Organizer
"Utilitarian" and "aesthetically pleasing" are not mutually exclusive. Have the best of both worlds with a convenient and eye-catching implement to your entrance.
How to build it: abeautifulmess.com
5. Convert an Old Door into a Giant Picture Display and/or Coat Hanger
If you have the type of door with glass windows between a wooden grid pattern, you also have the perfect multi-use picture frame.
Source: knockoffdecor.com
6. Floating Wood Corner Shelves
Do you have a corner near your entrance? If yes, then you'll probably love this attractively minimalist display and storage upgrade.
How to build it: 4men1lady.com
7. Add a Board and Batten Wall
This attractive implement sorts nearly all interior design styles, with the benefit of providing weary guests a place to hang their winter jackets after that heavenly blast of central heating.
TUTORIAL: lifebyleanna.com
8. Adorn a Corner with a Shelf and Some Hooks
It doesn't take much to turn a boring corner into an eye-catching display. Hooks provide a place to hang keys, coats, hats, etcetera.
How to build it: downrightsimple.blogspot.com
9. Corrugated Metal Wall
Does your home feature a number of visible pipes and wires? Instead of covering them up (unless they present danger), embrace your home's "industrial" theme with this appropriate addition.
source: home-dzine.co.za
10. Give a Small Entryway a "Chic" Makeover
It doesn't take much to make a stylistic leap. A small mirror, a shelf, and a simple wreath on your door bring your home more in line with recent trends.
How to build it: blog.jennasuedesign.com
11. Turn an Old Dresser into a Gorgeous Indoor Bench
Step aside, dated furniture. With a little TLC, you can turn what was once an obtrusive eyesore into an eye-catching bench, fit with a mirror for tidying up, some drawers for useful storage, and a couple of hooks to hang jackets and hats.
How to build it: theweekendcountrygirl.com
12. Recycle an Old Headboard
Again, dated furniture can be converted into trendy furniture with some innovation and basic woodworking skills. The combined results of an old headboard and some boards create an attractive entryway bench.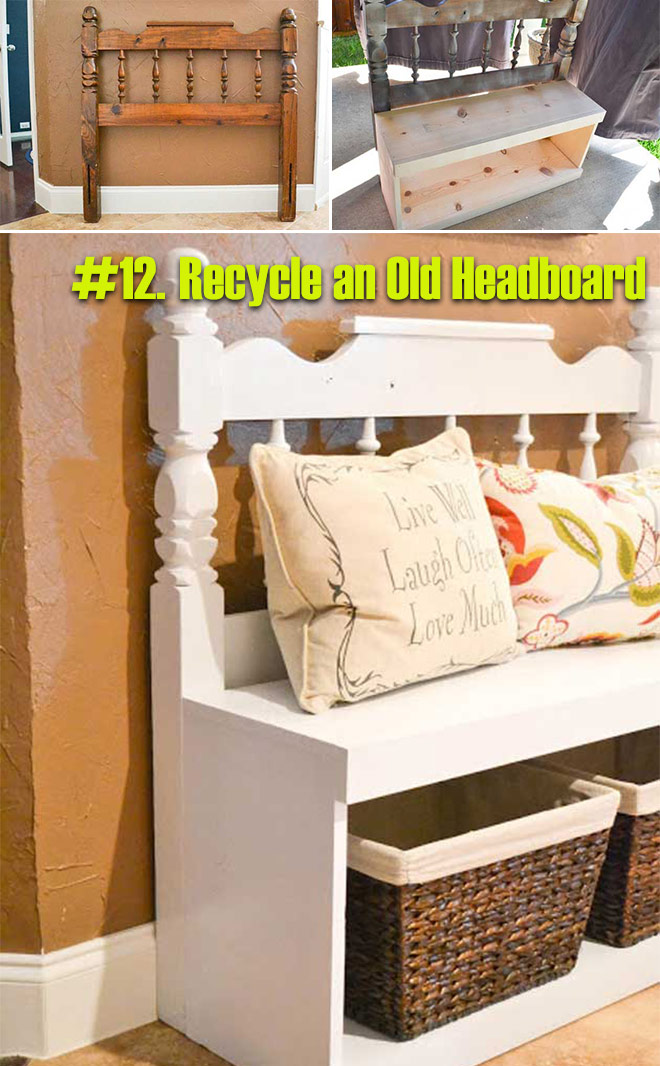 How to build it: jenandjercook.blogspot.com