If you want to take the next step in showing your love to loved ones in your home, then do-it-yourself Valentine's Day Decoration is the solution you very well may have been looking for. Using your own set of hands to make these decorations is the best way to show compassion and/or intimacy with the very things that will be defining the holiday in your home, a trait that simply cannot be replicated with store-bought items. Not only are you saving money by making these things by hand, but you're also imparting a piece of yourself with every decoration you make and giving the concept of "love" a degree of personalization that is a tailored fit for the relationship between yourself and your loved ones.
Read on for some inspiration, courtesy of these clever Valentine's Day home decor ideas.
#1. Flowerpot
A plastic bucket can easily be refurbished into a home for all of those Valentine's Day flowers.
Instructions: livelaughrowe.com
SUNKISSED HEART WREATH – Tutorial: Michele Made Me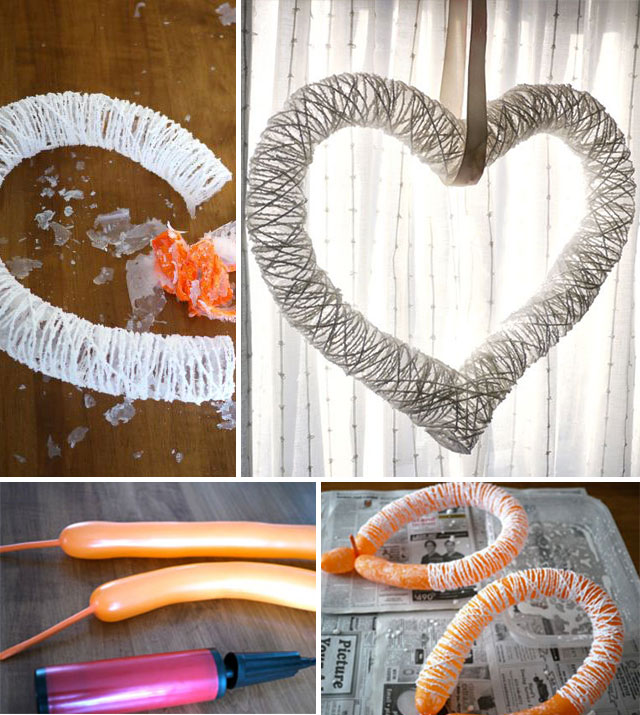 Valentine's Room decoration idea. How to Make Towels Swans Art:
#2. XOXO Decoration
It takes only two to three inexpensive components: reclaimed wood, heart wire wreaths, and some twine to tie it all together.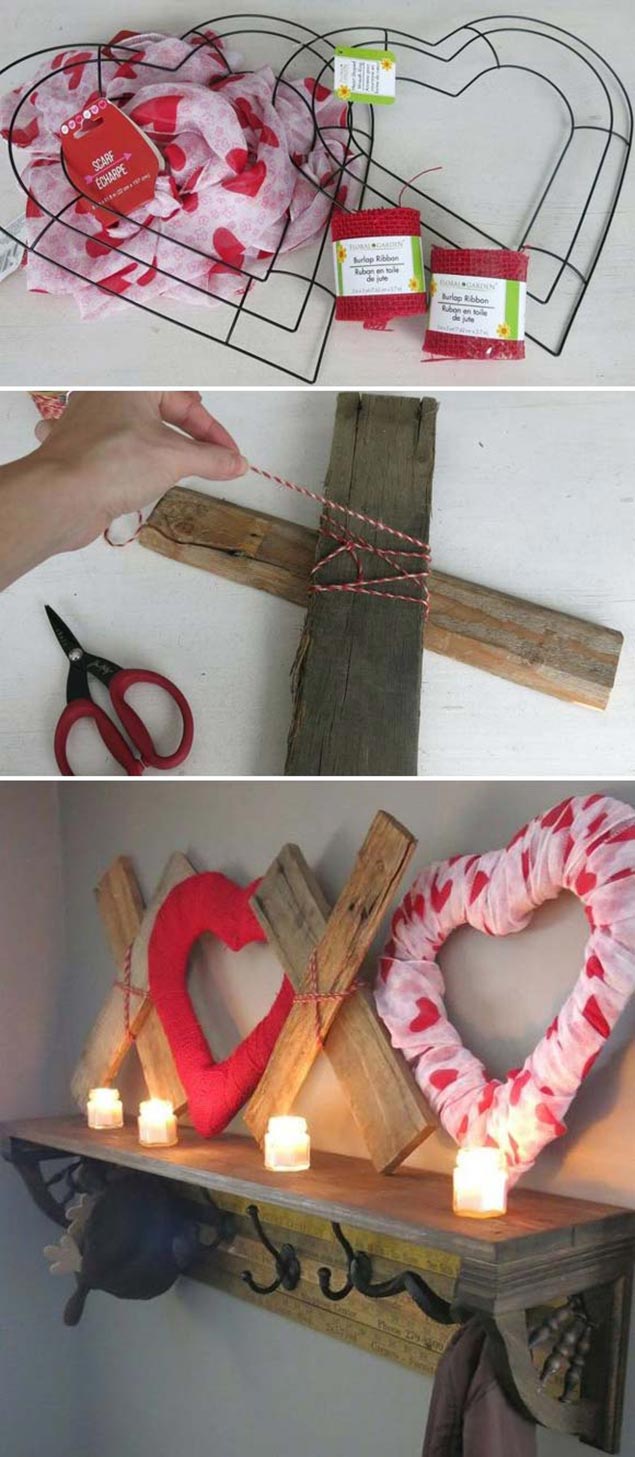 Instructions: hometalk.com
#3. 3-Tiered Tray of Hearts
Perfect for making a customizable romantic statement in your kitchen.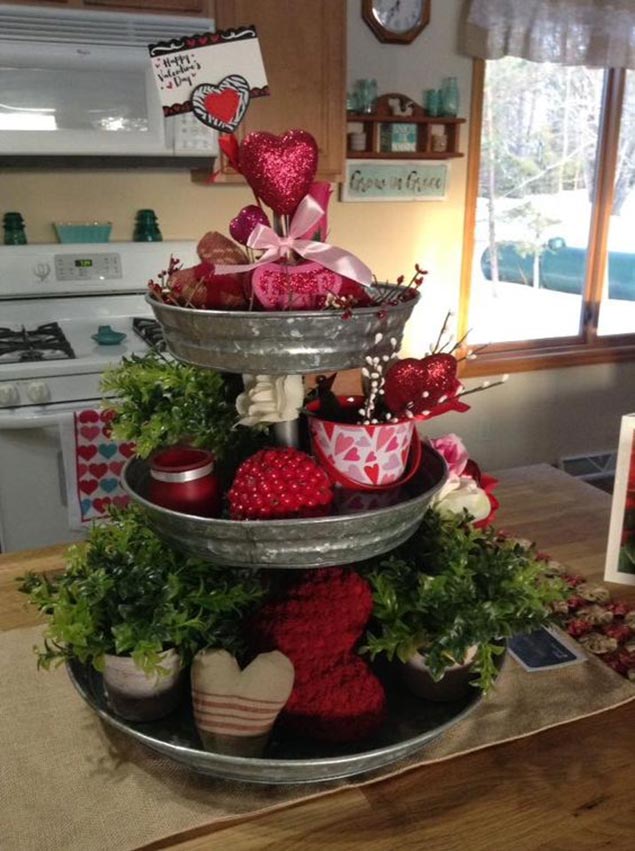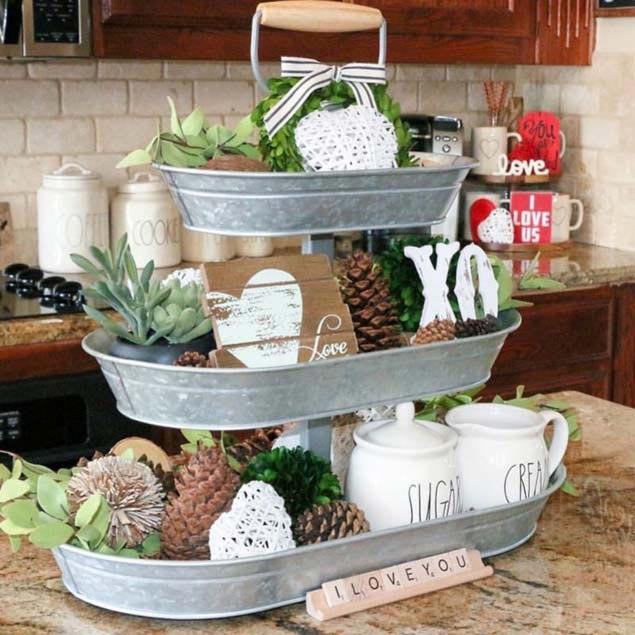 via: lifeonsummerhill.com
#4. Valentine's Day Mantel
Mantels aren't just for Christmas; they can easily make a romantic statement too.
#5. A Chic and Rustic Tulip Display
This flowerpot adds an extra pinch of style to an already romantic statement.
via: hometalk.com
#6. Paper Rose Centerpiece
Some dry branches and red cardstock paper are all you need for a compelling dining or living room centerpiece.
Instructions: dozidesign.blogspot.com
#7. Romantic Coffee and Tea Station
Even without a significant other, nothing spells love in your life like a warming cup of coffee or tea.
#8. Valentine Trees
Cone trees from Christmas can be decorated with hearts and a pink and red color scheme to be artfully repurposed.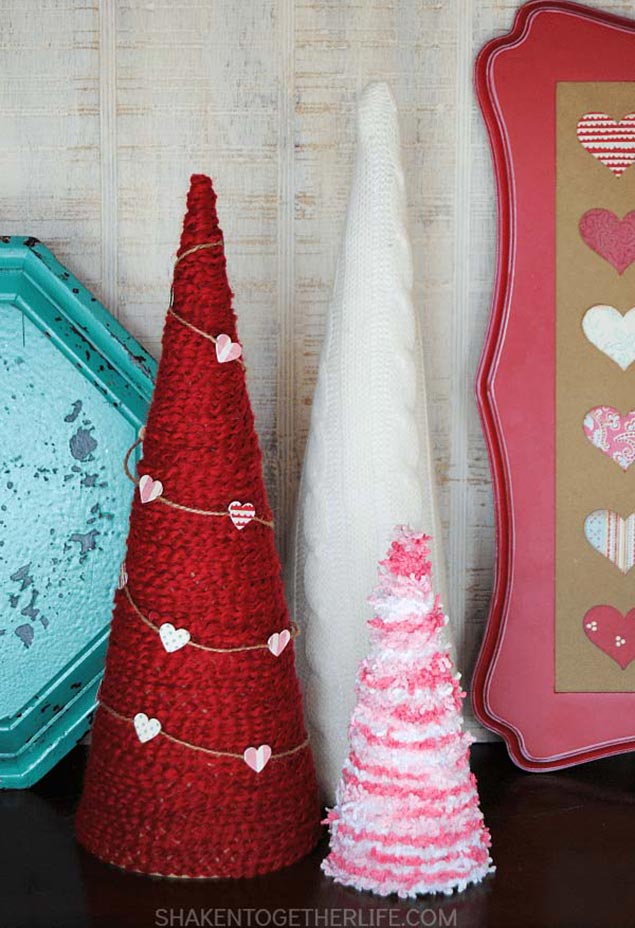 Instructions: shakentogetherlife.com
#9. Felt Heart Forest
A straightforward, minimalist method for cultivating romance in mason jars.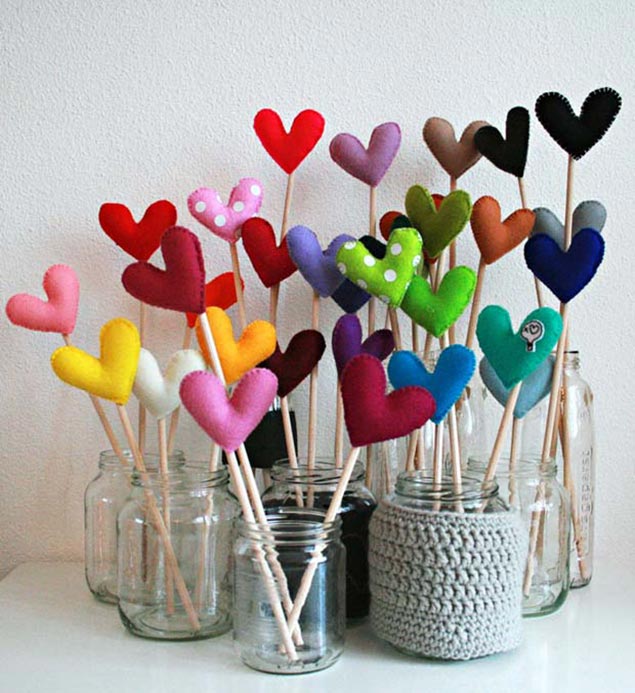 Instructions: revlie.typepad.com
#10. Heartful Wreath on a Chalkboard
If the eye-catching wreath doesn't say enough by itself, the chalkboard provides a place for impulsive romantic messages.
Instrctions: fynesdesigns.com
#11. Mantel Banner with Heart Cards
The materials in a simple deck of cards are all you need – there is an entire suite perfect for this occasion, after all.
#12. Candle Decorations with Twine and Felt Hearts
If candles aren't romantic enough, then this is the solution you need.
#13. Valentine's Day String Art
By simply painting the pallet a blush warm color, you can take this fun form of DIY art to make a statement of love.
via: alittlecraftinyourday.com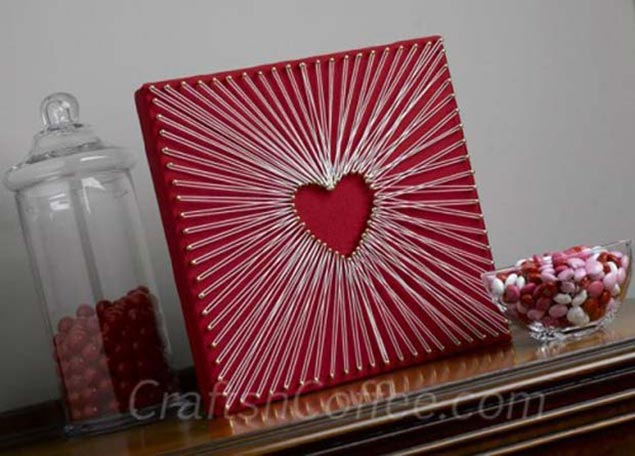 via: craftsncoffee.com
#14. Candy Hearts in a Candle Tray
Instead of marbles, try putting something sweet and edible in your centerpiece.
#15. Entryway Console
Decorate with the word "love" scattered around an intersection of arrows to pay homage to Cupid.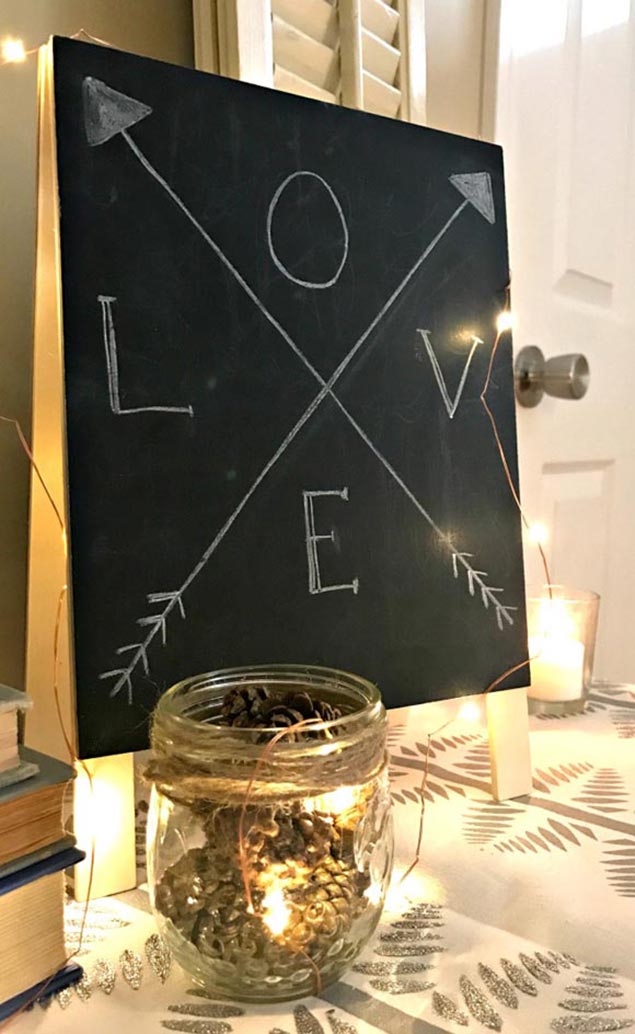 #16. Wire Heart Picks
Show some love to your plants as well with these simple and attractive adornments.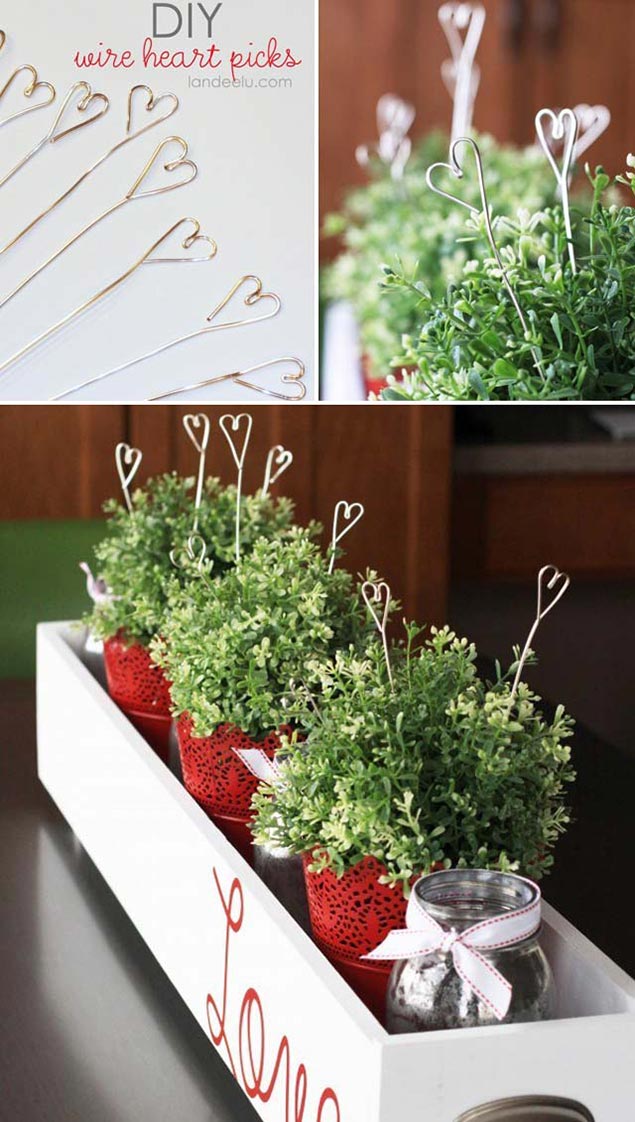 Instructions: landeeseelandeedo.com
#17. Sticky Notes Arranged in a Heart on your Mirror
Pay homage to the days of high school style love notes with a warming dose of nostalgia.
#18. Wooden Pallet "Love" Sign
Sometimes being direct is the best way to get across how you feel.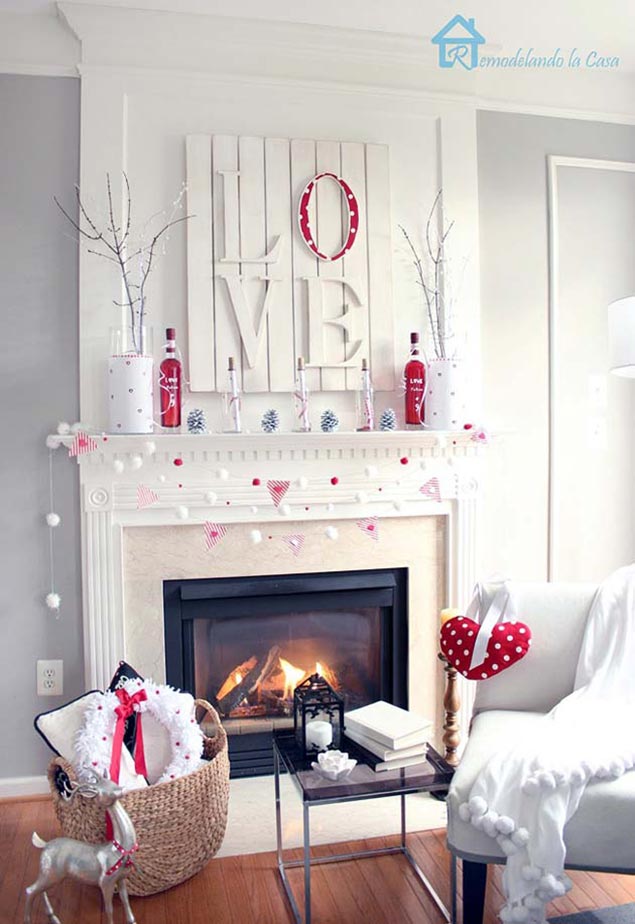 #19. Chalkboard Table Runner
An interactive table centerpiece is stylish and practical. Also, candles are always great on Valentine's day.
#20. Heart-Shaped Cardboard Cutout Sign
A perfect solution for a warm outdoor greeting.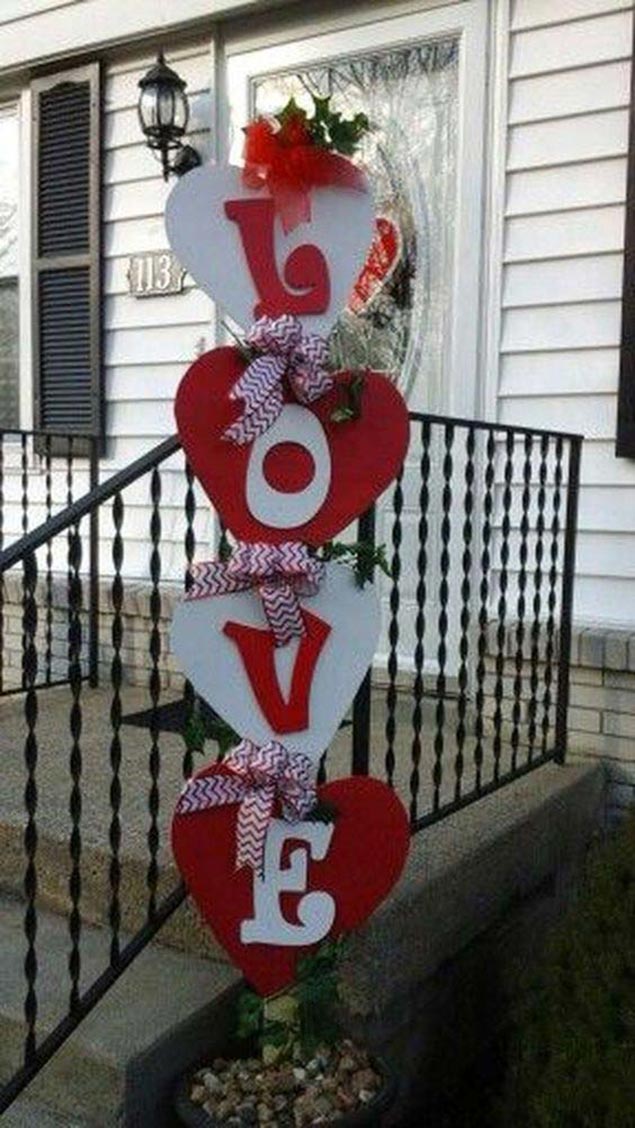 #21. Cork Heart
Red wine stains already give these the appropriate color for the occasion.
Instructions: sandandsisal.com
#22. Mod Podge Heart Art
Glitter is always fabulous, and a new enticing style is created when combined with a rustic wood stain.
Instructions: oursouthernhomesc.com
#23. Heart-Shaped Table Runner
If candles aren't enough, add a splash of warm colors with a lovely heart-themed centerpiece.
Instructions: anightowlblog.com
#24. Dollar Tree Heart Wreath
It doesn't get much more inexpensive than a lone trip to Dollar Tree. Don't worry, it won't look as cheap as it is.
Instructions: serendipityrefined.com
#25. Log Carved Heart
Trace love back to its roots with the genuine bark of a tree and some carving tools.
Instructions: threescoopsoflove.blogspot.com
#26. Window Pom-Poms
Sometimes, love is so euphoric that it just levitates. Suspended pom-poms encapsulate that feeling perfectly for all to see.
Instructions: noodle-head.com    and    naptimeismytime.com
#27. "Kiss" Wooden Sign
The perfect decoration to make a statement almost as appealing as the thing itself.
via: cottageon39th.blogspot.com
#28. Printing Flowers with cabbage stalks as Valentine's Day Decorations.
Video tutorial: facebook.com
#29. Paper flower crafts for valentine's day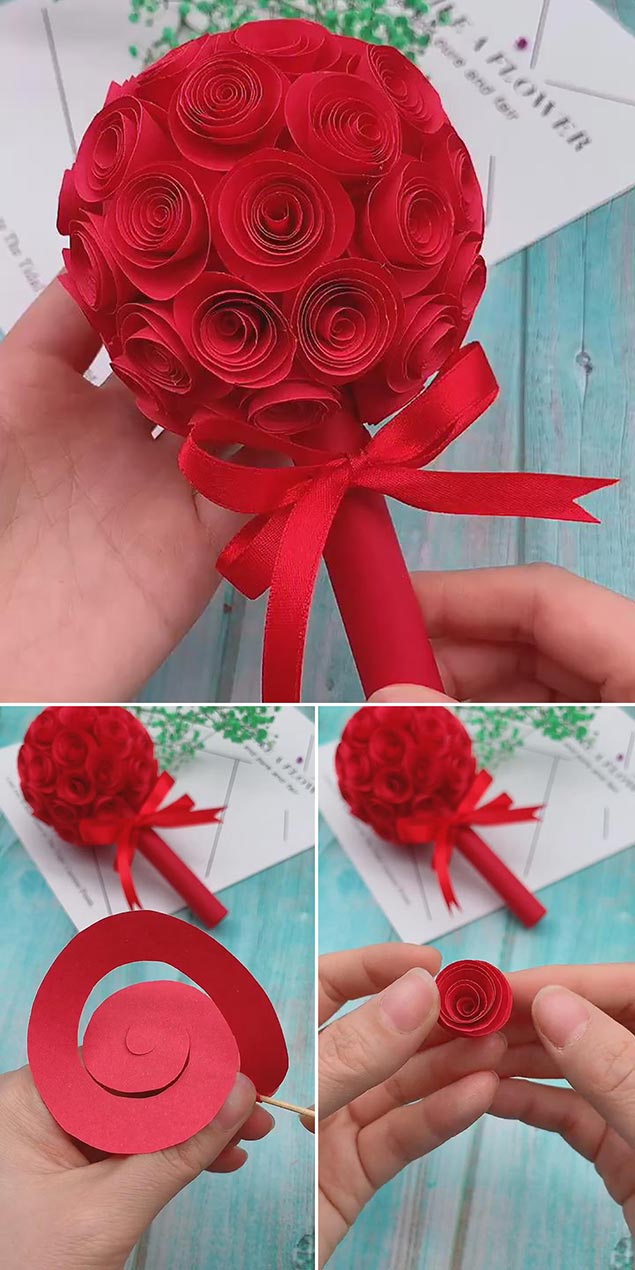 Video tutorial: facebook.com
#30. Valentine's Day Fake Mug Toppers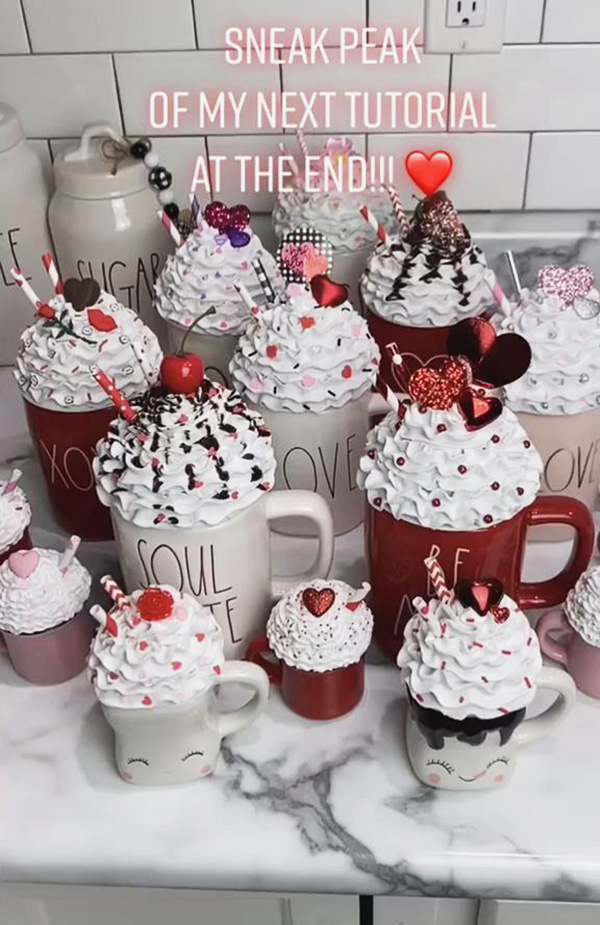 Tutorial via: @bowsandsilos