Every spring people all across the country pack away their winter clothes and throw open their windows to bring in that fresh spring air. There is something so refreshing about undertaking a spring cleaning of the entire house and clearing out all the cobwebs and clutter that have piled up during the winter months. While the result is satisfying, getting started on a spring clean can be a little be daunting. Here are some tips, tricks, and ideas to help you get started and make this the most thorough spring cleaning your house has ever had.
Yellow Pillows
Our pillows collect our dead skin cells, oil from our face, and sweat as we sleep. This combination of things, especially the sweat, can turn our pillows an unattractive shade of yellow. Pillow yellowing is made manageable with this simple cleaning method that you employ every few months to keep things fresh and white.
You'll need:
1 cup of laundry detergent
1 cup powdered dishwasher detergent
1 cup bleach
1/2 cup borax
See the VIDEO INSTRUCTIONS below:
Remove Hard Water Deposits From Stainless Steel Taps: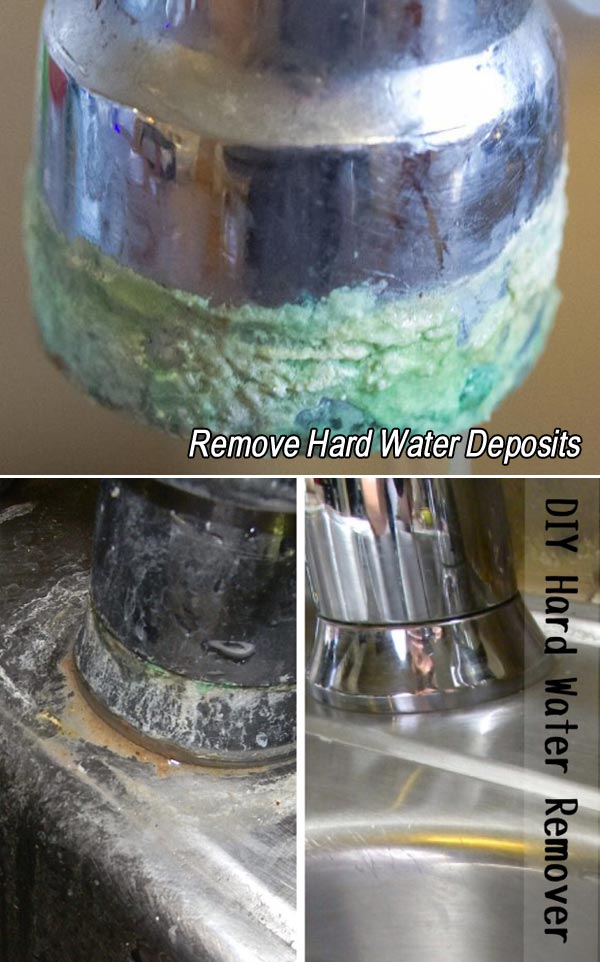 Image Source: flickr.com   See the detailed TUTORIAL here: thethriftyhome.com
How Often?
When was the last time you wiped down baseboards? Or deep cleaned the windows? This printable cleaning schedule will help keep you on top of those tasks that sometimes get pushed back until you think, "oh no, when was the last time I did this?"
Image Source: Good Housekeeping
Throw It Out
One of the first and most important steps in spring cleaning is what I like to call "The Purge" There's no point in organizing things you don't need. Random Barbie shoes and McDonald's toys in the bottom of the toy box? Gone. Can of fruit that expired six months ago but is lurking in the back of the pantry? Toss it. This task can seem overwhelming. Where do you start? Use this decluttering graph to help you get things in order.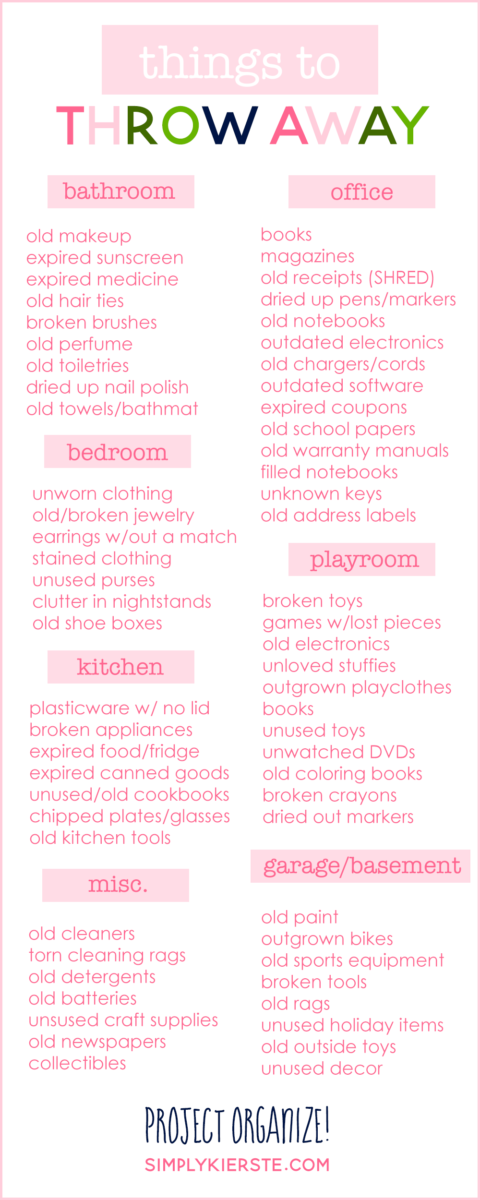 Image Source: Simplykierste.com
Clean Your Mattress
No one wants to sleep on a dirty mattress, but it's not something you can just toss in the washing machine. However, this method makes it almost as easy to clean your mattress as it is to do a load of laundry. Get a spray bottle and mi 3TBLS baking soda, 8oz hydrogen peroxide, and a drop of dish soap. Spray down your mattress and let the mixture air-dry. Once it has had time to dry, vacuum the mattress and enjoy.
Overlooked Household Spots
There are parts of our house that we use or touch every single day, but when it comes to cleaning we look right past them. When was the last time you cleaned the food trap in your dishwasher? What about vacuuming the curtains or wiping down the door handles? Check out this list of commonly forgotten cleaning tasks.
Image Source: LifeHacker.com
Pots and Pans Made Easy
Pots and pans are something we clean frequently, but they can be so time-consuming. Whether it's stuck-on food, scorch marks, or just general staining, this easy-to-understand graphic explains the quickest ways to get rid of each type of stain with minimal elbow grease.
Image Source: Babble.com
DIY Cleaning Products
While many modern cleaning products are super-efficient, they also come with ingredient lists that can be worrisome. There are lots of traditional cleaning methods you can whip up at home without all of the added fragrances and chemicals. Things like vinegar, lemon juice, and baking soda doubled as cleaning agents for decades because they work wonderfully. Here is a list of simple recipes to make your own household cleaners.
Image Source: Heandsheeatclean.com
Decode Clothing Labels
Have you ever looked at the cleaning label in your favorite blouse and wondered why it's written in hieroglyphics? While laundry symbols save space on tags, not many people have them all memorized, which leads to them being overlooked and ignored. This printout can be hung in your laundry room as a quick reference to make sure you don't accidentally ruin that lovely new dress.
Image Source: Buzzfeed.com
Clean Oven Glass
Oven glass is one of those things that gets put off because it's a hassle to clean, and the longer you put it off the more caked on the grease gets and the harder it is. This trick uses a couple of common household items and makes it much more manageable. Gather up a wire hanger, some Windex wipes, and a few rubber bands, and let's get started.
See the tutorial at: jdenigpinbuster.blogspot.com   &   mom4real.com
Coconut Oil
Coconut Oil is one of the most versatile items you can keep on hand. While it works great as a substitute in baking, it is also useful for cleaning the house. This wonder oil can clean and soften leather, as well as be used to make a quick DIY furniture polish. Here are 50 uses for coconut oil that you have probably never thought of.
Image Source: Today.com
Essential Oils
Adding essential oils to your homemade cleaning products is a great way to make your house smell fresh without all of the chemicals in commercial fragrances. However, they are much more useful than that. Learn which oils can be used to get rid of mold, purify your fridge and help disinfect your countertops.

Image Source: Draxe.com
15 Cleaning Hacks In One Infographic
Image Source: Dailyinfographic.com
Freshen Towels
Our bathrooms aren't always the best-ventilated room in the house, and this can lead to our towels smelling mildewy. No one wants to rub mildew on themselves fresh out of the shower. A quick and easy remedy for that funk is vinegar and baking soda. Run your towels through the wash on Hot and instead of detergent use 1 Cup of vinegar. After that is done, run them through once more, but this time add 1/2 cup baking soda, then simply throw them in the dryer as usual.  Check out the full instructions here: classyclutter.net