Guess what's coming! It's full of bright colors and good food. But it will bring with it more than pretty things, and yummy meals that fill the kitchen with wonderful smells.. What's coming represents starting over.
When it feels like life has jumped out of the plane, but refuses to pull the ripcord on the parachute, a certain day comes along. We call it Easter.
Did you guess Easter? If you did, reach around and pat yourself on the back. Because you guessed right. Easter —the holiday when many people celebrate life and rebirth—is right around the corner.
And one of the things we we love to do at Easter is sit down to dinner with loved ones. We also love great Easter table centerpieces.
HOW SHALL WE DECORATE?
Too often, though, we stress about how to decorate at Easter. Well, this past year has had enough stress. Decorations aren't going to be on the list of things we worry about this time.
And in fact, we will gladly help you keep everything fresh…and…well…Easter-y. It will not only remove pressure. It will also keep the cost of decorating down. Here are—
EASTER TABLESCAPES THAT GRAB ATTENTION—
EVEN AS YOU ARE RESTING YOUR FEET
1. A couple dollar-store vases with tulips in them. Matched to those, a gift bag in the middle of the table that wishes everyone a Happy Easter. Plus, for an extra bit of fun, a small container on everyone's salad plate. Fill it with candy, plant seeds—whatever your guests might enjoy.
2. Have your first appetizer come off the "egg tree".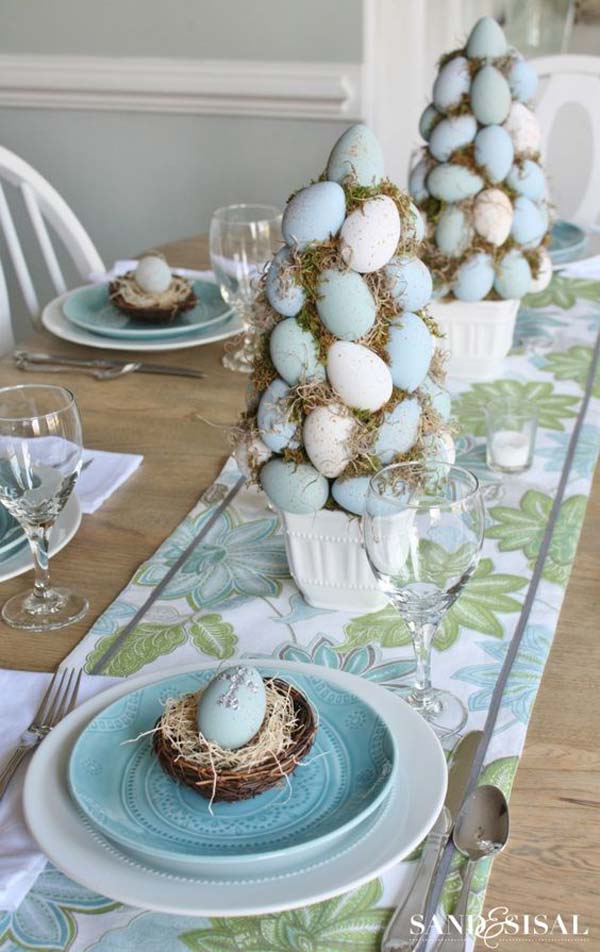 via: sandandsisal.com
3. Put some greenery in a couple plates, add eggs. ( They can be real, plastic with surprises, cream, etc.) Then put in a chocolate rabbit to be hunting for the eggs.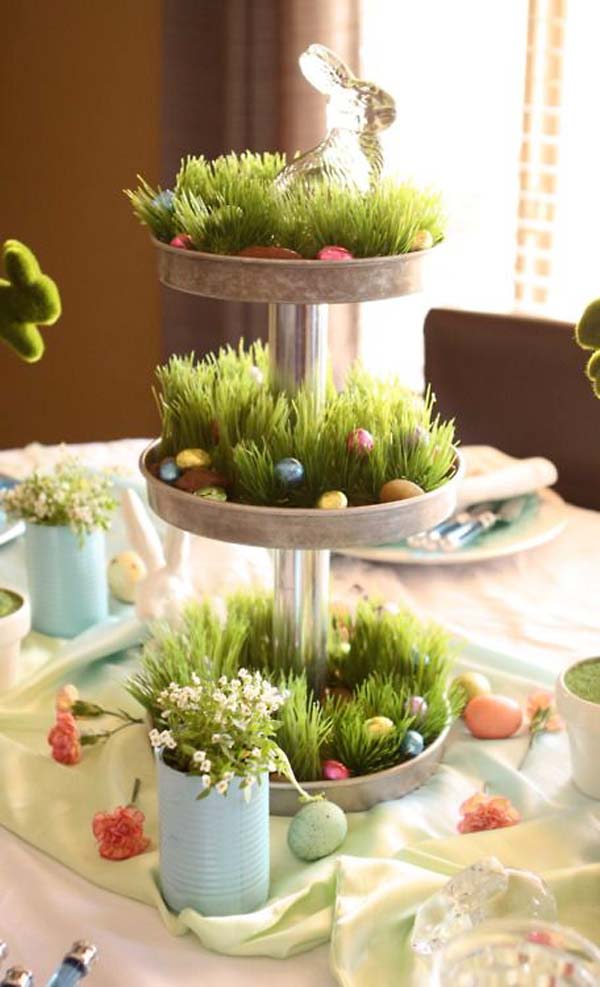 4. Itching to put out candles? Put a platter with a bunch of kale on the table. Add eggs. Then add a couple candles and light them. If you want to give it more pizzazz, pull one of the houses out of your Christmas village and stick the house in the center of everything.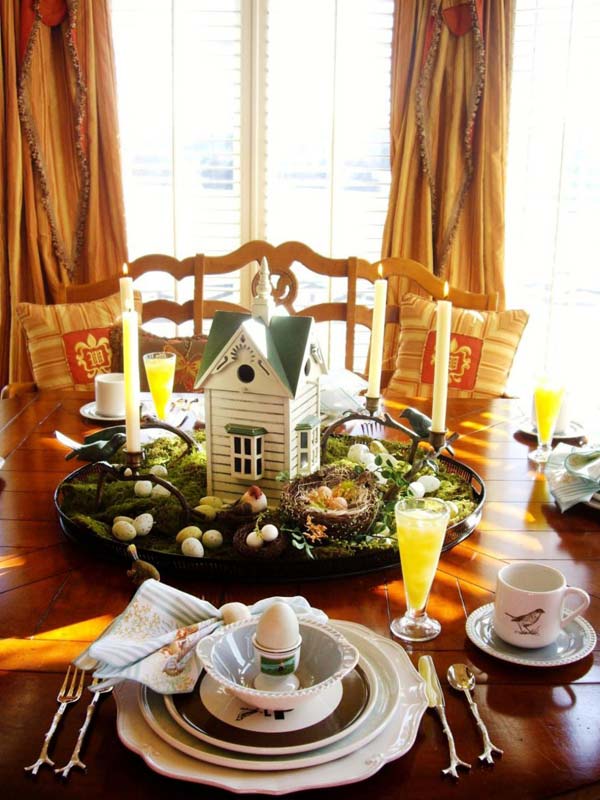 5.Get a vase at the dollar store, put some branches in it. Put ribbons in plastic eggs and around candies, so it will all hang. Don't forget to put a candy, envelope of hot chocolate, party favor, etc., inside the plastic eggs.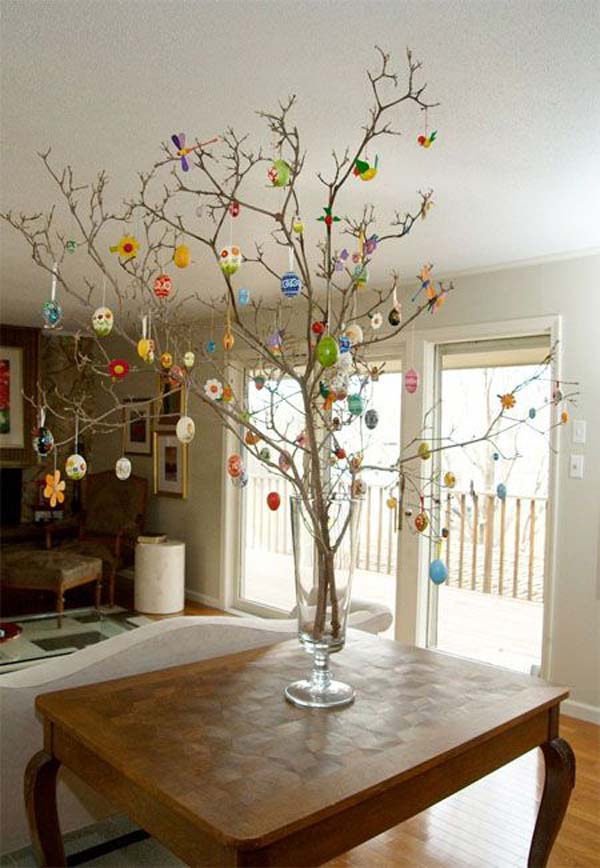 via: skiptomylou.org
6. Put small chocolate bunnies in small bowls, then place one at each spot.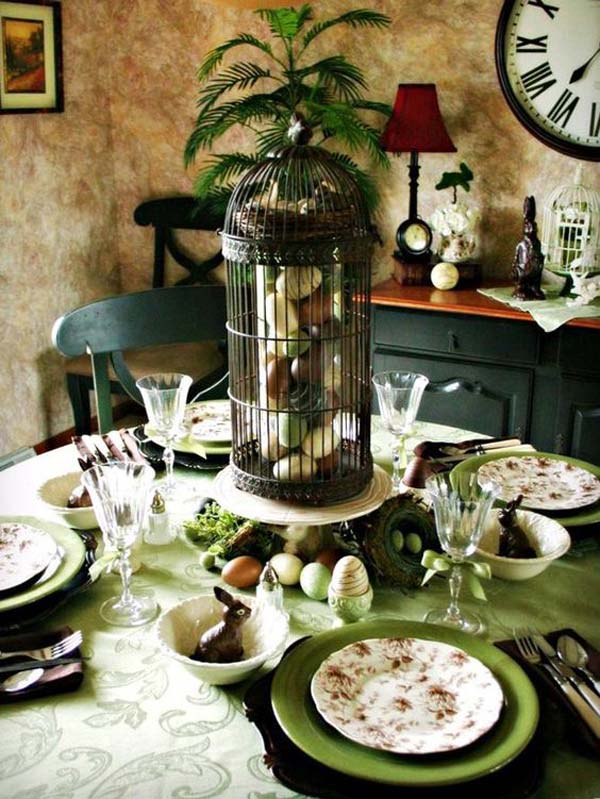 7. No vases? No problem! Dig out two or three mason jars, and fill them with flowers. Then, spread a few plastic eggs around them.
8. Bring in an old metal basket, fill it to over flowing with chocolate or cream eggs. Add a branch of tiny flowers.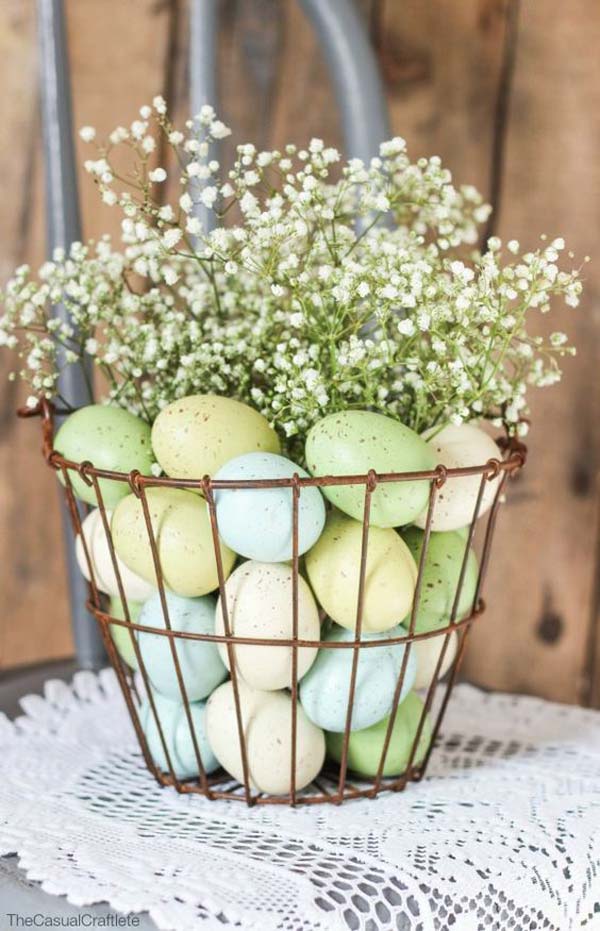 via: purelykatie.com
9. Get a small window box. Add flowers, if it doesn't have any growing in it:
10. Out of dry grass, make nests. Add eggs.. Set a nest at each spot: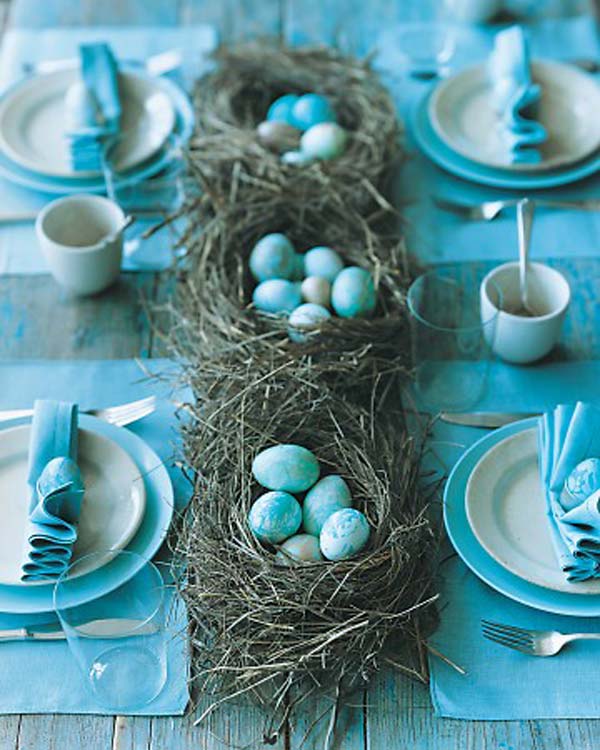 11. Scatter small baskets around the table with "eggs" in them. Put a porcelain bunny nearby. For a finishing touch, a bunny sitting in greenery, surrounded by real or fake eggs can be in the middle of the table:
via: hgtv.com
12. Need a way to let people know where to sit? Put a small basket at each place. In each basket, put tiny chocolate eggs. Each basket can have a banner with a name on it: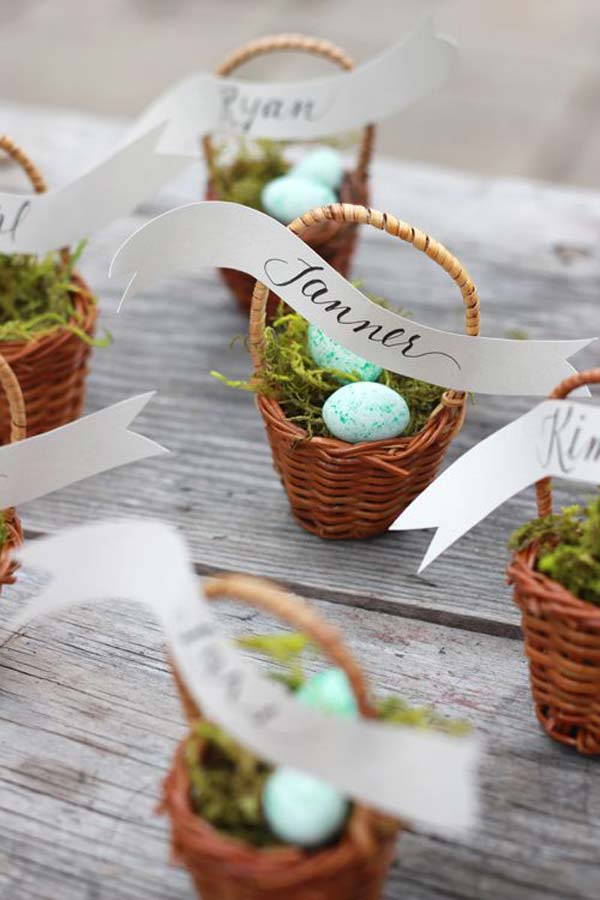 via: thehousethatlarsbuilt.com
13. Get a woven bunny, put it on a plate. Put a few eggs around the bunny. Ta-da! Centerpiece: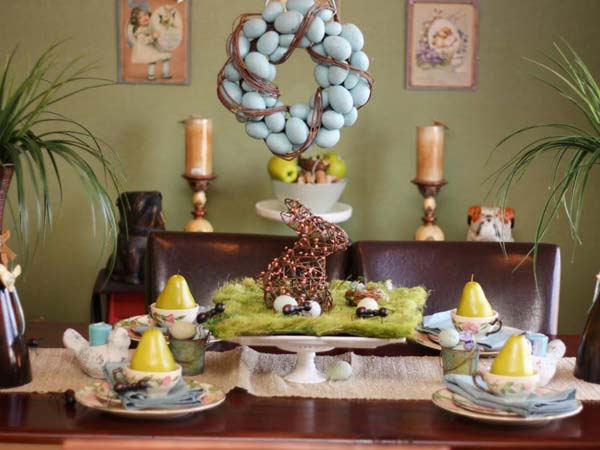 14. Go with a color theme. For example: two clear containers with eggs, a white pitcher in the middle. White salad plates, white napkins, white tulips and a white table runner: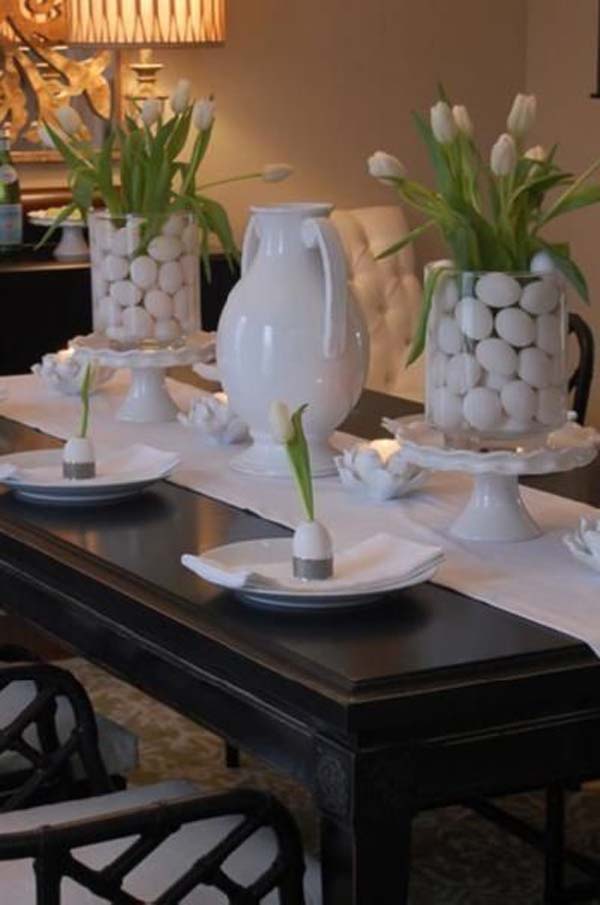 via: decorpad.com
15. Make "carrots"—Use cocoa for dirt. Ice cream cones for carrots. Cool Whip or jam as carrot topping. Slice carrots lengthwise, put cocoa in, lay carrot on cocoa "dirt". Leave out for guests to top as they will: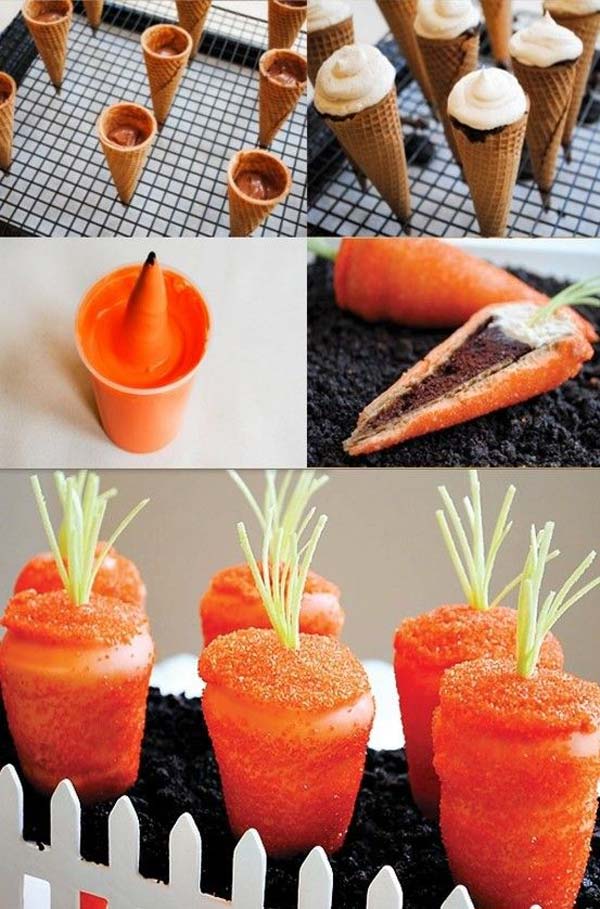 16. Write letters on white "eggs". Hang from branches so the eggs say Happy Easter. Have little statuettes on the table: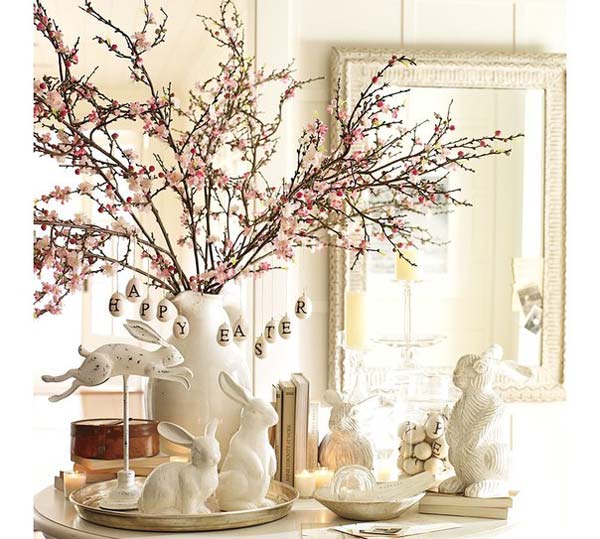 17. Set a clear container in the center of table. Get orange paper. Curl into a cylinder, with one end skinny. Use greenery, like chives at the top of the cylinders, along with flowers: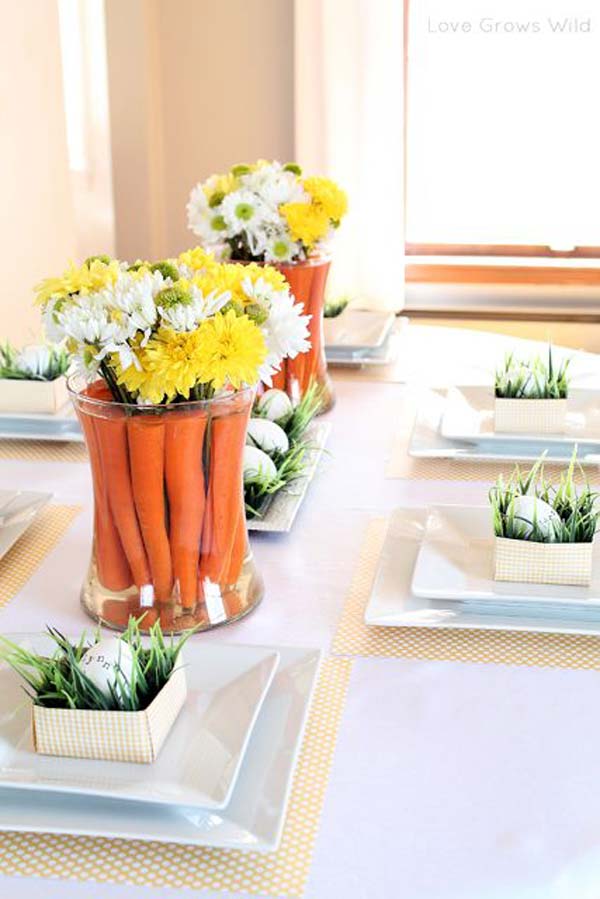 via: lovegrowswild.com
18. Put a branch of flowers and a chocolate bunny on a plate. Dip a brush in a bright color, flick the color at some eggs, and put the speckled eggs all around the chocolate bunny on the plate. You have a centerpiece: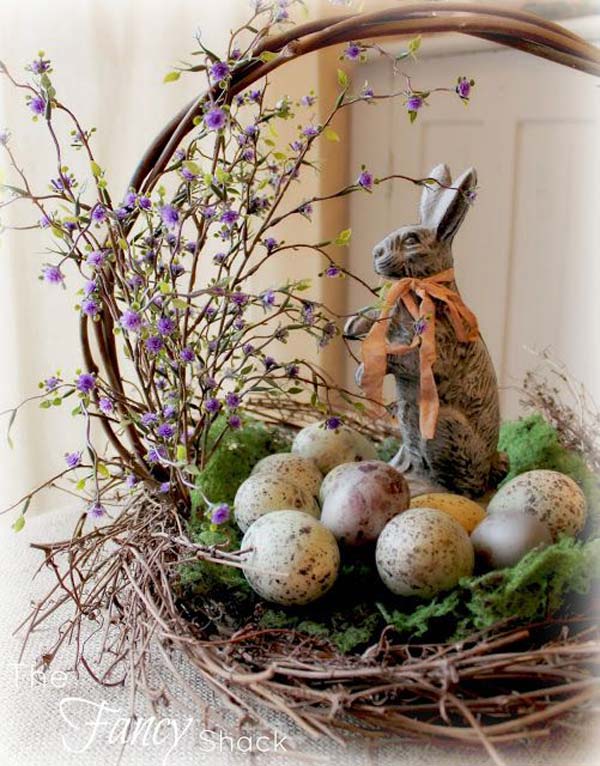 19. At each person's place, have an egg be waiting. The egg is real and has their name on it: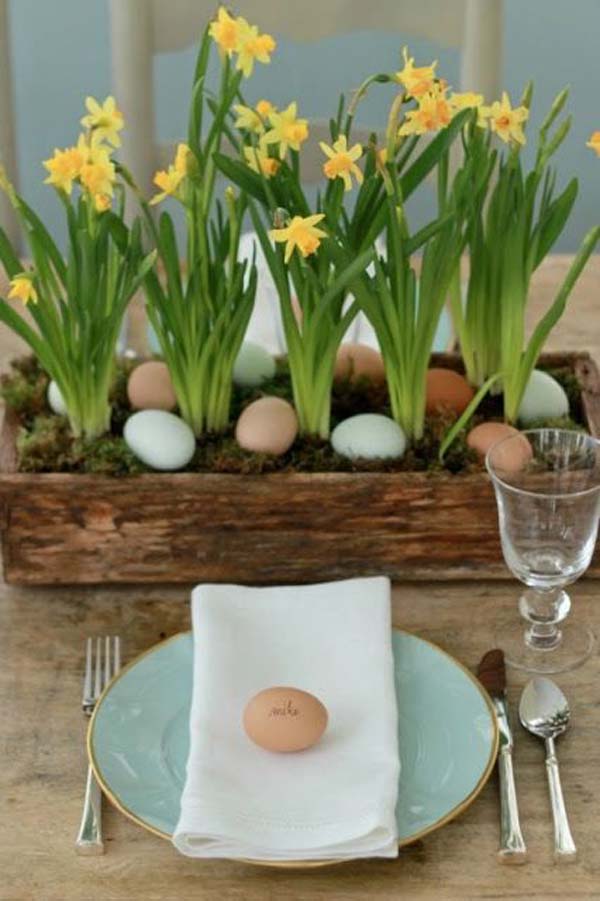 20. Each person has two ceramic bunnies staring at them:
21. Around each plate is a grapevine-type branch, with a few leaves. And around each napkin is a napkin ring with ears: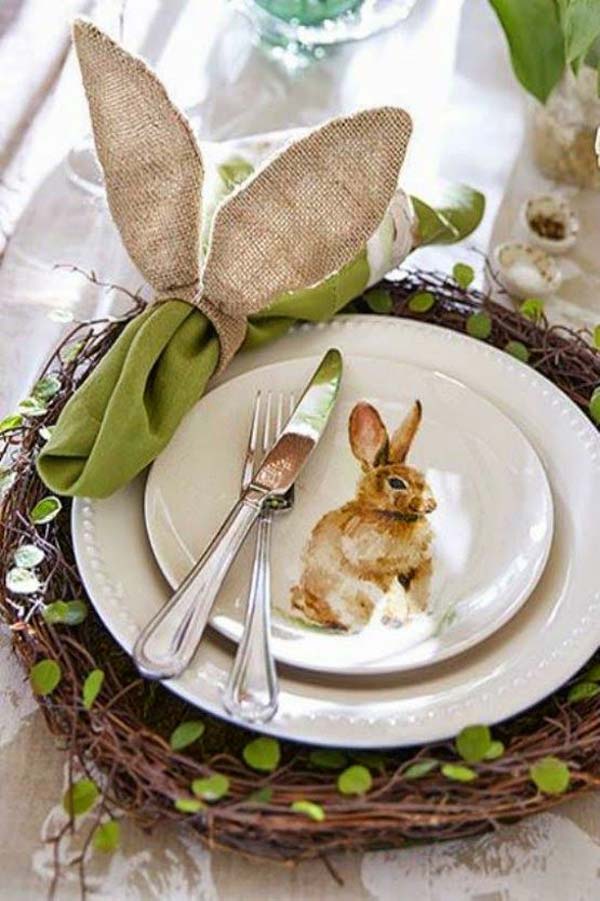 via: ciaonewportbeach.blogspot.com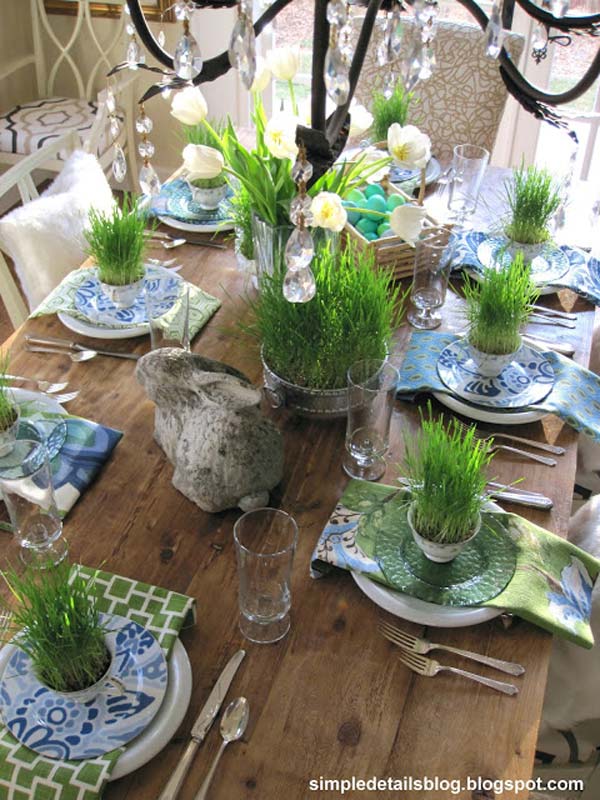 via: simpledetailsblog.blogspot.com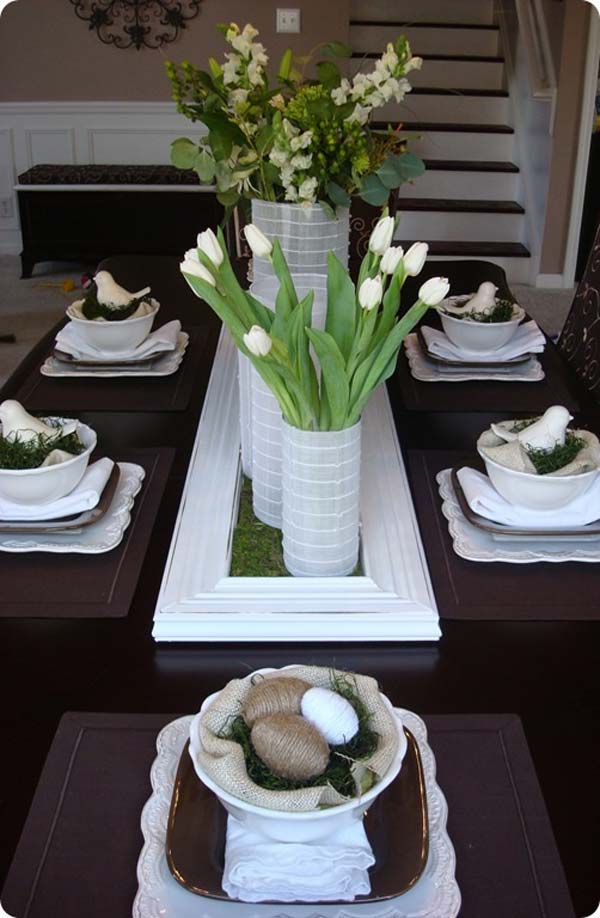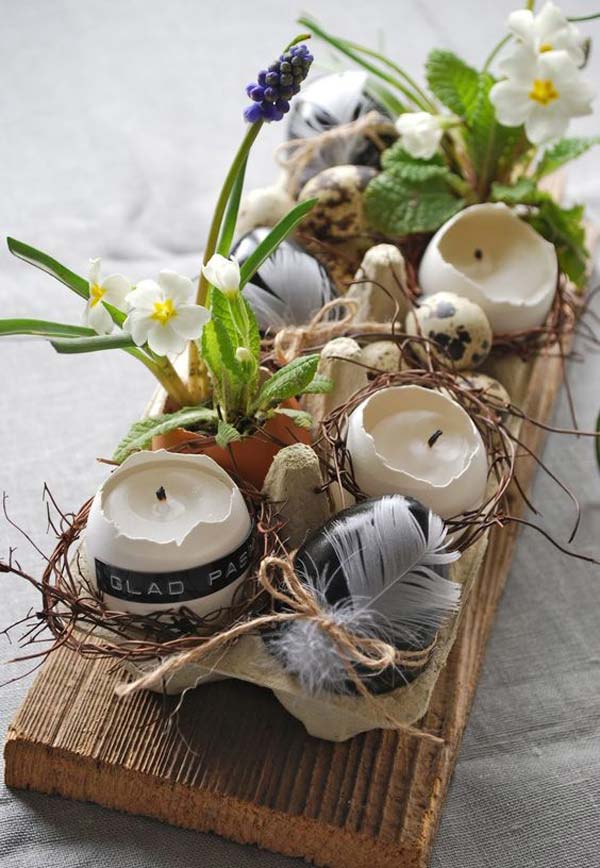 via: dining-delight.blogspot.com
27. Let eggs mark their place—then have the marker give a surprise. Plastic eggs are wonderful: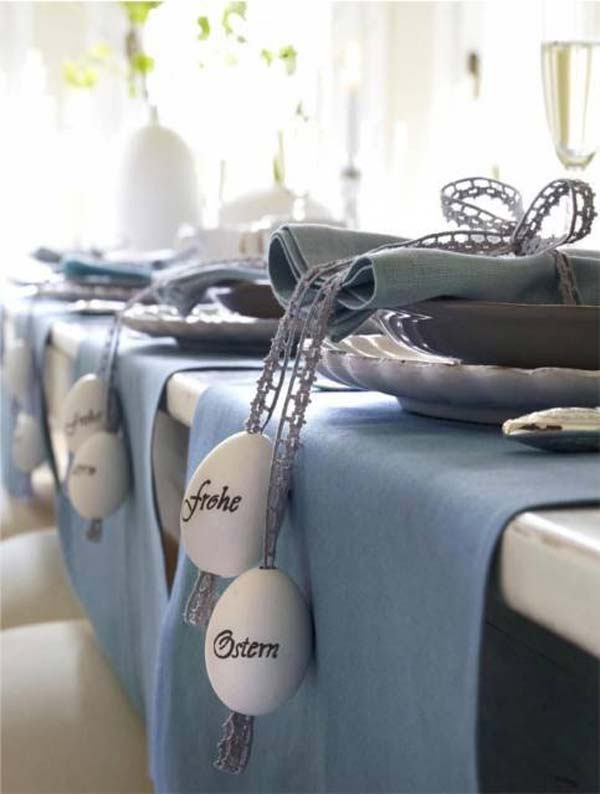 28. A picture of a bunny at each place—in the form of a placemat—can be taken home after the meal:
via: http://uncommondesignsonline.com/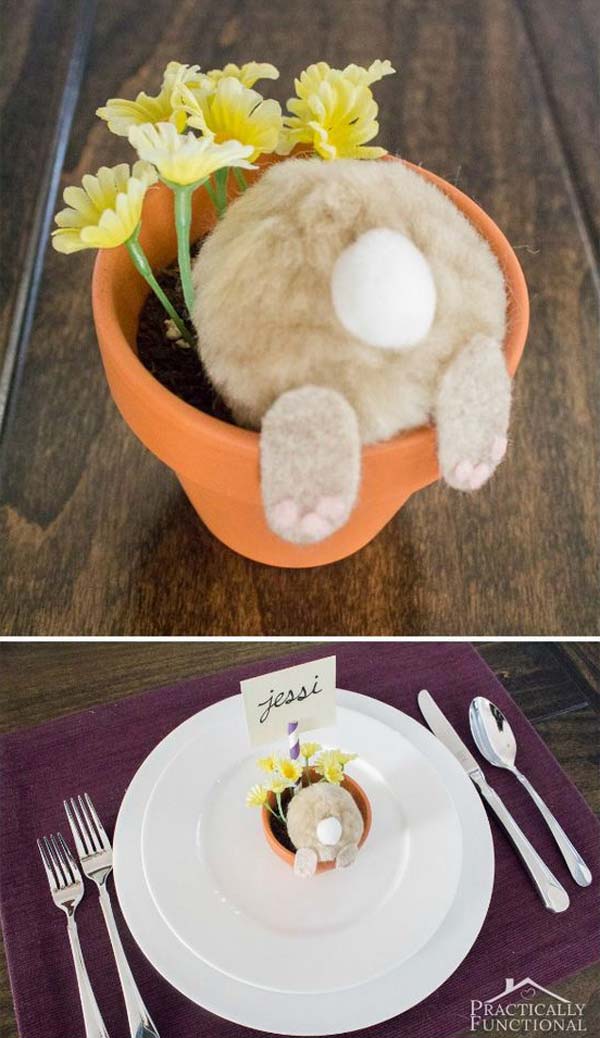 via: practicallyfunctional.com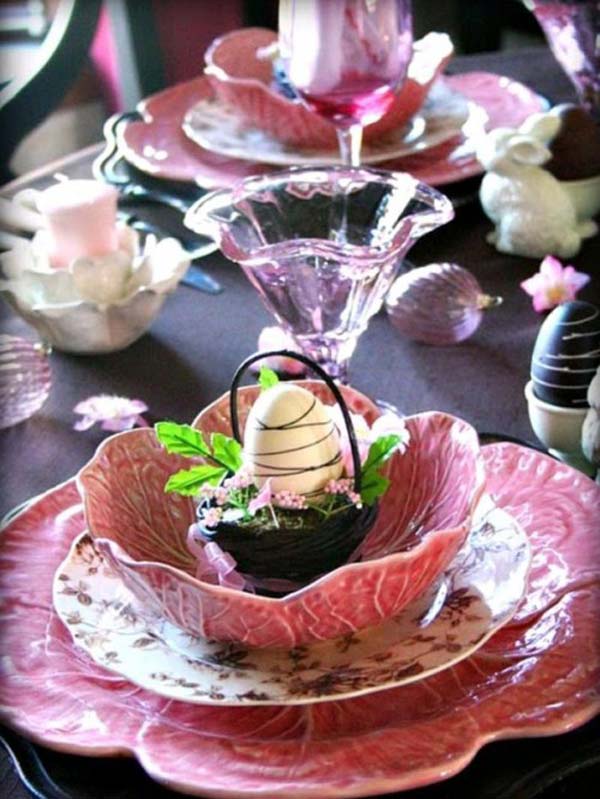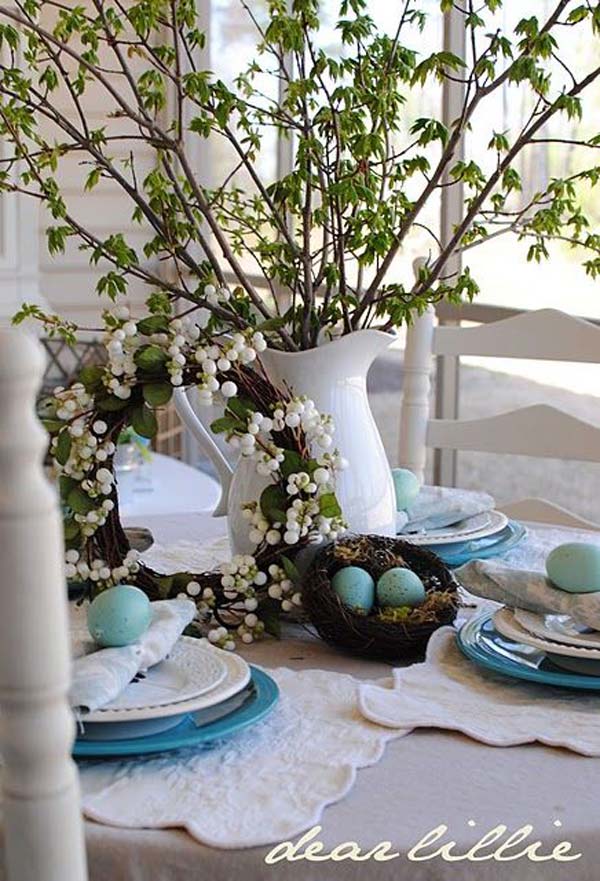 via: http://dearlillieblog.blogspot.com/
36. Sometimes simple is best. Shredded colored paper in a colored goblet at each place, along with a cupcake: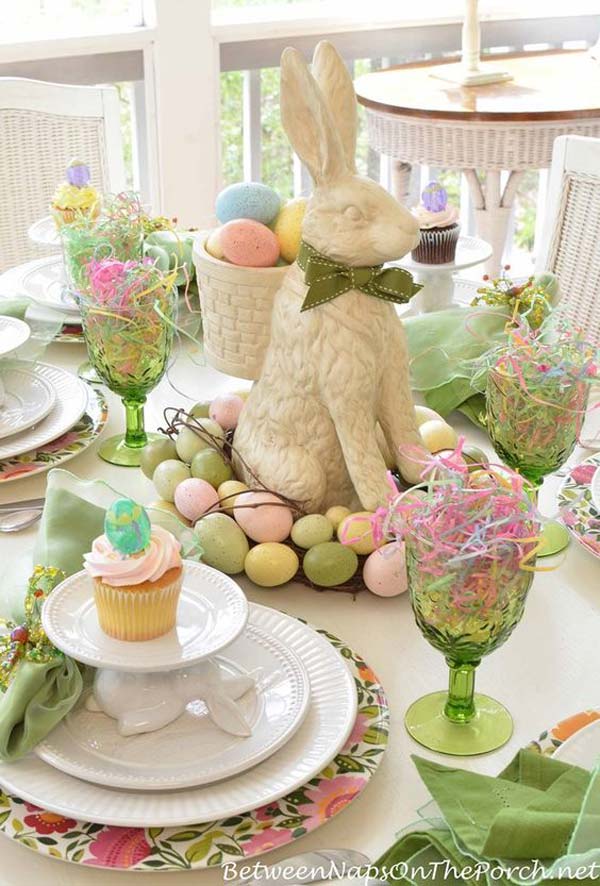 via: betweennapsontheporch.net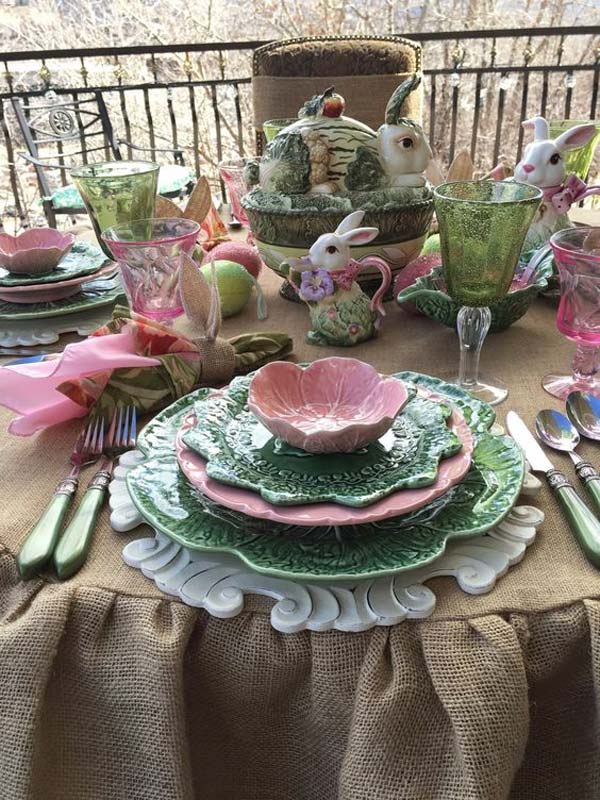 via: wunderweib.de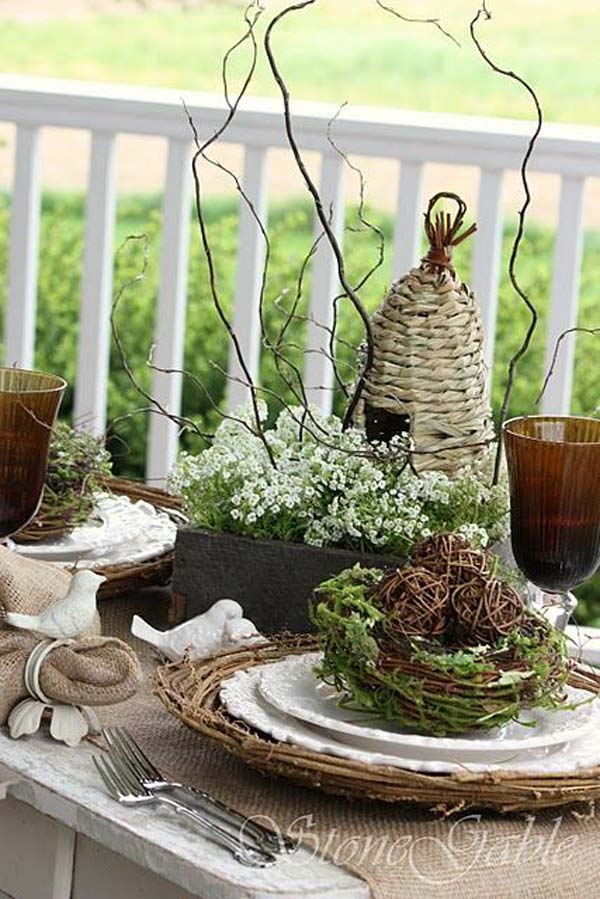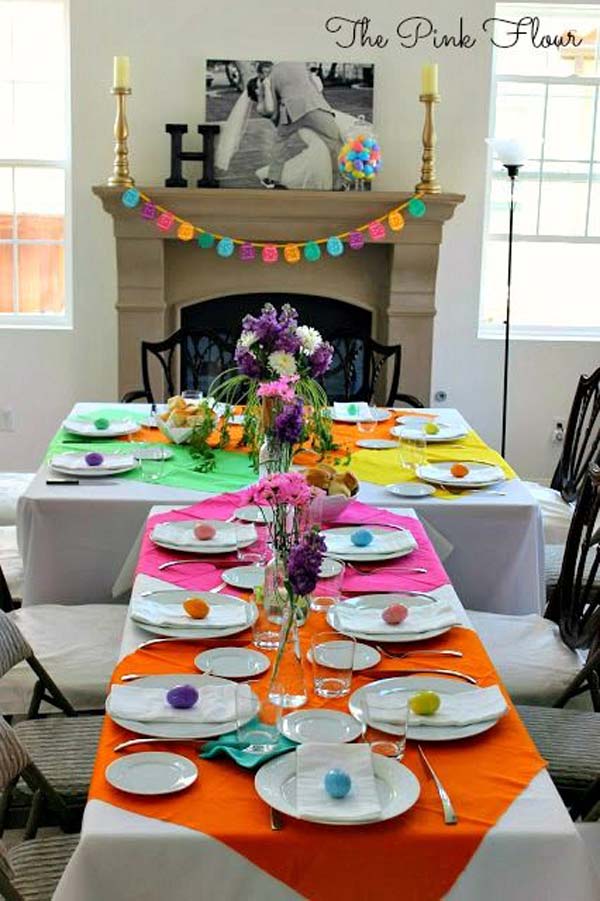 via: encatiminiaveclili.blogspot.com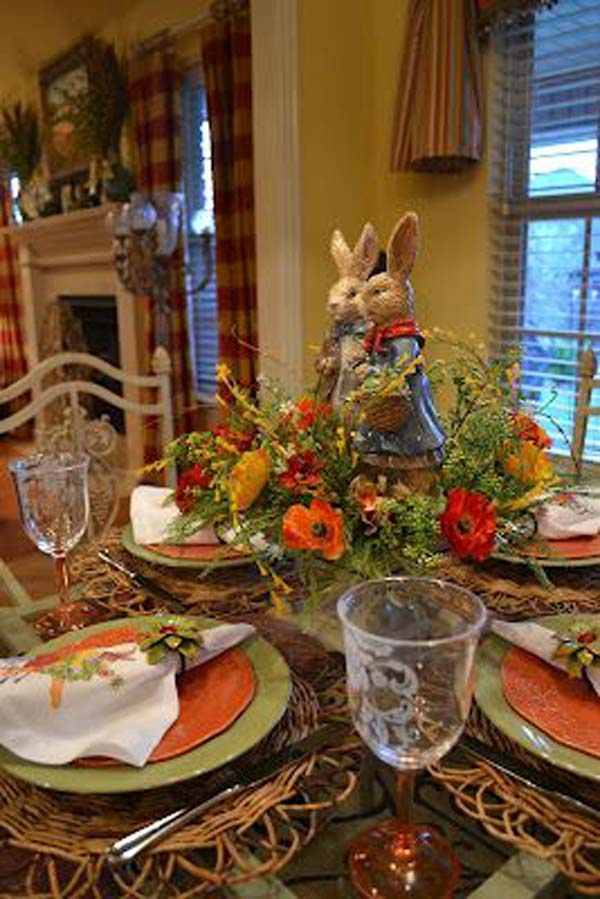 via: kristenscreationsonline.blogspot.com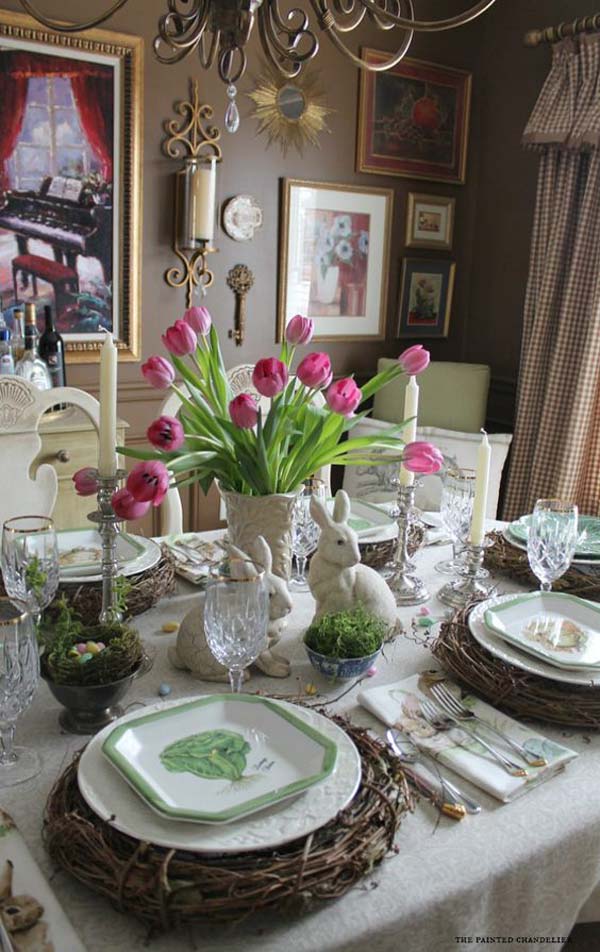 via: thepaintedchandelierblog.com