Well, folks, 2021 is in full swing and Easter is right around the corner. And we all know what that means!
If you're anything like me, you're someone that loves Easter not only for the holiday itself but because of the fun festivities you get to enjoy with your kids. From face painting and Easter decorating with the young ones to fun competitions like the three-legged race to the super fun and exciting Easter Egg Hunt, the holiday is truly unlike any other.
This year you can make Easter even more special by getting together with the rest of your family and creating super fun and easy decorations all around the house. This way you'll get all the fun and enjoyment of Easter even before the actual day!
Here, we've pooled together 30 different Easter decorating crafts that we know you'll love. From classics like egg decorating, to fun basket designs, we know you and your family will love them just as much as we know you'll love making them.
1.Peep Houses
Perfect places to hide a small batch of eggs for the hunt, all you need is a few pieces of graham cracker, some marshmallow icing, and a peep or two and you've got an adorable little home.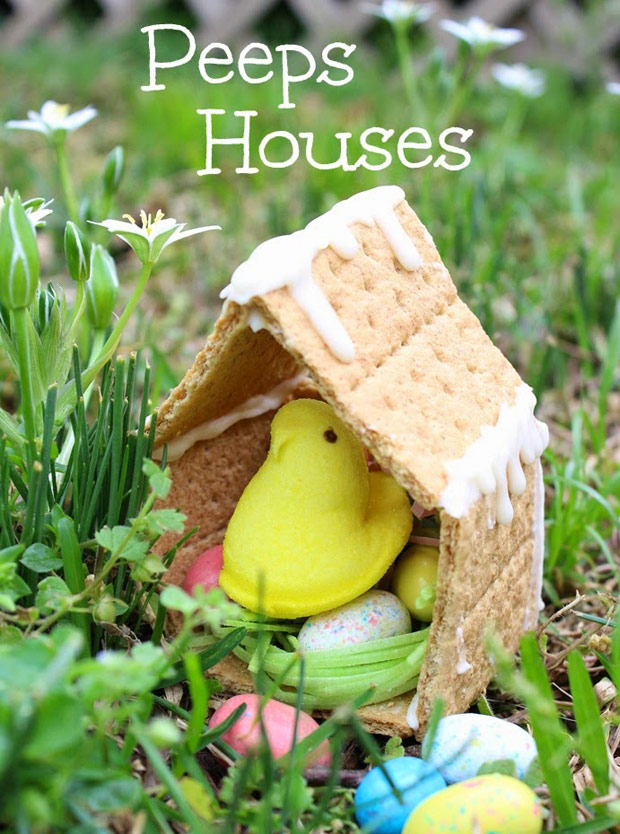 Tutorial: yesterfood.blogspot.com
2.Easter Bunny Bags
These super cute bags are perfect for storing eggs and candy during Easter day. Just grab a few gift bags and some scrapbook paper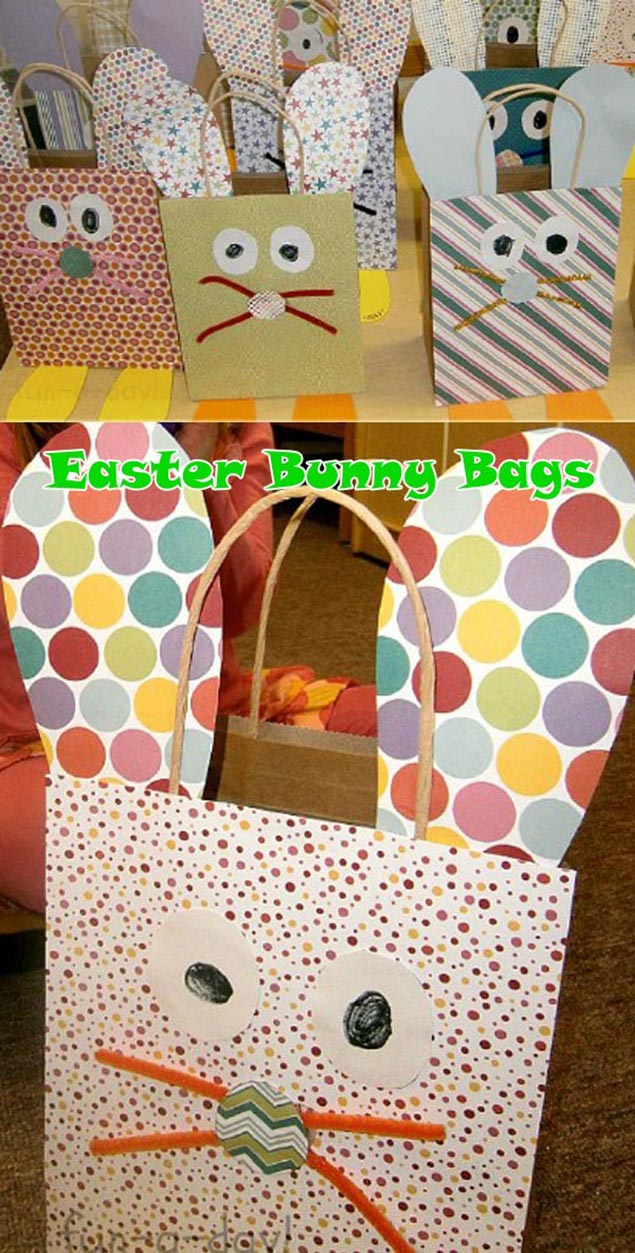 Tutorial: fun-a-day.com
3. Homemade Easter Basket
Just grab and color a paper plate, fold and staple it, and voila! You've got yourself your own Easter Basket made right here at home.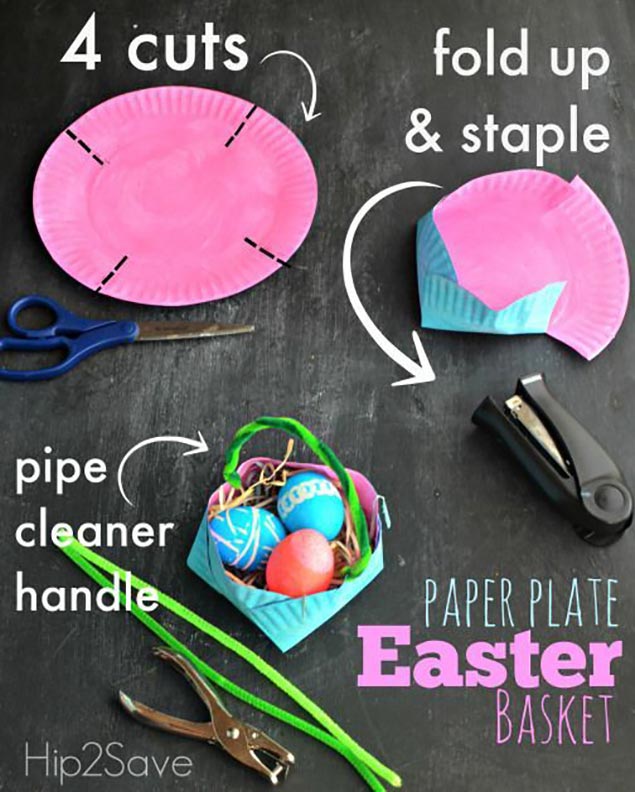 via: hip2save.com
4. Yarn Easter Egg Suncatcher
This beautiful and easy to make design just needs some textured yarn, some glue, and a piece of transparency paper.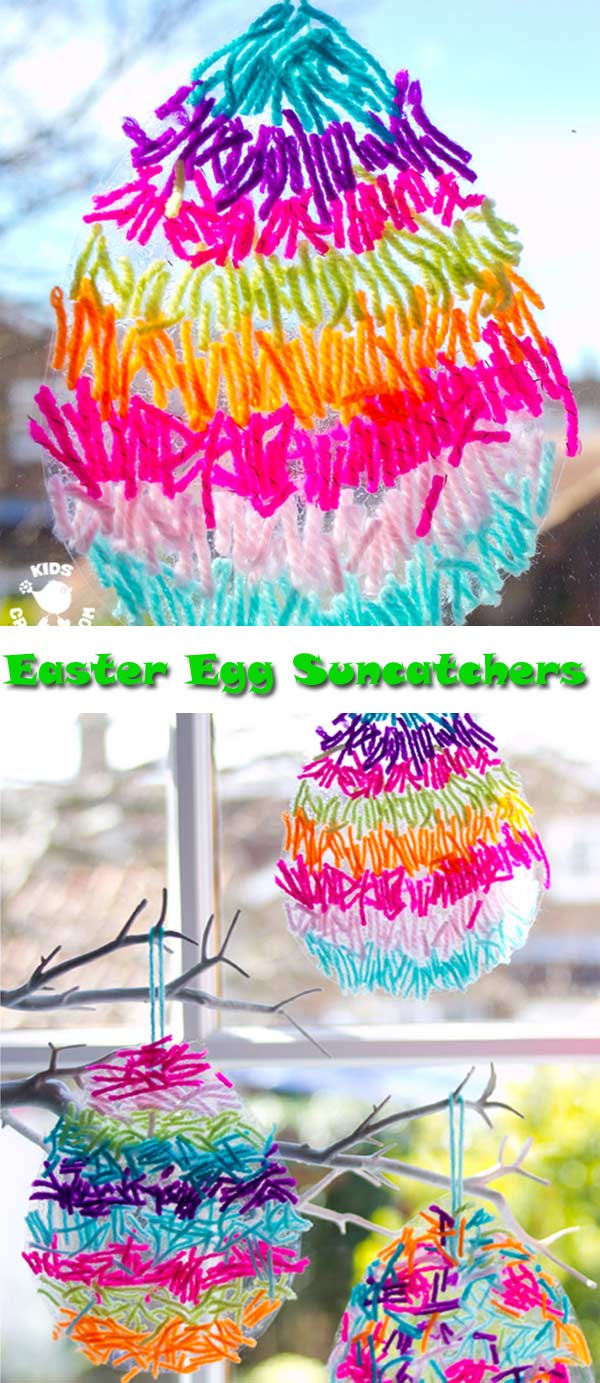 Tutorial: kidscraftroom.com
5. Hidden Bunnies
Uh oh! Looks like these little bunnies are hiding in your pots! If you've got a little time to design your pots, you can make this adorable design truly amazing.
via: vbs-hobby.com
6. Homemade Hens
Just take the edges of your egg cartons, a bit of red paper, and you've got yourself your own egg-laying hens! Just in time for the Easter Egg Hunt!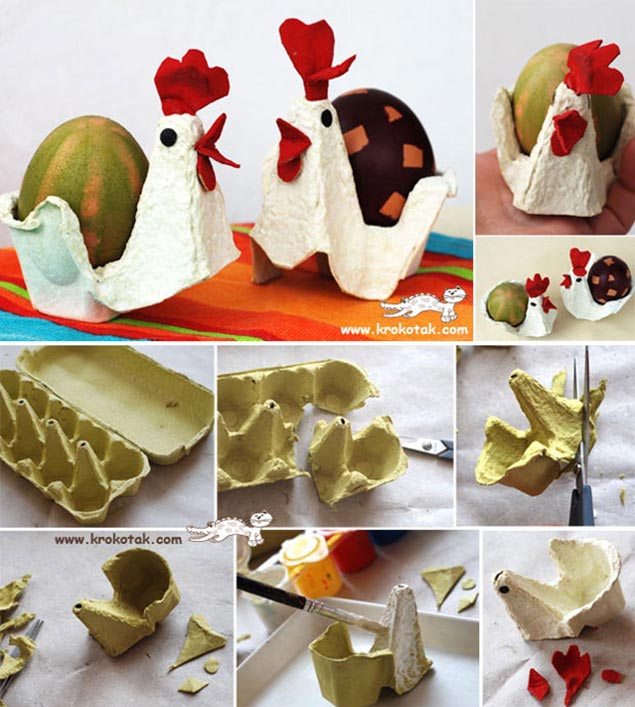 via: krokotak.com
7. Sponge Painted Easter Egg Basket
This super adorable piece of art is great for kids. While it won't actually hold any eggs, it will certainly look like it does!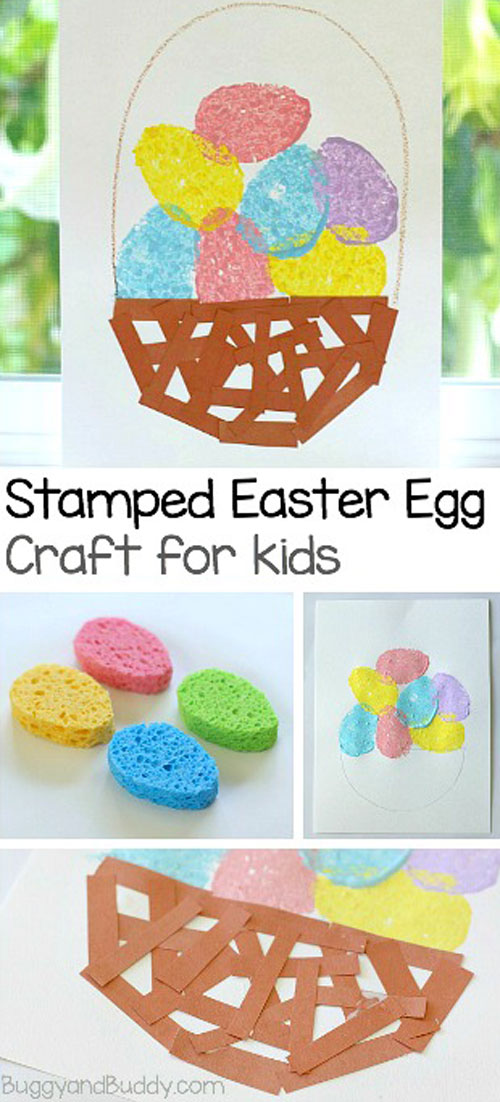 Tutorial: buggyandbuddy.com
8. Marshmallow Bunnies
This super cute art design is just as tasty as it is fun to look at. Just be sure not to spend too much time snaking on the materials!
Tutorial: notimeforflashcards.com
9. Easter Basket from Recycled Paper
With an inflated balloon, some shredded paper, and some glue, you can make your own Easter Basket from just about anything. Not only that, but it works!
Tutorial: jenniferperkins.com
10. Easter Fingerprint Crafts
Just your fingerprint and some markers, and you've got the next great painting right on your refrigerator door.
Tutorial: sarahndipities.indiemade.com
11.Easter Wreath
If you want a super-unique yet satisfying craft design, simply take some recycled egg cartons and some glue and you're on your way!
Tutorial: ourpotluckfamily.com
12. Paper Carrots Garland
All you need is some orange and green paper and some string and you've got a whole string of carrots to tempt the Easter Bunny.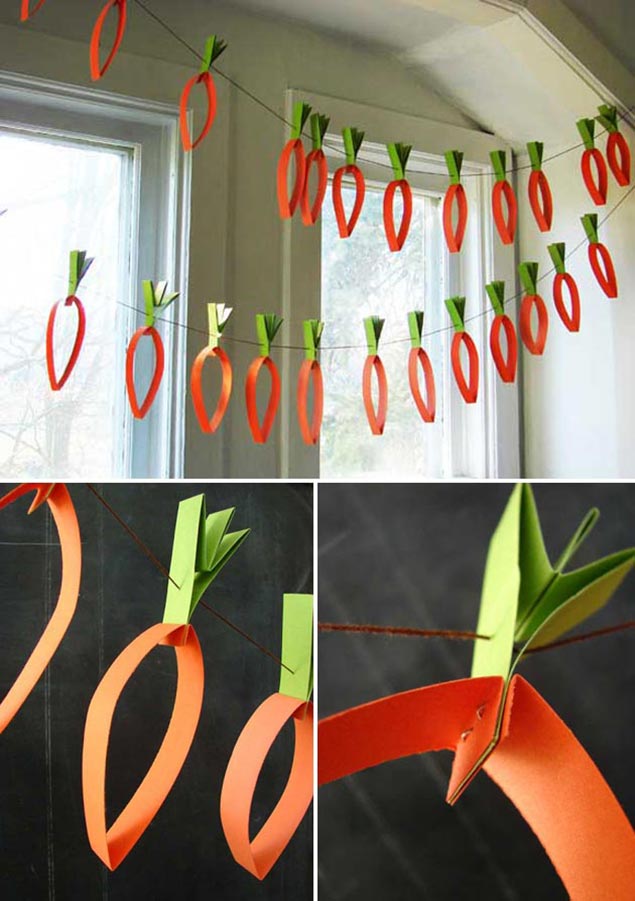 Tutorial: aestheticoutburst.blogspot.com
13. Mini Easter Basket
Make your own mini baskets with just some twine and some small paper cups. Perfect for young ones that don't need a huge basket.

14. Fun Easter Garland
Using some pompoms, buttons, and a few plastic eggs, you can have yourself an Easter-centric home in no time!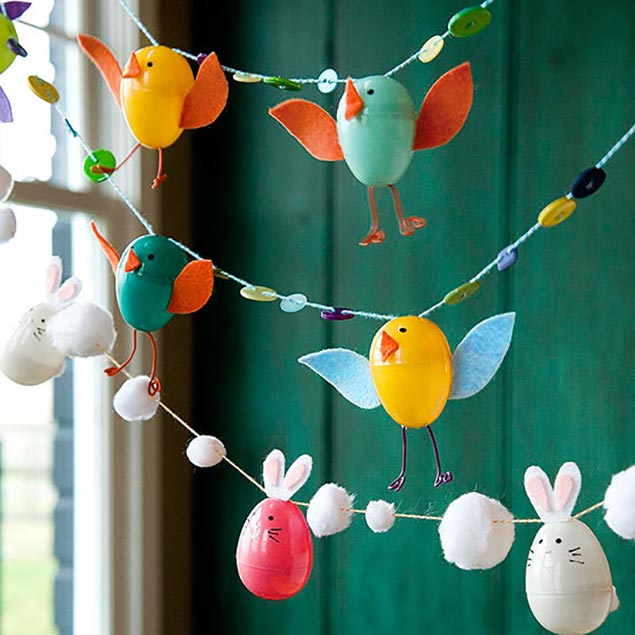 via: bhg.com
15. Bunny Bait Bunny Cups
If you've got a few paper cups lying around, just get some googly eyes and lint straws and suddenly you've got the perfect bait for the Easter Bunny this year.
Tutorial: porch.com
16.Easter Breakfast & Eggs
Turn breakfast into a fun experience. Just needs a couple of pieces of bacon, some blueberries, and a good old fashion egg.
via: kidspot.com.au
17.Cute Chicks Inside Eggs
A painting experience for the whole family, instead of just painting your eggs the standard way, consider having the little chicks say hello!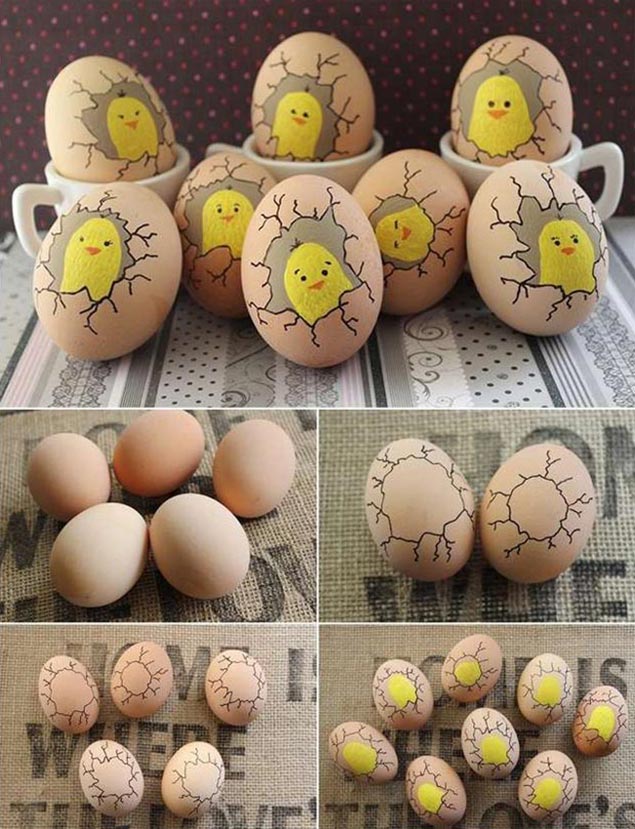 via: nlcafe.hu
18.Paper Bunny
Equal parts hat and mask, with just a couple of paper plates, you can have the perfect Easter Bunny disguise.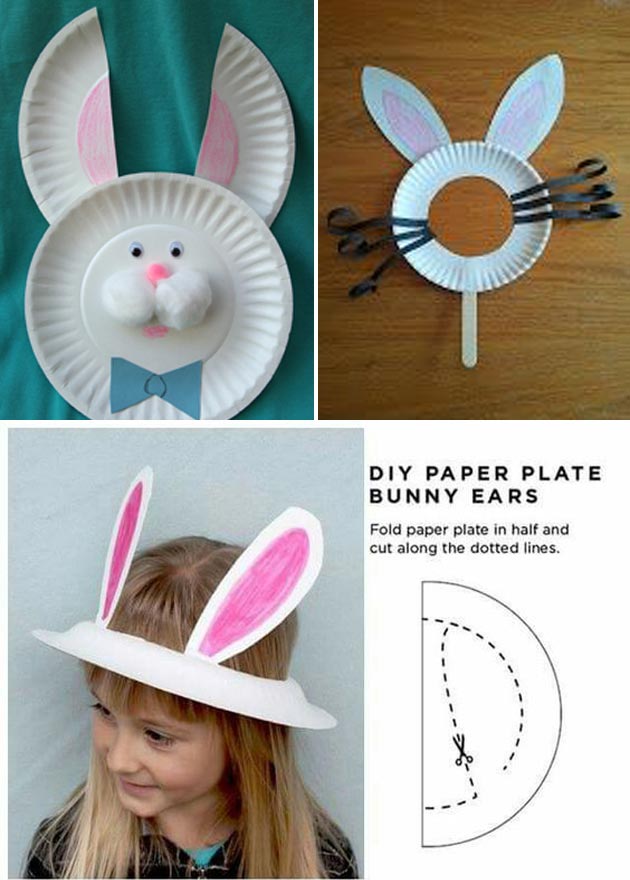 19. Bunny Rabbit Family
Just like your family, why not make a family of bunnies too? All you need is a cardboard tube and a few little hands to help out.
Tutorial: craftsbyamanda.com
20. Easter Bunny Stamps
With a couple of toilet paper rolls and a bit of paint, you can create your very own stamp so the Easter Bunny can sign off on your home.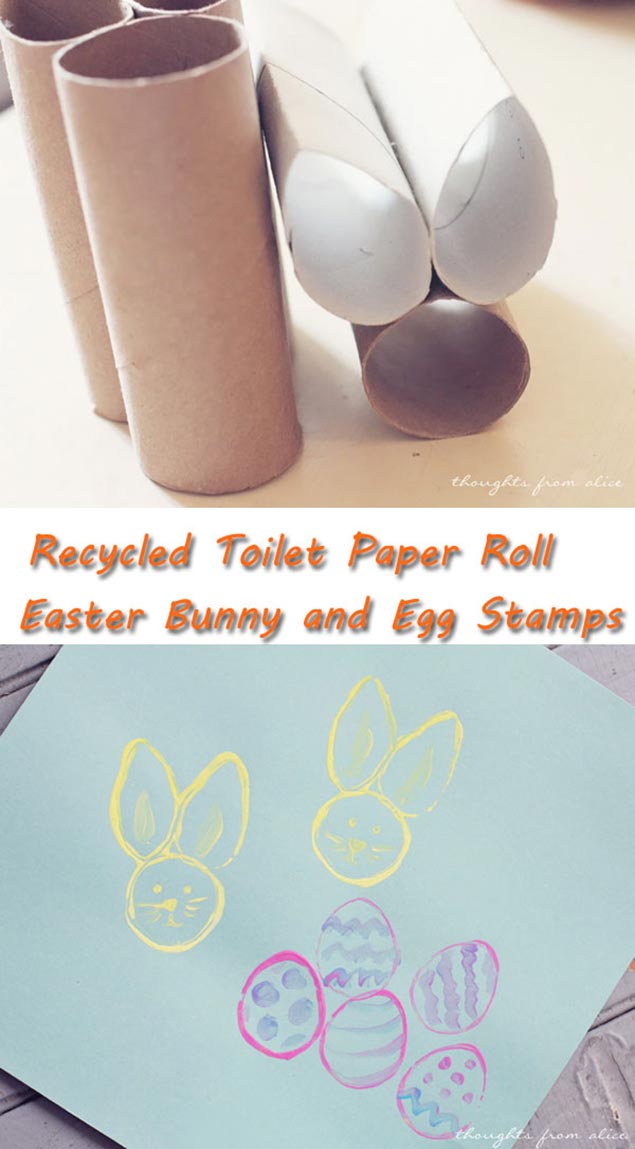 Tutorial: thoughtsfromalice.com
21. Handprint Flower
A perfect event for the whole family, make a garden of handprints to welcome in this coming Spring.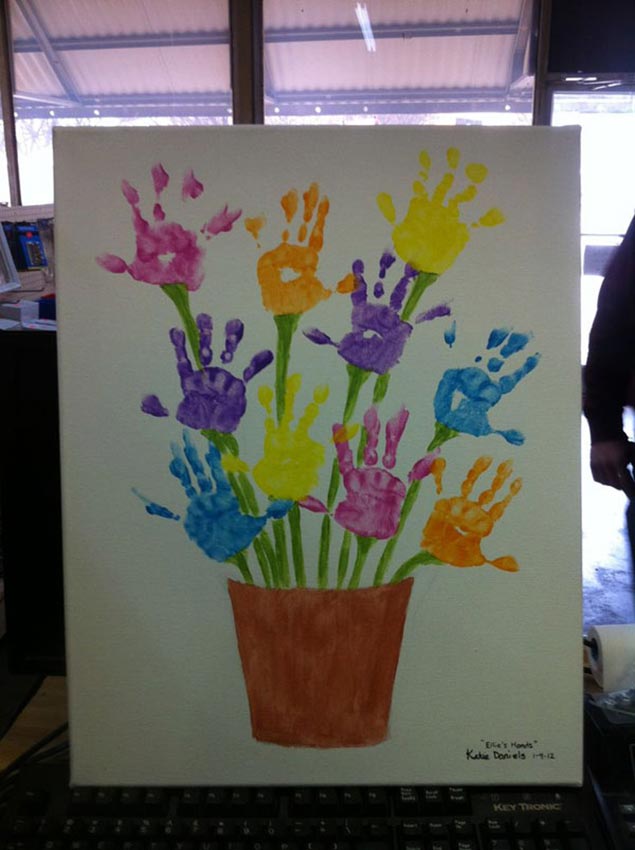 22. Paper Chicken Cones
These super cute and fun designs are perfect for when Easter day starts. Wear them all the kids in a bunch of different fun designs.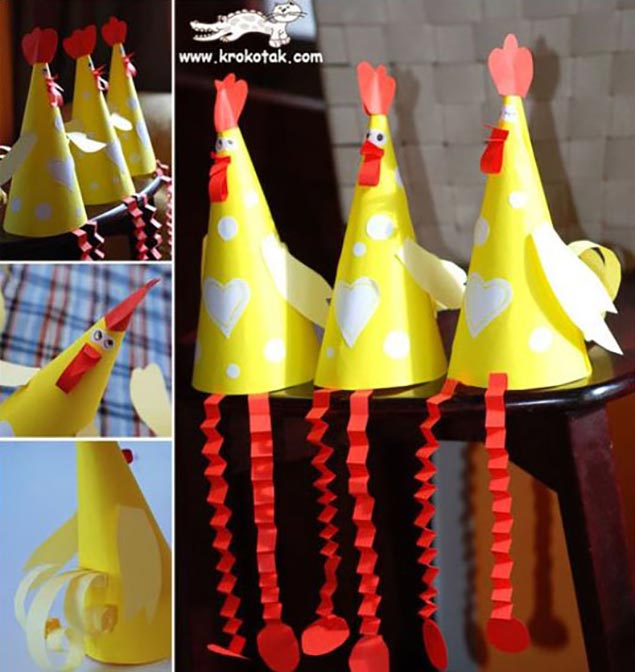 23. Marshmallow Bunny Ears
Just as sweet and tasty as they are neat and fun, working with your little one, you can cut these marshmallows into ears while they place them in the sugar dusting.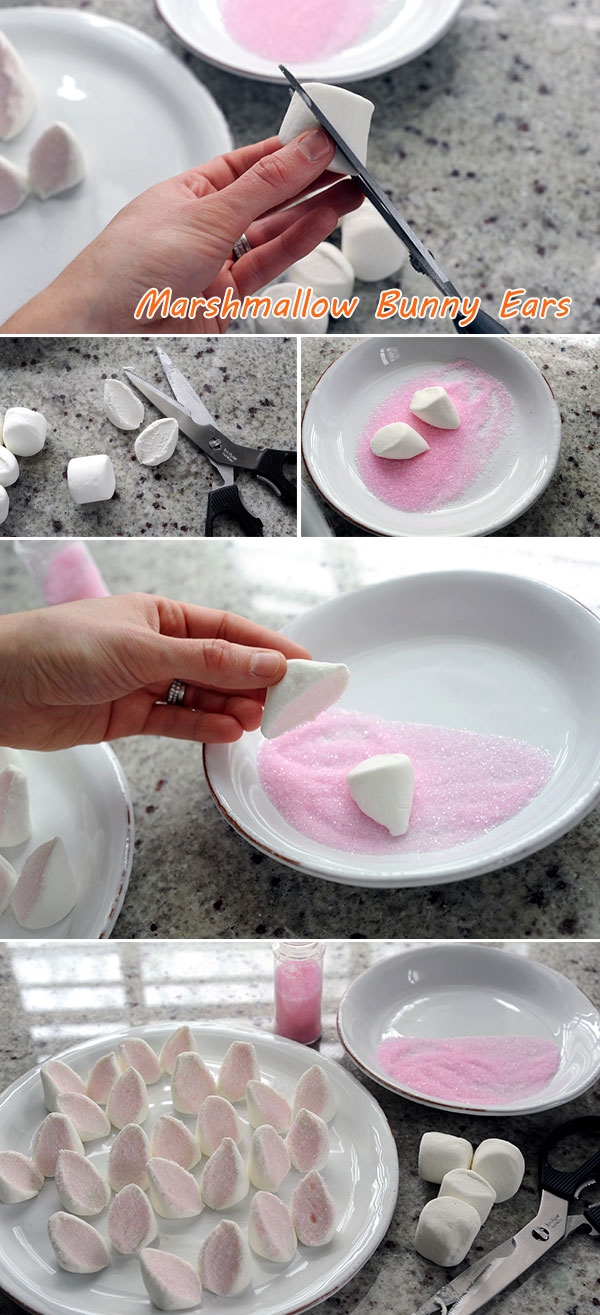 Tutorial: stylingmyeveryday.com
24.Soda Bottle Bunnies
Fill up some recycled soda bottles for a neat container of candies for your kids.
25. Paper Chick Saying Hello
With a bit of paper and a paper plate, you can work on this craft with the family to make a mini Easter egg complete with a cute little chick to say hello!
via: deavita.fr
26.Juice Box Bunny
When you're kid finishes their juice box, don't throw them away! Instead, work together to make some adorable little bunnies to put around the house.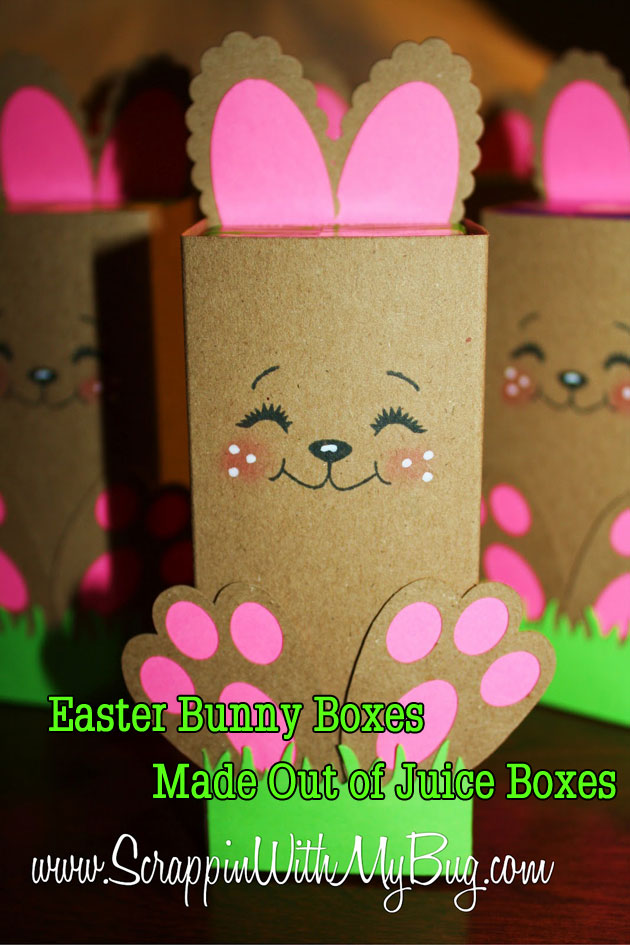 via: instagram.com    Tutorial: gluedtomycraftsblog.com
27. Easter Bunny Footprint
This super fun crafting project is something everybody can get involved in. Just make sure you wash your feet afterwards!
Tutorial: craftymorning.com
28. 3D Paper Plate Easter Basket
This super cool 3D Easter Basket is super fun to make and display this Easter.
29. Handprint Carrot
With some paper and an outline of your hand, you can make your very own carrot. Just what the bunny ordered.
30.Easter Crafts
Used for just about anything, just grab a couple pompoms, some clothespins, and a bit of paint, and watch as your kid's paint masterpiece comes to life.