Tension rods, best known for their superb ability to hang shower curtains, can do so much more beyond their most common function. After you see some of these innovative tension rod ideas, you'll likely be convinced that simply calling them "shower curtain rods" is a severe understatement and disservice to their capabilities. It's fair to say that their affordability, ease of use, and durability make tension rods an ultimate player in cheap and efficient DIY home decor improvements.
So if you're looking for an improvement in aesthetics and efficiency around your home, look no further than the versatile applications of tension rods. From ingenious utilitarian spice racks to turning your dining area into a cafe with a cozy French awning, you'll realize that making some major upgrades to your home does not require major costs.
1. French Cafe Awning – Turn your kitchen into a homage to some of the most well-renowned national cuisine on the planet. A second tension rod is all you need.
Tutorial: musingsfromafrenchcottage.blogspot.com
2. Hanger for Christmas Ornaments – There is no need to confine decorations to a tree. A tension rod placed above a window wound with a garland is a perfect place to add a splash of seasonal spirit.
via: paperboutiquewithlinda.com    and    s-jean-s.blogspot.com
3. Drawer Dividers – Placing tension rods in kitchen drawers is an effective way to get the most out of available space while keeping things neat.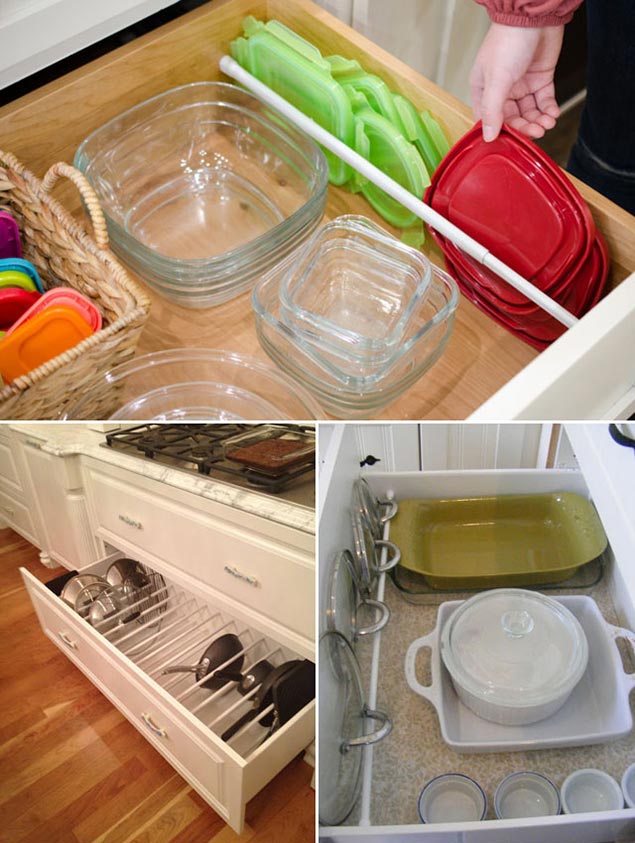 4. Storage for Children's Clothing – If you feel overwhelmed with the abundance of your young ones' clothes scattered about, a tension rod is all you need to virtually double a closet's storage capacity.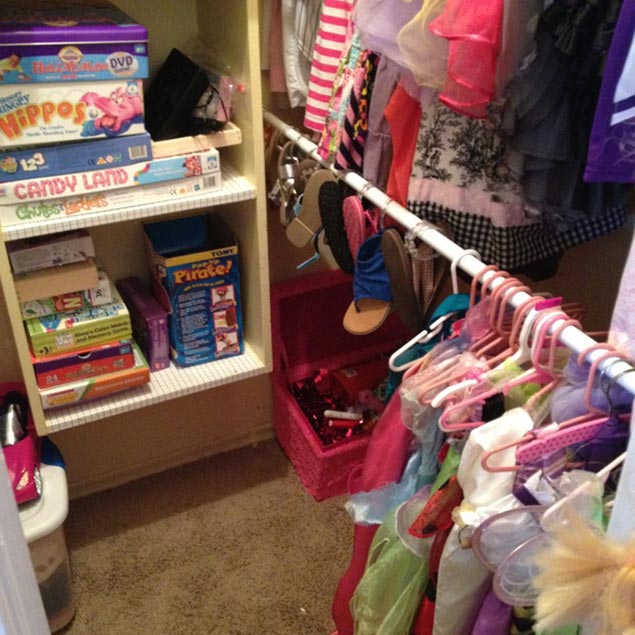 5. Scarf Rack – These versatile garments need not be neglected when not being worn. With this scarf rack, they can decorate your room or closet when they're not decorating your outfit.
6. Shelf Under the Kitchen Sink – With a convenient way of placing baskets, you can say goodbye to the days of getting down and dirty on the floor just to grab a bottle of counter cleaner.
via: rakuten.co.jp
7. Pet Gates – With a few tension rods lying around, assembling barriers for your pets is both easier and cheaper than buying a dedicated and flimsy gate from the store.
8. Kitchen Cabinet Dividers – Tension rods work in your cabinets, too. Just a few of these things makes neat and space-efficient cubbies for baking sheets and cutting boards.
via: bhg.com
9. Privacy Curtains – Want to save a couple hundred dollars? If privacy is all you're after, using a tension rod to hang a curtain is a cheap and (admittedly) elegant way to visually close off an area.
10. Dishcloth Rack/Drying Rack – You don't need to continue placing soaking dishcloths on fragile wooden cabinet doors with this space-saving setup.
11. Hangers for a Bathtub or Shower – Tension rods can hang more than the curtain. You can install them on the inside for hanging baskets, soaps, and sponges without compromising the space you need to comfortably move your arms.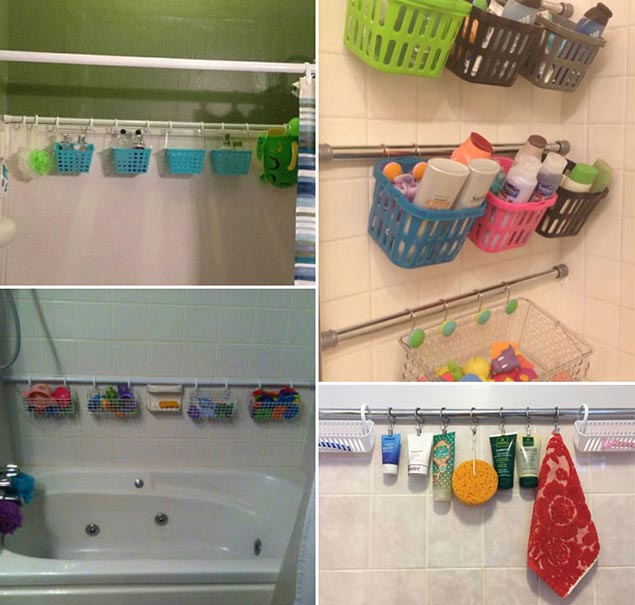 12. Convenient Cupboard Hanger – With a tension rod and shower curtain hooks, skillets and saucepans don't need to be stacked haphazardly on top of one another.
13. In-Drawer Spice Rack – With this clever and eye-catching placement of small tension rods, you have a world of flavor within arm's reach.
Tutorial: dejongdreamhouse.com
14. Build a Dollhouse – Empty, abandoned hallway? Lower the creep factor by building a doll house out of a single sheet of fabric and a couple rods.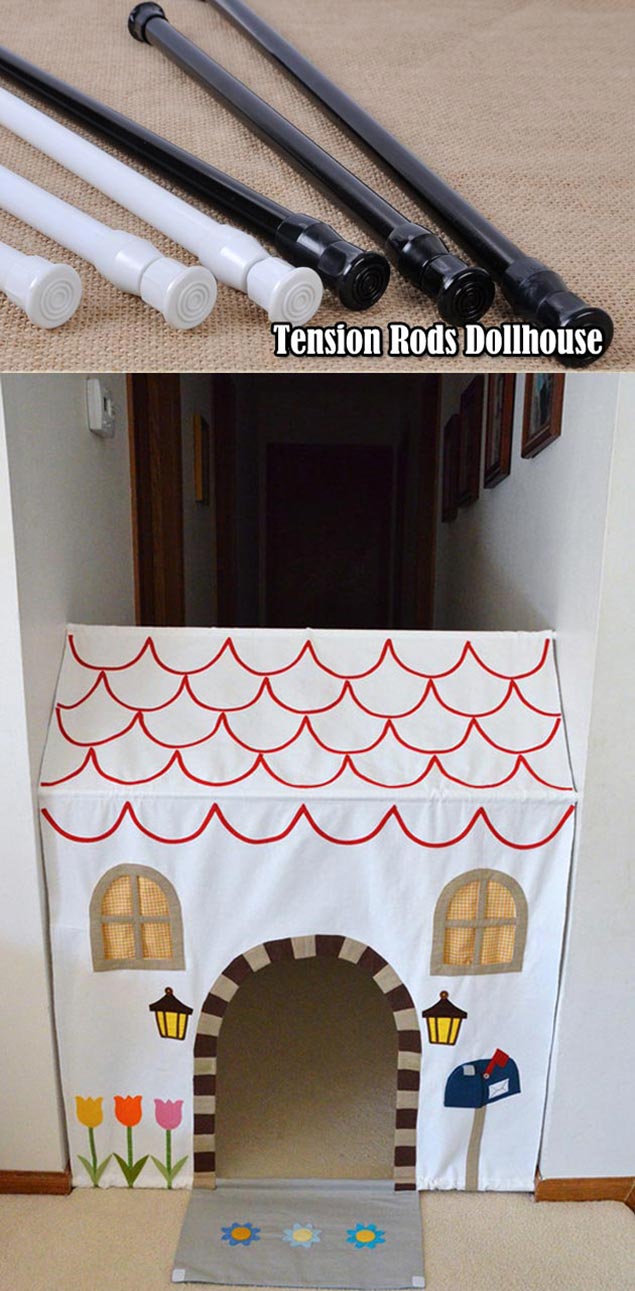 Tutorial: ikatbag.com
15. Shoe Shelf – The lower portion of wall in your closet is probably dead space – until, that is, you realize how easy it can be to create proper accommodations for your shoe collection. Set the rods level for flat shoes and staggered for heels. Easy.
16. Hangar for Your Herbs – Put your herbs in a bucket, attach the handles to a rod, and position above your sink for easy drainage. Voila, you now have easy access to the freshest flavors possible.
17. Easy Paper Towel Storage – Paper towel rolls fit perfectly around most tension rods for an easy way to hang and secure them.
via: alejandra.tv
18. Added Storage Under Any Sink Cabinet – Be it your kitchen or bathroom, a curtain rod is all you need to store some extra spray bottles.
via: bestlaminate.com   and   hometalk.com
19. Hold a Window Box in Place – Living in an apartment doesn't mean you can't have your own miniature garden. Using a tension rod is also considerably cheaper than other means of getting the same thing.
20. Hide Messes – Sometimes, things that aren't pretty to look at have to go somewhere. By hanging sink skirts on a tension rod to hide unsightly (but necessary) items, you don't need to compromise aesthetics for easy access to the things you need.
21. Gift Wrapping Nook – Those annoying wall recesses that are simultaneously too small to place furniture and too big to go unnoticed can be put to good use for stashing gift paper the next time a birthday or holiday comes around.