It's March and Easter is only a few weeks away! As we get closer to the festive season, many people are most likely planning to purchase a number of different decorations and items. And while this is certainly an expected and normal option, consider making this year stand out a bit by making the decorations yourself. Rather than buying them premade, these DIY Easter paper crafts projects can include the whole family, making that Easter Sunday all the more magical. Here are 21 different options that will make this Easter easily one to remember for you and your family.
1. Easter Carrot Treat Box
Perfect for young kids, this option simply needs just a few pieces of green cloth and some orange construction paper.
check tutorial at: ellaclaireinspired.com
2. Easter Egg Wreath
A great wreath for your home or entryway, this adorable decoration can be made with premade easter egg designs or with some cut pieces of multi-colored blank construction paper.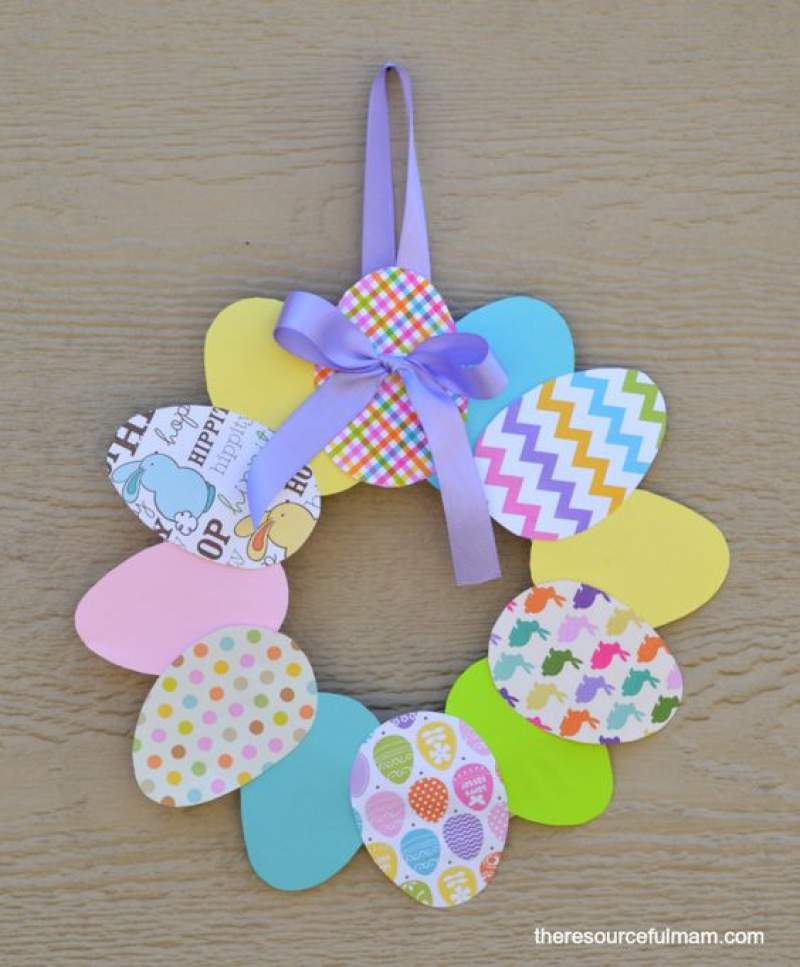 check tutorial at: theresourcefulmama.com
3. Chick Easter Wreath
Similar to #2 but focuses more on the cute little chick than the bunnies. This wreath is so adorable and ends with a cute baby chick being born!
check tutorial at: krokotak.com
4. Bunny Handprint Card
With only some paint, a card, some pompoms, and a couple of googly eyes, you can make a super adorable card that really shows how great the Easter season is.
check tutorial at: thebestideasforkids.com
5. Paper Plate Stuck Bunny
This super funny and cute option works great when put alongside a wall or a tree. All you need are a couple of pieces of paper, a cotton ball, and a paper plate to make Mr. Cottontail making his hasty exit.
check tutorial at: easypeasyandfun.com
6. Paper Plate Sheep
Combine some cotton with a paper plate and some black paper, and you've got yourself a super cute and super adorable sheep just in time for the holidays.
check tutorial at: easypeasyandfun.com
7. Tissue Painted Easter Egg
An option that is great for children, simply create a drawing of an easter egg. There, you can either paint it however you want or use painted/colored tissue paper in order to give it a unique design.
check tutorial at: schooltimesnippets.com
8. Bunny Party Hats
These super cute bunny hats are super simple to make and will really get everyone in the Easter mood. Just grab a few pieces of paper, some scissors, and a marker and you're good to go.
check tutorial at: thehousethatlarsbuilt.com
9. Paper Bunny Fruit Bag
If you feel that the Easter candy may be a bit too much this year, these Easter bunny themed wrappings for fruit may be just the trick. Not only are they really cute, but you know your child will be eating something just as sweet and much healthier too.
check tutorial at: asubtlerevelry.com
10. Paper Chicks
These fun and easy options just need a bit of yellow and orange paper, a few googly eyes, and a pair of scissors. Soon you'll have some cute little chicks ready for the coming Easter eggs.
check tutorial at: easypeasyandfun.com
11. Paper Hyacinths
These multi-colored paper hyacinths are great for brightening up the home just in time for the holidays.
check tutorial at: onelittleproject.com
12. NewsPaper Bunny
This just in! Easter Bunny has made the news. Now you and your family can be on the lookout for that funny bunny with just a marker, some googly eyes, and a newspaper.
check tutorial at: iheartcraftythings.com
13. Paper Strip Bunny
These bunnies are great additions to put around the yard or the house and are super easy to set up.
check tutorial at: easypeasyandfun.com
14. Paper Plate Easter Chick
This baby bird wants to say hello! If you've got some young children, this is a great craft choice for them as they can design the chick however they want.
check tutorial at: simplytodaylife.com
15. Toilet Roll Stamp
By just grabbing three empty toilet rolls, you can make some super cute and family-oriented stamps. Either make some eggs with one or a bunny face with all three.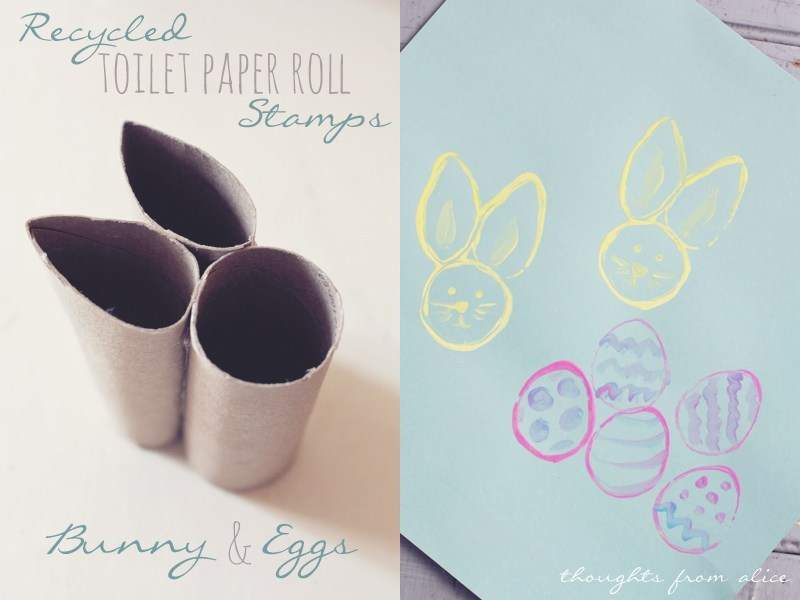 check tutorial at: alicewingerden.com
16. Paper Sheep Cutout
Similar to #6, instead of using cotton for the sheep wool, here you can use shredded paper. Depending on which is lying around, consider having one of both.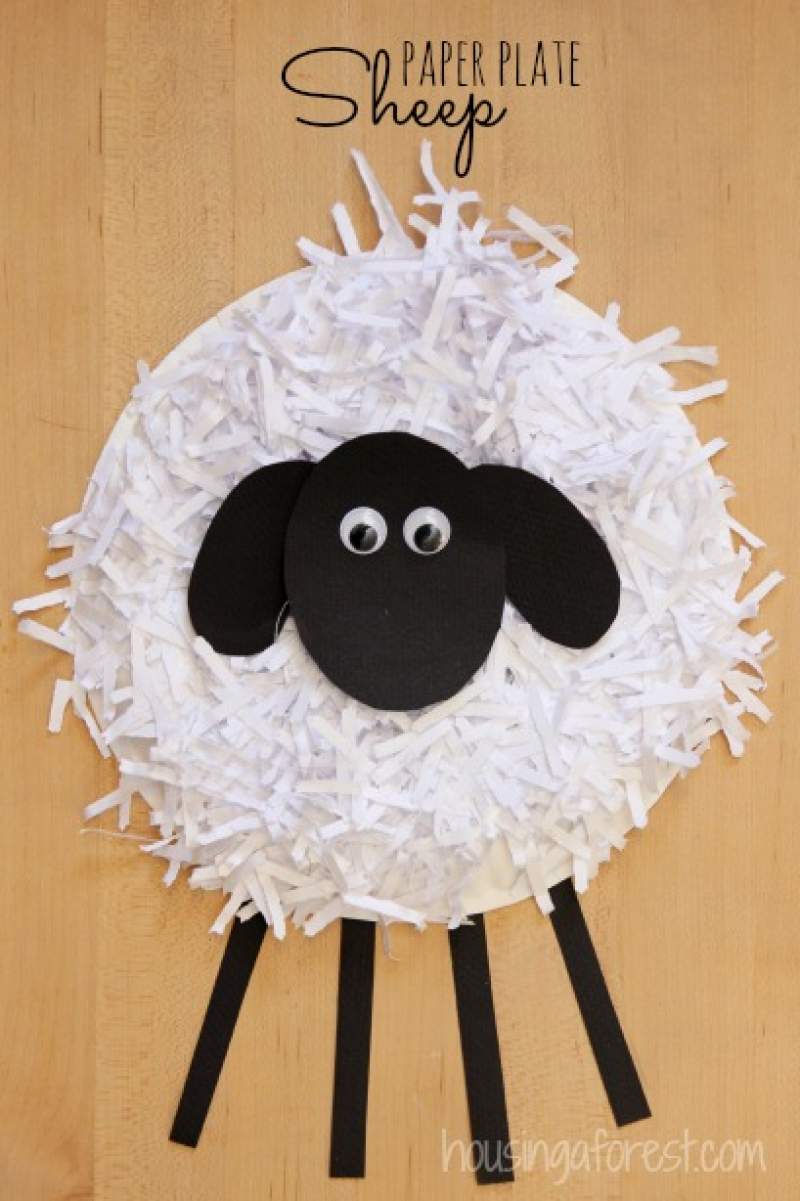 check tutorial at: housingaforest.com
17. Paper Easter Basket
This small easter basket is great for super young children. It can hold a couple of eggs during the Easter Egg Hunt and just needs a few strips of paper and some cushion material at the bottom.
check tutorial at: easypeasyandfun.com
18. Paper Bunny Face Mask
If you want to become the Easter Bunny, this silly and fun option can do just that. Just grab a few paper plates and a marker and you're now ready to help hide some eggs.
check tutorial at: laughingkidslearn.com
19. Paper Roll Bunny
Remember #15? Well, after you've made the stamps, just add a cotton ball to the top and a paper bunny design at the bottom, and you've now got some cute rabbits to decorate the house.
check tutorial at: onelittleproject.com
20. Easter Cross
For those that don't want to forget the true meaning of this very special day, simply get pair of paper plates. Then, with one on top of the other, you can show what is the most important gift of all.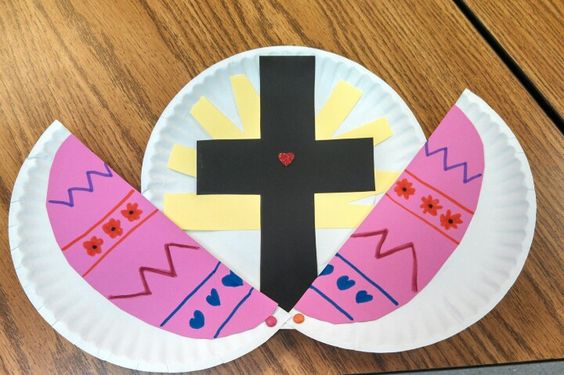 check tutorial at: godlyladies.com
21. He is Risen
Similar to #20, this option is for those that want to remember the importance of Christ and what this day truly means. With some paint and a cross, you can show the importance of salvation that comes with Easter.
check tutorial at: diycuteness.com