Easter is coming! The time when Christians celebrate Jesus Christ rising from the dead, and the whole world celebrates renewal and starting over. Okay, this might be just a little early. That's okay. With these DIY Easter crafts, you will have even more to smile about when Easter gets here.
Whether you live alone and love decorating, or have a house full of kids and want fun ways to celebrate, these DIY Easter crafts will help make Easter special.
EASTER CRAFTS THAT ARE EASY TO DO (And easy on the budget!)
1.MAKE A FLOWER-CARROT CENTERPIECE
A beautiful snack for the Easter bunny. All that hopping around would make anyone hungry!
Tutorial: southernliving.com
Make Leaf Print Easter Eggs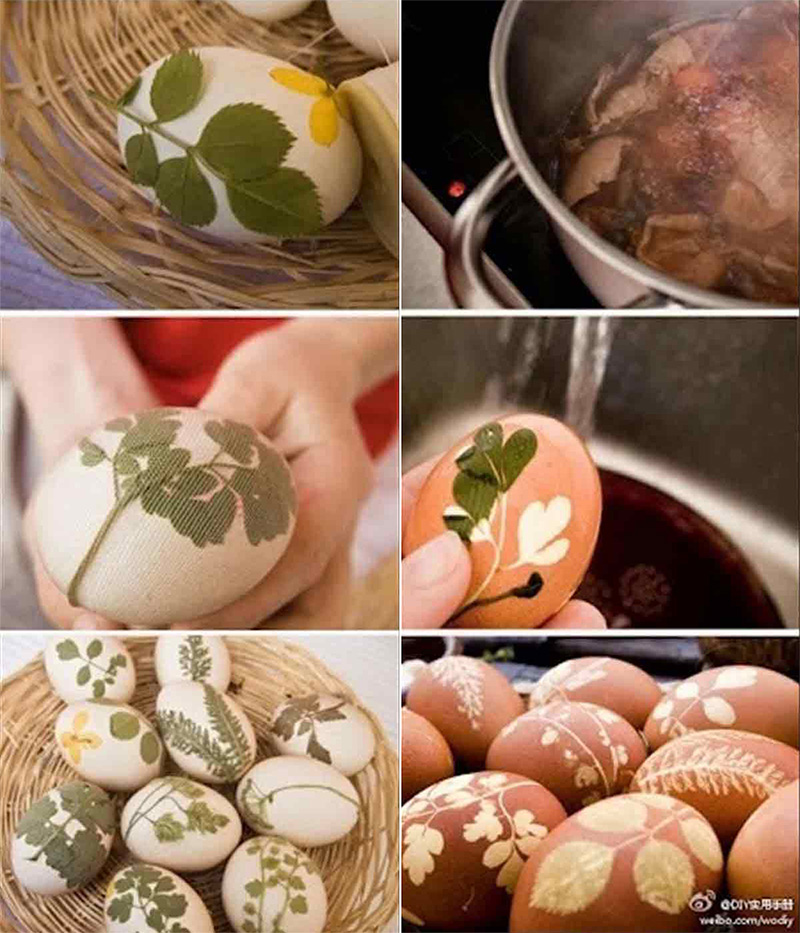 Tutorial: allshecooks.com
Repurpose egg cartons into a beautiful easter wreath: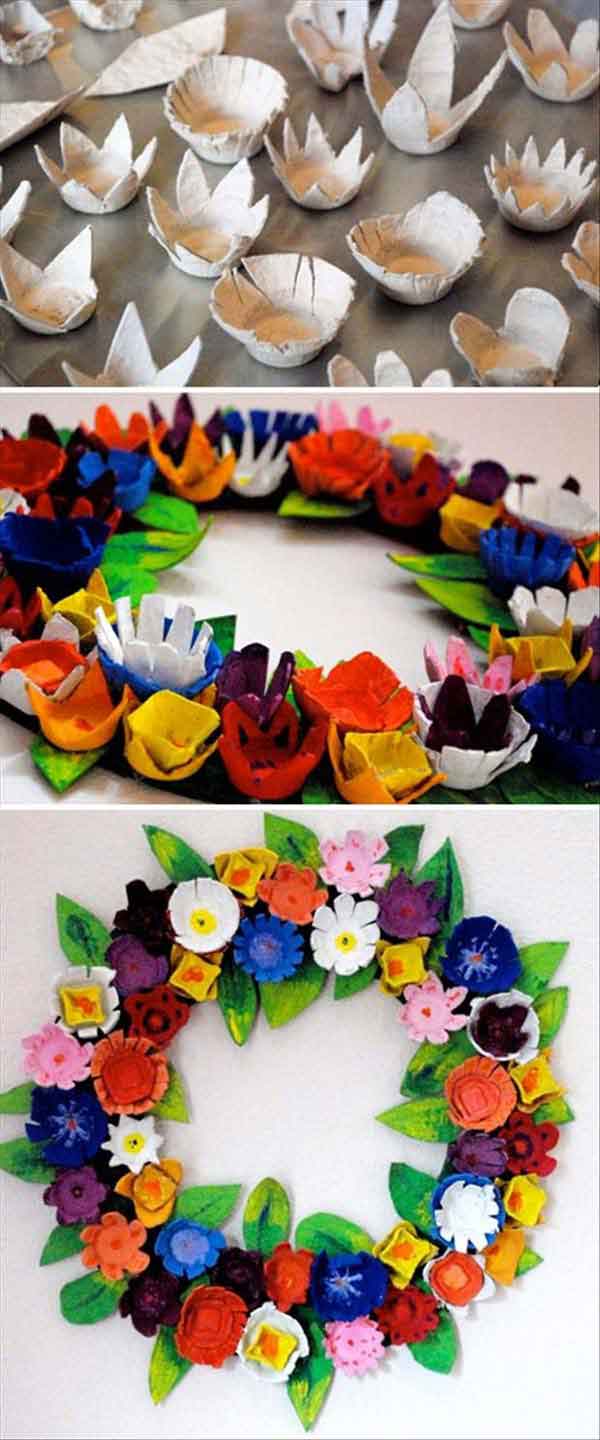 Cute Easter bunny napkins:
2.MAKE A BUNNY DOOR FOR THE TREE IN YOUR YARD.
Will anyone stop to see who comes through?
via: davelowe.blogspot.com  &  dreamalittlebigger.com
3. HANGING BUNNY WITH POM POM TAIL
Strong paper, yarn for the tail, and you're ready to begin. Cut out a bunny. Bundle the yarn. Stick to bunny.Hang on string.. Cut so yarn fluffs.
Tutorial: funcraftskids.com  &  cleanandscentsible.com
4.FOLDED NAPKIN BUNNY
Fold, add face, ears, paws. Now you have a place for that special egg.
via: goodshomedesign.com
5.MAKE A SPECKLED EGG
Color an egg. Take an old toothbrush, dip it in dye. Pull back the bristles and let it fly! You definitely want to wear old clothes when you do this.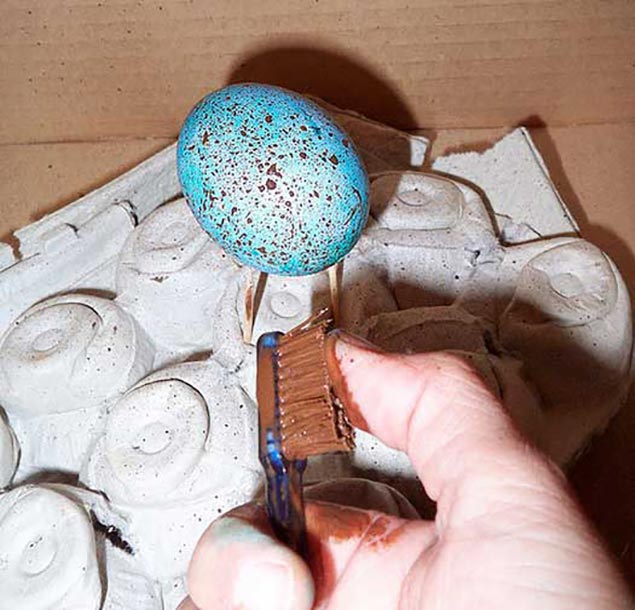 via: flickr.com
8.THE BALLERINA BASKET
Tie alternating colors of tulle around the rim of the basket.
Tutorial: pagingfunmums.com
9.BUNNY BOWL MADE OF BREAD
Buy or bake a round bread. scoop out the middle. Stick in ears. Use food for eyes and nose.
Tutorial: theidearoom.net
10.CANDY EGG POPPERS
Wrap candy-filled plastic eggs with colored tissue. Tie string to each end of tissue. Tie one string to some high place. Let popper hang down for kids to pull and POP!
Tutorial: studiodiy.com
11.EASTER EGG WREATH
Wrap plastic Easter eggs in colored string. Glue together. Hang.
Tutorial: wineandglue.com
12.MYSTERY EASTER CUP CENTERPIECE
Bend a fork until almost a "Z". Glue fork to saucer and cup. Add flowers, glue.
13.EASTER BUNNY BISCUITS
Buy refrigerated biscuits that you separate and bake. With clean pliers, pinch two ears. Poke eyes with ends of pliers. Bake as directed.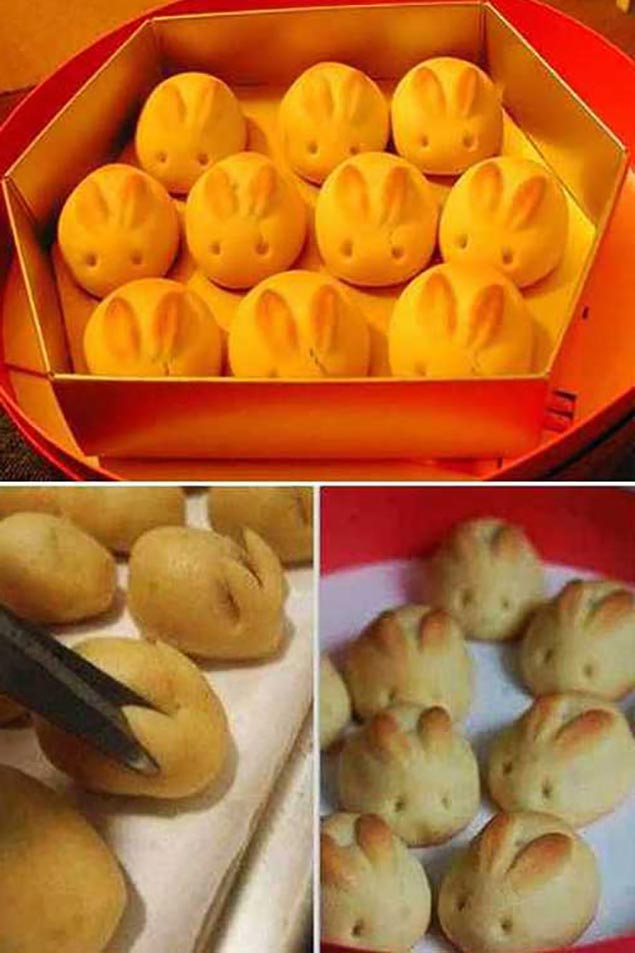 14.RAINING EASTER EGGS
On your next Easter egg hunt, tie a few to Helium balloons and enjoy the excitement.
Tutorial: celebrationsathomeblog.com
15.WASHCLOTH BUNNIES
Twist and fold two washcloths. Tie one around the other, so you end with ears sticking up. Using glue that can be washed out, glue on eyes and a nose.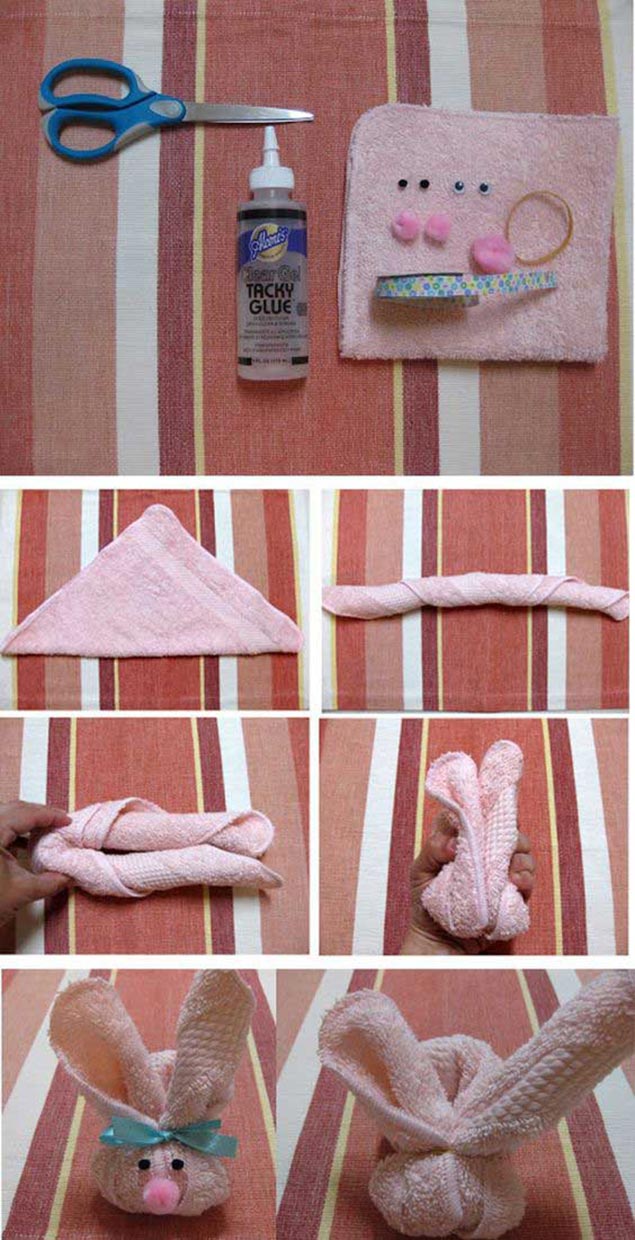 Tutorial: petiteplanet.blogspot.com