So often, people feel that how their home is now is all it can ever look like. This is not true! With only a few tweaks and additions on your part, you can make a home that is entirely unique and super amazing. Here, we've found 22 fun ways to remodel your house all on your own.
#1. Pull-out Sink Drawers
Instead of leaving it as simply an open space, by turning it into a drawer, you can grab exactly what you need whenever you need it.
#2. Add a Houser Number Sign
You've always seen them in movies or tv shows anyway. Why not add some curb appeal to your home by adding a planter box and house number sign right at the end of your driveway?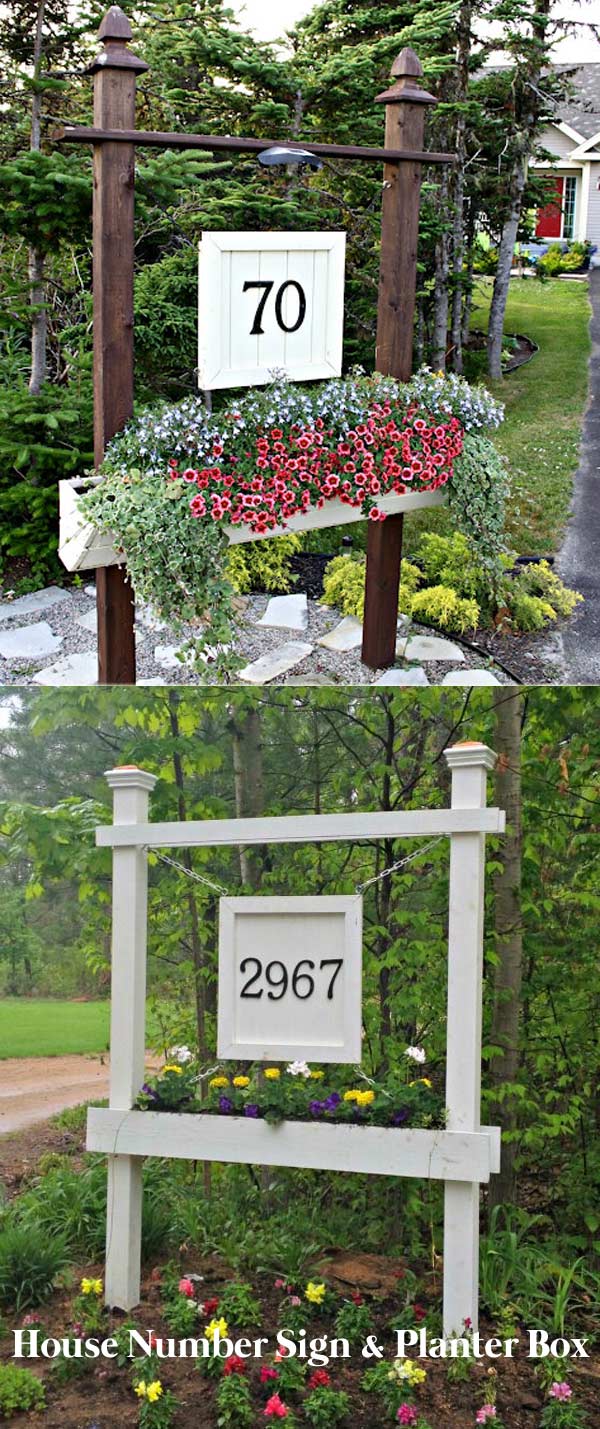 Tutorial: Remodelaholic.com     Source: Hometalk.com
#3. Add pendant cage lights to your kitchen
This option not only gives your area a nicer feel and look overall, but actually makes it easier to shop for replacement bulbs later.
Check instruction at: Twofeetfirst.net
#4. Repaint your Doors
While this may seem needless initially, by painting your doors a dark color, you create strong visual contrast that will instantly give your home a more appealing look as a result.
#5. Add a DIY Wainscoting to your Entry Wall
This is a great option that immediately creates depth and value to an otherwise plain wall.
Check instructions at: Lovelycraftyhome.com
#6. Soak your Brass Drawer Pulls
In only 10 seconds, after soaking your brass drawer pulls in brass ager, they will become more visually stunning and unique from every other standard looking drawer pull.
Check instructions at: inmyownstyle.com
#7. DIY Chalkboard Paint
A great way to transform your fridge while also giving it some new color and function, by using chalkboard paint, you can now freely write on it and add different menus and shopping lists without damaging the face of the fridge itself.
Source: Thekurtzcorner.com
#8. Hang Curtains High & Wide
A super simple way to give your windows a larger feel, by just hanging the curtains above the window and at a wider angle, it instantly creates an optical illusion for a more appealing area.
Source: Howdoesshe.com
#9. Tranform Your Closet into a Mud Room
For smaller closet spaces that are normally very cluttered, consider turning them into a mud room where you can hold a number of different items as well as potentially relax.
Check instructions at: thehouseofsmiths.com
#10. Use Countertop Paint that Looks like Concrete
A great way to make your countertops stand out is to use a specific paint type that has a concrete look to them.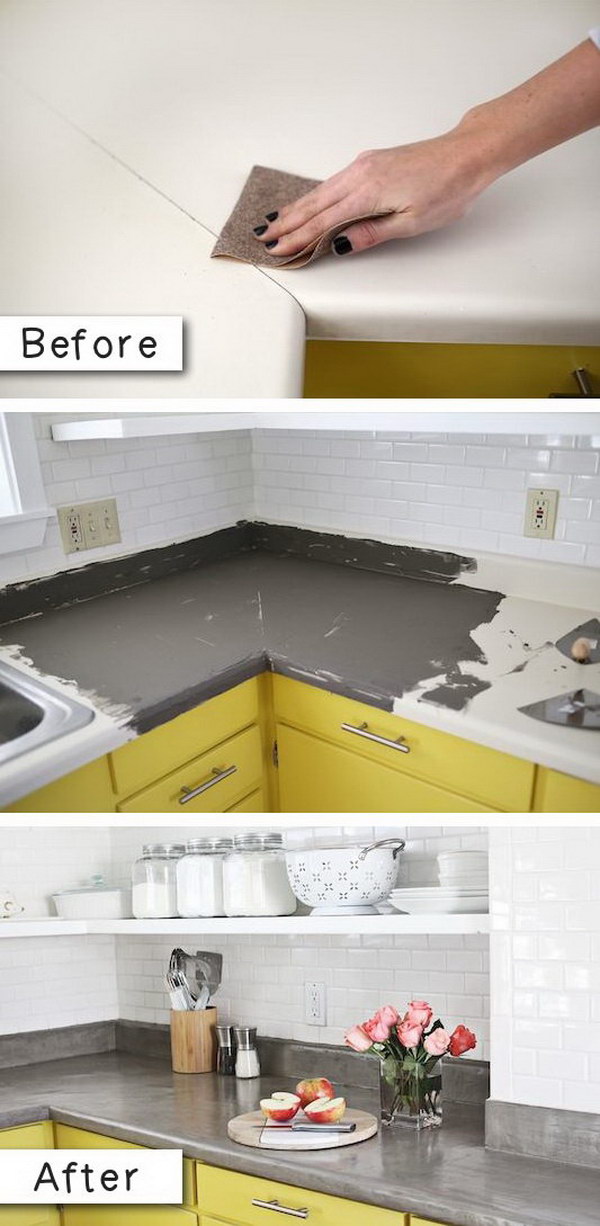 Check instructions at:  Abeautifulmess.com
#11. Replace celining lights with Shade Pendant Lamps
An easy and quick fix that makes your room stand out. Simply switch the current light fixture for a shade lamp instead.
Tutorial: greyhouseharbor.com
#12. Add Underlighting and Outlets to your Cabinets
This inclusion makes cooking at illuminating your kitchen area much more pleasant. Similarly, you can more easily plug in cooking devices without tangling wires.

Source: Sallyjenseninteriors.com      bhg.com
#13. Add Stone Veneer to Foundation Wall
To give your home a more rustic appeal and appearance, by adding a stone veneer, you instantly make it seems nicer than before.
Tutorial: Jennaburger.com
#14. Create a Measurement Cabinet
Not only place measuring items in this cabinet, but add and arrange some conversion charts in the cabinet as well for easy visuals.
#15. Add a Water Funnel to Remove Runoff
To avoid dealing with potential flooding or water runoff, simply add a funnel near the water spouts and gutters to collect and transport the water. This keeps it from soaking into the ground and making muddy pockets.
#16. Add Nightlights to your Power Fixtures
A great way to see around the house at night, these light fixtures are a great visual tool as well as aesthetic choice for your home.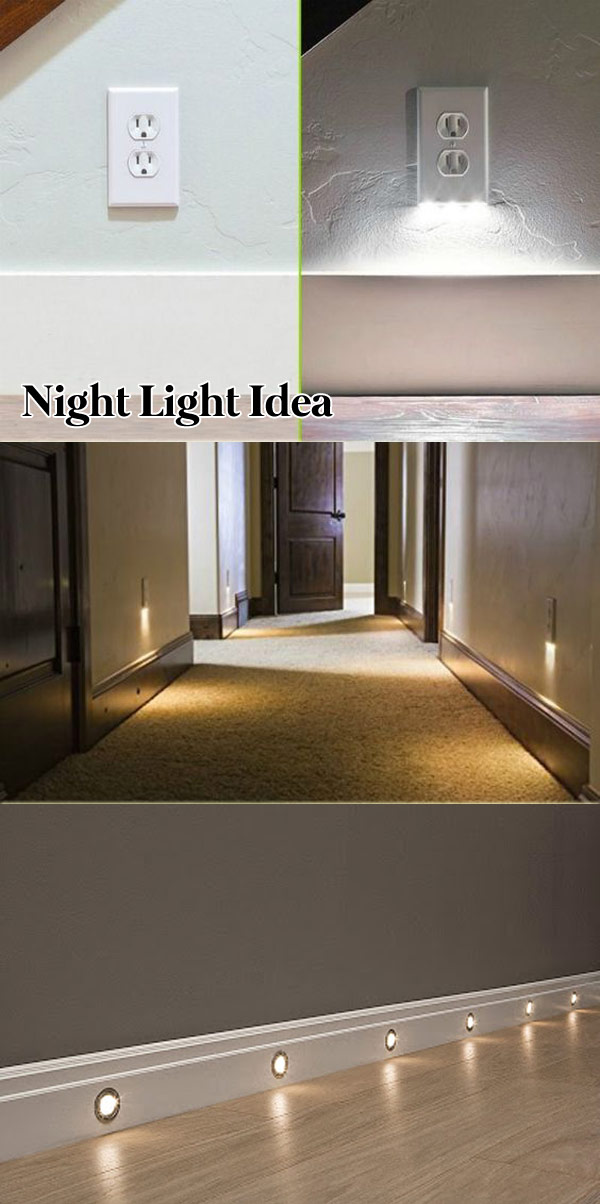 Tutorial: treehugger.com
#17. Add Dividers to Cabinet Spaces
Dividers are extremely useful in maximizing the space being used, especially for areas like the ones above your fridge.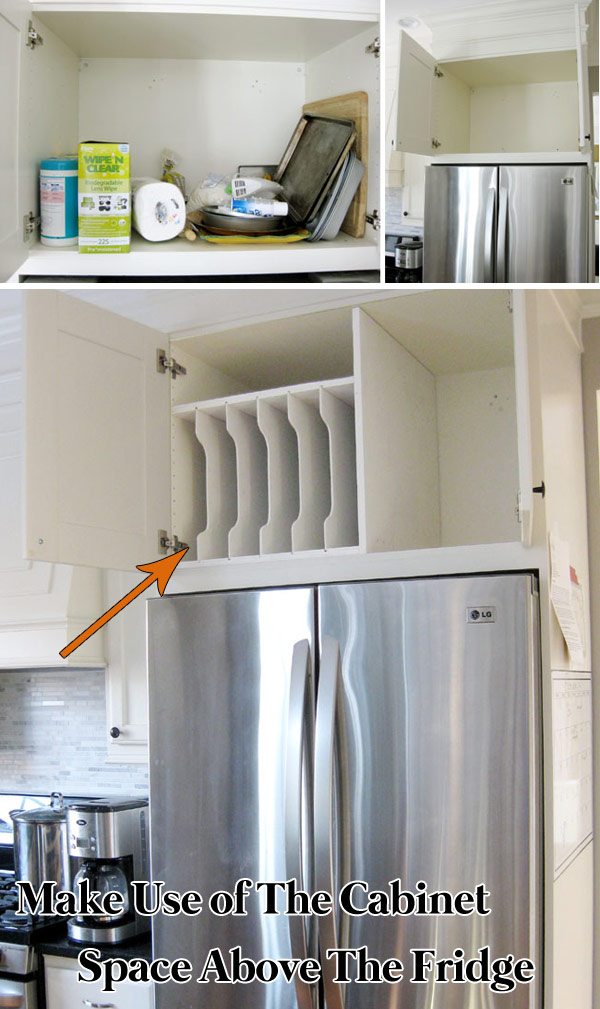 Check instructions at: Remodelandolacasa.com
#18. Add Tile Fixtures to Your Ceiling
While most people will be stuck with the standard popcorn ceiling, by simply covering them with tile fixtures, you will instantly create a more appealing look in the home.
Tutorial: Youtube.com    Source: Hometalk.com
#19. Closet Built-ins Using A Billy Bookcase
While there are a ton of different ways to design a closet unit, one of the most effective ways is to include a Billy Bookcase or two in it. This is great for shoes, trophies, bags, and other normally messy items.
Tutorial: houseofhepworths.com
#21. Use Beadboard Wallpaper for your Walls
By simply using beadboard wallpaper, you can turn a boring wall into an accent wall.
Tutorial: sondralynathome.com
#22. Create a Screen Wall for your Home
Whether its to hide the garbage bins, the power meter, or simply for a great visual look, using cedar planks to create a screen wall is very smart and very useful.
#23. Create an Accent TV Wall
By simply using some pallet wood, you can turn a standard TV wall into a gorgeous accent wall, making it instantly stand out.
Check instructions at: ehow.com