Because of the current pandemic, people are spending more and more time making use of their extra time; many of which looking into sprucing up their homes. Cedar Wood is a great choice for this, largely because it is a fairly inexpensive wood when compared to others such as Oak, Pine, or Cherry. Not only that, but Cedar Wood is quite resistant to wood decay as well as bug infestations and water damage. It is because of this that many outdoor furniture items are largely made from cedar.
In this brief list, we will go over some of the many different projects you can create using the wood, impressing family and neighbors alike. So, without further ado, let's dive in!
1. Create an Accent Wall
Using just a few planks of cedarwood, you can create a stylized accent wall for your home. Use it in different rooms to give them their own unique appearance.
via: hometalk.com
2. Create a Planter Box
Cedarwood can also work excellent as a planter box. Take a few pieces to create a cubic shape for your plants and paint it your favorite color to really make it stand out.
Instructions: remingtonavenue.com        Instructions: bowerpowerblog.com Instructions: blog.homedepot.com
3. Create a Vegetable Garden
If you've always wanted to create a raised vegetable garden bed, cedarwood is an excellent option.
Instructions: theruminant.ca
4. Create a Hanging Shelf
Because of its incredible durability, cedarwood works great as a luxurious piece of wood for hanging on a shelf. Carve in any design you like to really make it unique.
Instructions: imgur.com
5. Create a Window Box Planter
Perfect for those that want a homier aesthetic to their home, cedarwood works excellently while hanging along your window. Paint it the wall color or simply enjoy the blank wood appearance.
Instructions: lifestorage.com
6. Create a Wishing Well
Though a fair bit more work, consider creating a wishing well for your outdoor garden. Not only will it look amazing, but it may even grant you a wish if you put a coin in it.
via: redwoodbridges.com
7. Create Farmhouse Shutters
For those with a fairly large amount of acreage, making some cedar shutters for your porch is a great way to add durability with a nice rustic look.
Instructions: nestrefeathered.com   &   lifewithnealandsuz.com   &    woodshopdiaries.com
8. Create a Bath Mat
While maybe not as fluffy, cedar is great for water resistance, it is an excellent choice for acting as a bath mat.
Instructions: themerrythought.com
9. Create a Monogram Box
Great by itself or as a planter box, use cedarwood to liven up your front porch with a customized letter.
Instructions: ellerydesigns.com
10. Create Underbed Storage
If your bed raises a bit too high above the floor, consider putting that space to use. Simply add roller wheels to the shelves or attach them to the base of the bed to create a whole new addition of storage.
Instructions: prettyhandygirl.com
11. Create a Privacy Screen
Enjoy some privacy on your patio or deck by creating a privacy screen. This way anyone that's trying to look at you will be able to enjoy your awesome work instead.
12. Create a Vertical Garden
As with the other garden planting options mentioned, this is an excellent choice for cedarwood while making your outdoors look incredible.
Instructions: blackanddecker.com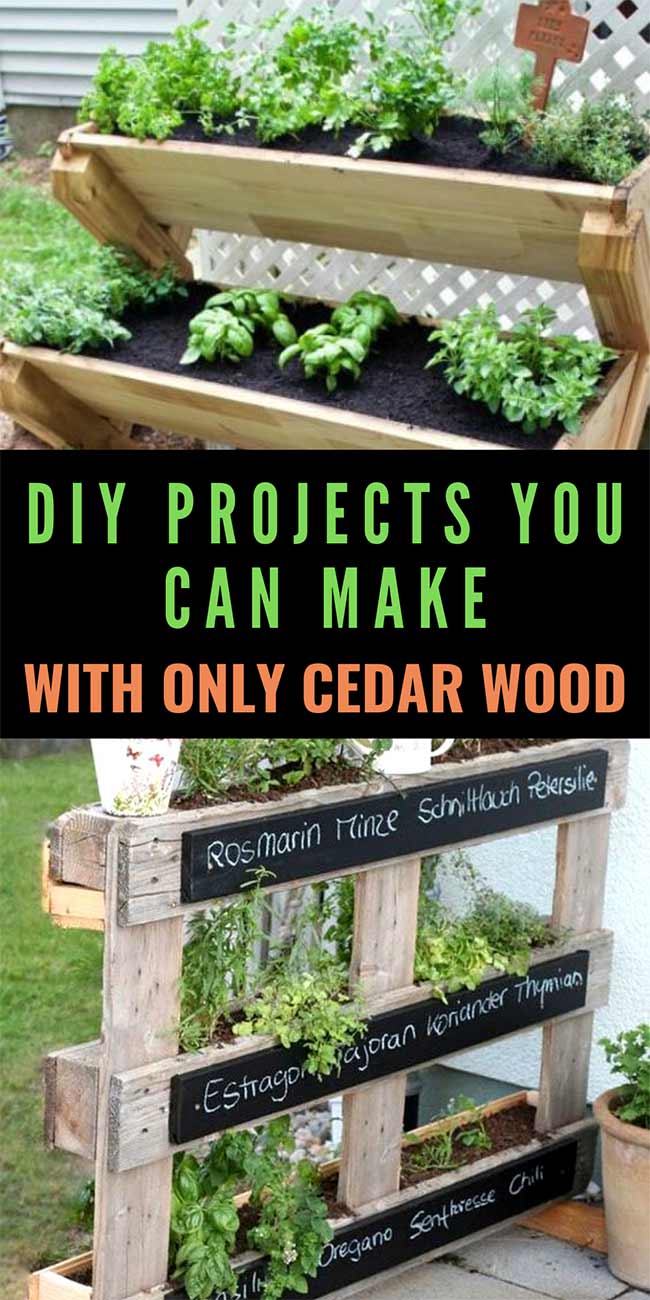 Image via: shelterness.com
13. Create Cedar Trees!
What's more impressive than using cedarwood? Using cedarwood to create cedar trees!
14. Cover your Front Porch Posts
If you have some standard-looking posts and pillars in your front yard, consider covering them up with some cedarwood. This will instantly give them a more appealing appearance that will make your home stand out as particularly unique.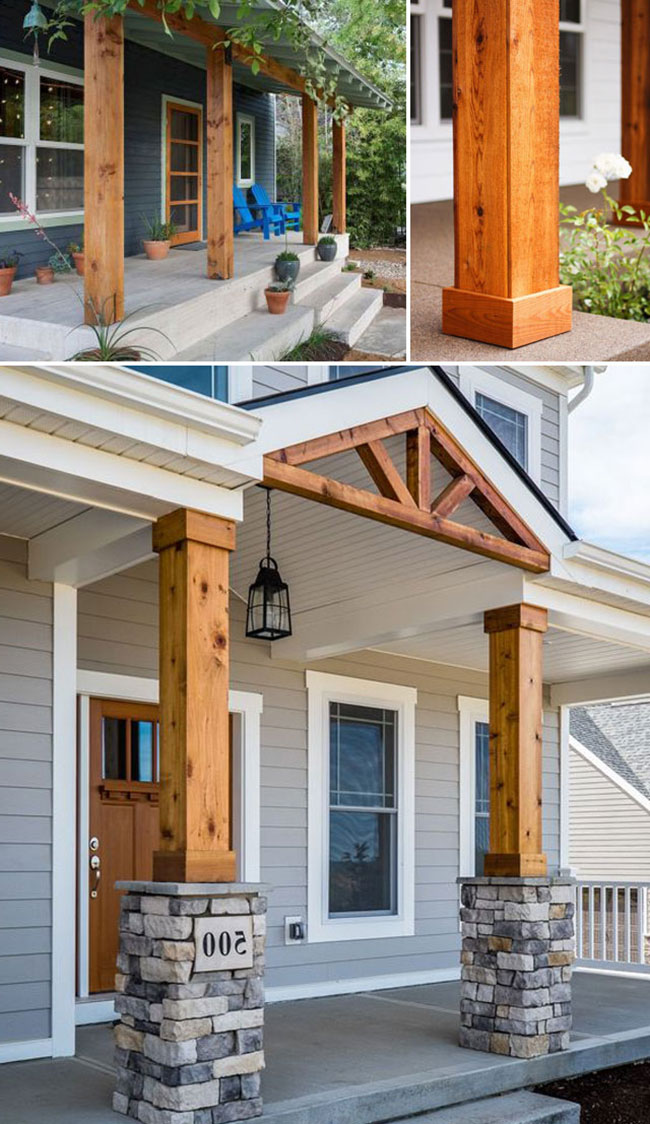 Instructions: shadesofblueinteriors.com   &    luluthebaker.com
15. Create a Bookshelf
Finally, consider making a cedar framed bookshelf. This project can be as big or as small as you'd like. No matter the size, the cedar frame will instantly give it character that other shelves just won't have.