Every winter there is this deary, stagnant time at the end of the winter, Christmas is over, but winter is still dragging on. I get restless for sunny days and the sound of birds. The light at the end of that cold, snowy tunnel is Easter and Easter dinner. Gathering around the table with family to enjoy the ham, the asparagus, the fresh rolls. Yum. But what is Easter dinner without some Easter dessert, the cherry on top of a great meal? Christmas desserts tend to be heavier dishes, filled with chocolates, puddings, and nuts, hearty foods for the coldest time of the year. Easter desserts are a celebration of springtime with fluffy cheesecakes, brightly colored cookies, and fresh fruit. Here are 17 festive and fun recipes to brighten up your Easter table.
1.  Peeps Garden Cake
Moist chocolate cake topped with cute Peeps bunnies and Oreo "dirt" in a fun little garden. This one is sure to be a hit with kids.
Get the recipe at: bettycrocker.com
2. Strawberry-Lemon Cheesecake
Tangy lemon cheesecake with a sweet, strawberry crust. Delicious and just so pretty.
Get the recipe at: backforseconds.com
3. Funfetti Cookies
This colorful recipe takes Funfetti cake mix and tuns it into delicious cookies. Add some spring-colored M&M's and they look like Easter on a plate.
Get the recipe at:myorganizedchaos.net
4.Coconut Macaroon Nests
Bite-sized macaroon nests made in a mini-muffin pan and topped with egg-shaped candies. You can use chocolate eggs, jelly beans, malted milk eggs, or any other candy that strikes your fancy.

Get the recipe at:inspiredbycharm.com
5.Strawberry Carrots
Chocolate covered strawberries are always a hit, and for good reason. These adorable "carrots" will look great on any Easter table.
Get the recipe at: lifeloveliz.com
6.Flower Pretzel Bites
Pretty little flowers made from salty pretzels and chocolate, and just the right size for snacking.
Get the recipe at: freebiefindingmom.com
7.Bunny Cut-Up Cake
This recipe takes two 8″inch cakes and turns them into one festive bunny.
Get the recipe at: homanathome.com
8.Birds Nest Cheesecake Bites
Miniature Oreo cheesecakes baked in a muffin tin and topped with shaved chocolate and candy eggs. These are so tasty you'll want to eat a dozen of them.
Get the recipe at: fivehearthome.com
9.Easter Egg Fruit Pizza
Start with a simple sugar cookie shaped into a large egg, then cover in a strawberry creamcheese frosting and top with a design of berries to look like an Easter egg. Sweet, fresh and beautiful.
Get the recipe at: persnicketyplates.com
10.No Bake Easter Egg Cheesecake
Buttery, crumbly crust topped with a fluffy, creamy, no-bake cheesecake that has bits of chocolate eggs mixed in and then topped with the rest of the candied eggs. This cake looks so elegant and is so easy to make.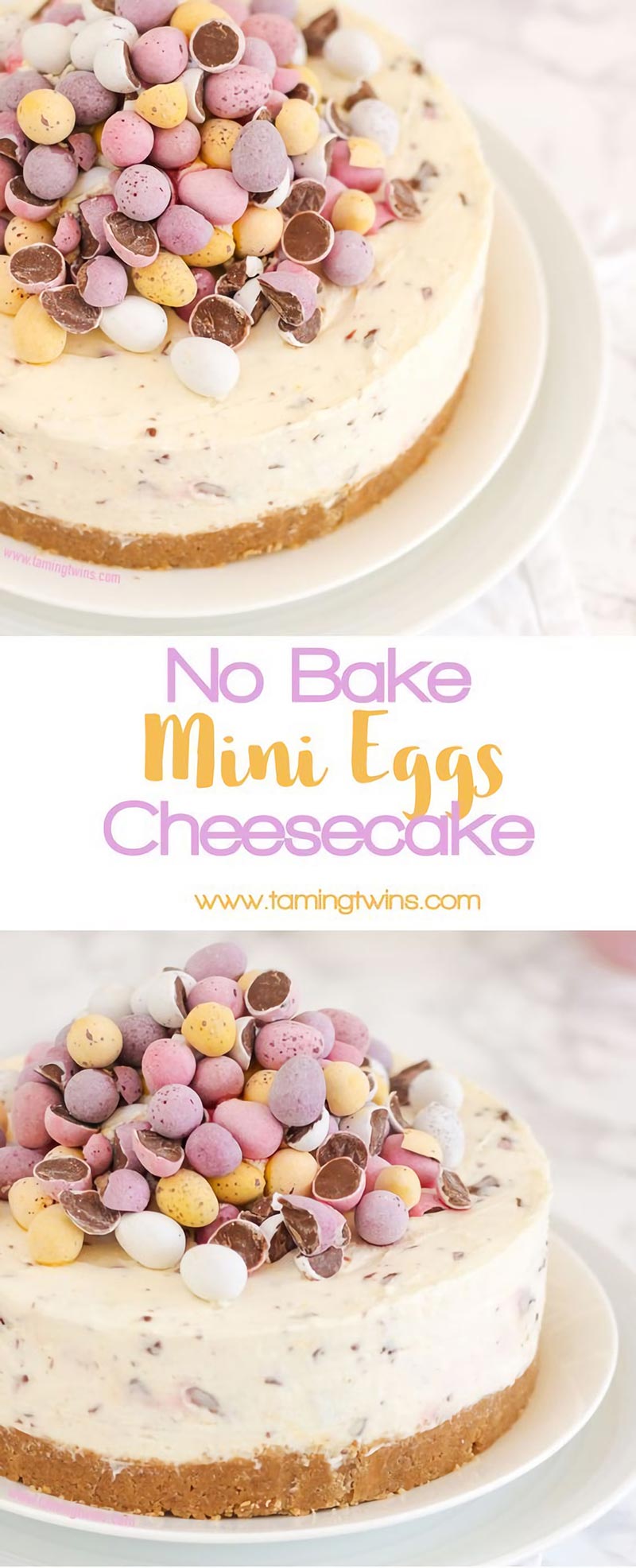 Get the recipe at: tamingtwins.com
11.Easter Egg Sugar Cookies
I feel like sugar cookies are never a bad idea. Decorating them is fun for the whole family, and the best part is you get to eat them when you are done.
Get the recipe at: aheadofthyme.com
12.Stained Glass Cross Cookie
A simple sugar cookie with a beautiful cut out of melted hard candy "glass". These would also look lovely when done in an egg or flower shape.
Get the recipe at: downredbuddrive.com
13.Peeps Dirt Cups
Little cups of layered chocolate pudding and crushed Oreos, topped with Peeps bunnies, edible grass and candy eggs.
Get the recipe at: mommysfabulousfinds.com
17.Lemon Flower Tarts
Miniature flower shaped tarts filled with a sweet and tangy lemon jam. If lemon isn't your thing these could easily be made with blueberry, cherry, or really any flavor of filling.
Sorry, the source of this recipe is no longer available. We will look for an updated version.