Well, it's October and you know what that means! Freaky, frightening Halloween! Even though this year has been a bit "tumultuous" (putting it lightly) that doesn't and shouldn't stop you and your kids from having a great time dressing up in all the crazy and fun costumes for the exciting occasion.
Unfortunately, there is something that might put a damper on your ghoulish holiday, and that's just how expensive these costumes are getting this day and age! Be it "Finding Nemo" or "Spongebob Squarepants", these costumes are getting charged upwards of $200! Think about it. $200 for something your kid is going to wear once, maybe twice if you're lucky, their entire life! That's not even talking about the fact that it'll probably get well worn from spending the few hours going from house to house in it. Between all the candy, dirt, and who knows what else they'll get stuck on them by the end of the night, you'll be lucky if it's still worth it by the end of the occasion!
I don't know about you, but $200 is just way too much.
So as a solution, I've found a ton of great DIY Kids Halloween Costumes that you can make yourself. These will not only be much cheaper but also a great family experience if you have your little kiddo help out! Now, while these are mainly going to be for kids, by adding some adjustments to the size, they can work for just about anyone.
Are you ready? Let's go!
1. Starbucks Latte
The best drink for the best kid! This is costume is a great one for kids and parents alike that love their Starbucks. For added effect, don't forget to write a random name on the side, like "Martha" or "Shane". Image via: web.archive.org
2. Mouse Trap
Perfect for small kids, turn a stroller or wagon into a creative looking mousetrap to hold your mousey little minion. Just be sure to set them free when the night is over or else the cats will get them! Image via: costume-works.com
3. Mr./Mrs. Jellyfish
For those of us that have extra lights from last year, here's a great place to put them! This colorful costume just needs an umbrella, some googly eyes, and a couple lights, and your little one will be ready to zap anyone that doesn't give her candy. Image via: reddit.com
4. Squirrel Girl

Hey, it's almost time for hibernation anyway. Might as well get this furry little girl a few acorns to store for the winter. And by "acorns", I mean sugary delicious candy.
5. Parachute Man

A true hero among men, Parachute Man and his trusty sidekick, The Sky, will float all over town picking up all the candy possible before he reaches the ground. Just a few extra supplies and a baby holder and you're all good to go. Just be sure to cut out some holes so you can breathe and see! Image via: costume-works.com
6. The Mummy
Who doesn't like a good classic Mummy? Just a few cuts of white fabric, or the tried and true toilet paper, and they're off to terrorize the town! Tutorial: kenarry.com
7. Rainy McCloudy

A super unique costume that'll rain on everybody's parade. It's super fun to make and really simple materials. Tutorial: makeit-loveit.com
8. Little Ducky

Quack, Quack! This adorable outfit is just so very nice and super duper cute.
9. Pacman & the Ghosts

Perfect for those arcade lovers from back in the day. Just don't be too surprised when your kids ask "who's Pacman?" and break your heart.
10. Mr. Peanut

If you didn't know, Mr. Peanut was recently reborn! Now he's Mr. Baby Peanut! For his cane, you can use a small putting stick to maintain his dapper look. Image via: costume-works.com
11. Hot Air Balloon

A super creative and quick costume. Just get a few balloons, poles or sticks, and some tape, and this little balloon is ready to fly off! Image via: costume-works.com
12. Octobaby

If you remember Octomom, this is Octobaby! If you are a group of 8, you could go as the Octofamily! Image via: costume-works.com and etsy.com
13. Porcute Kid

Best. Costume. Ever! Just be careful you don't poke yourself! Image via: imgur.com
14. Gumball Girl

A super fun costume that only takes a few minutes. You just need a white shirt, some different colored dyes, and a bunch of cotton balls and you're ready to go. Tutorial: acasarella.net
15. The Bestroom Duo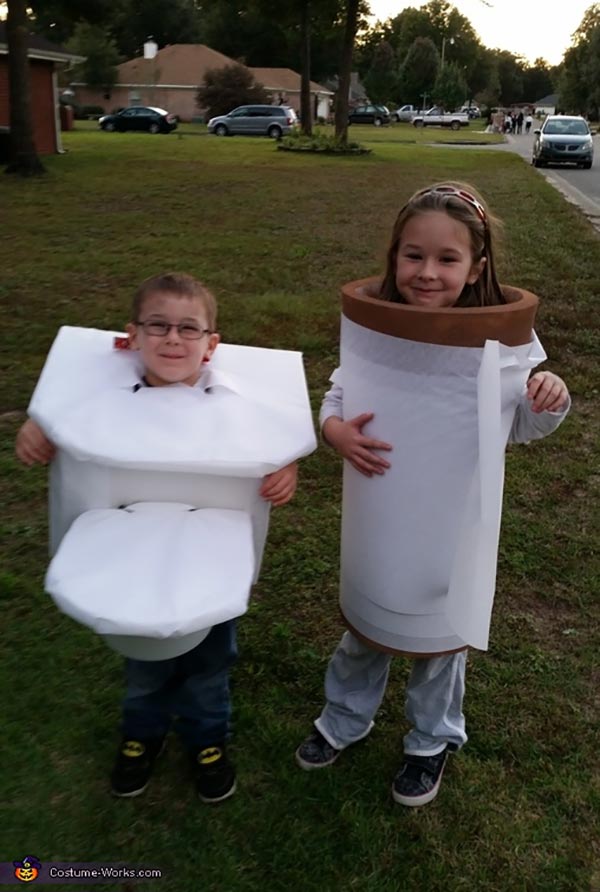 Remember when earlier this year, no one could find any toilet paper? Well, I think we all found out why. Image via: costume-works.com
16. Little Pineapple

Just the sweetest little girl ever. She's tropical, yellow, and goes great with smoothies! Image via: costume-works.com
17. Baby Grandma

Is that Sophia from the Golden Girls? And who's her friend? Oh, what's that? Just a very convincing costume? Never mind then.
18. Spiderbaby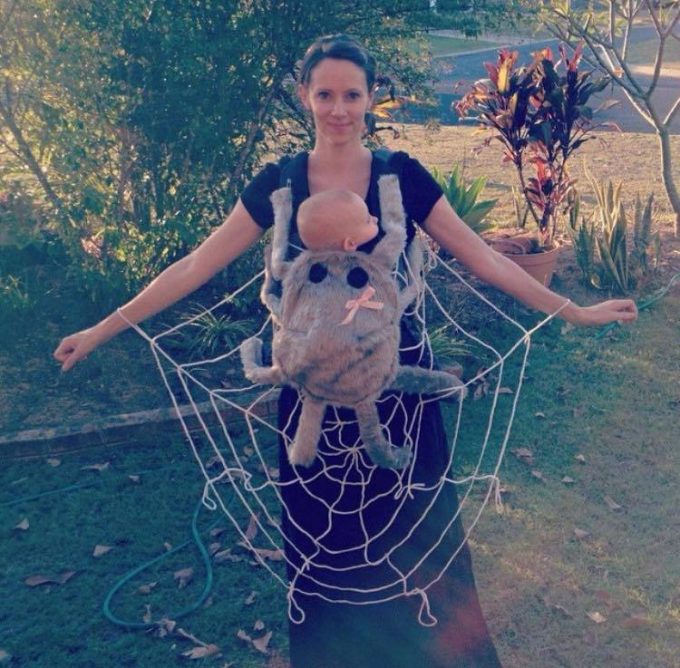 We would have also gone for Spiderkid or Arachnakid, but they were already taken. Image via: instagram.com
19. Cute-out Girl

Anyone else get an "Alice in Wonderland" vibe from this? Just make sure she doesn't stick around any rabbits or cats.
20. Dippin' Tots

A super adorable costume for your little one. All the sweet without any of the pesky sugar. You're already getting that from the neighbors.
21. Lil' Grouch

A pretty affordable option that will have your mini Grouch smiling for the first time ever. Works perfect if you can get ahold of a reflective vest for yourself. Image via: costume-works.com
22. The Divas

Uh oh! Here come the divas ready to make their debut! Just for being this fashionable, they deserve TWO pieces of candy! Image via: instagram.com
23. Snail Trail

This one "might take a while" (get it?) but when you're done, you'll be looking the cutest and more adorable of all. Just don't take too long getting to the first house! Image via: facebook.com
24. DIY Dinosaur Costume from Cardboard Box