If you are like most people, you probably aren't quite as busy now as you were this time in 2019. Due to the current pandemic, people have more free time than ever. A great way to fill that time is through designing and creating unique and truly interesting landscaping ideas for your backyard.
Throughout the past few months, more people than ever are getting interested in decorating and designing their yards, with the usage of succulents being the industry-leading plant in use. Succulents are a member of the cactus family and have been shown to create a rural and rustic garden design that is both charming and unique.
Succulent gardens are not only incredibly easy to create but also surprisingly simple to maintain. Unlike other plants, which may need particular types of fertilizers, potting setups, or grades of soil and may only have a set period before wilting, succulents can grow into stunning and beautiful shapes and styles with hardly any water or planting setup. They are the perfect plant for those just getting started in landscaping or who may be prone to forgetting to water or care for their plants. And unlike standard plants and other flowers, succulents, as desert plants, can grow in just about any setting. This means, whether you've got an entire field or just a piece of a dead tree, you can have a beautiful display of succulent plants.
In this article, we've included 55 of the Best Succulent Garden Ideas for 2021. These designs range from rainbow gardens, tiny fountain bouquettes, cascading succulent streams, and various cage displays, among many others. You can try to replicate one of these options, mix and match, or even use them as the foundation to make a whole new design. The choices are endless. Read on and find the one that is perfect for you.
Creating a succulent garden generally follows the same steps:
Begin with your hardscaping of paths and walkways
Then add your drought-resistant plants
Place your largest items (e.g. palms, large cacti)
Then fill with smaller, lower-lying succulents (e.g. agaves, chalksticks)
Tutorial for above projects at: littlepaths.wordpress.com
Image via: designerdreamhomes.ru
Image via: nousdecor.com
Image via: decorateme.com
Image via: statebystategardening.com
Image via: ouraestheticblog.com
Image via: csoadmin.org
Image via: greenmagazine.it
Image via: hgtv.com
Image via: ranchoreubidoux.com
Image via: @mountaincrestgardens / instagram.com
Image via: @succulentsssss / instagram.com
Image via: @succulentsssss / instagram.com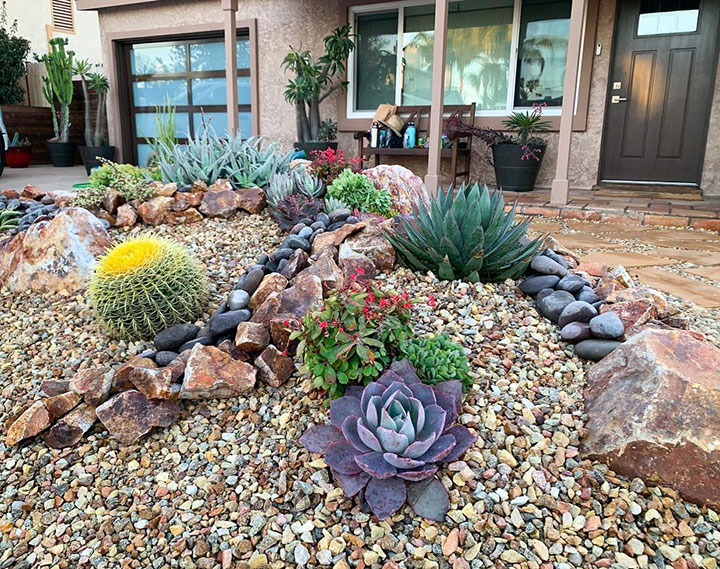 Image via: @seagreenscapes / instagram.com