Mother's day is just a few days away and you probably don't have anything for her yet. Now, that's ok, but that doesn't mean you can't get her "Anything!" It doesn't matter if you're a kid looking to get her something without paying a ton of money or a mother looking to enjoy making a gift with your child for yourself, this guide will help you make this Mother's Day one to remember.
Each of the projects is incredibly affordable to make and can be made by just about anyone. What makes them so special, however, is the fact that they are made with love, care, and thought that a purchased gift simply can't buy.
1. Paper Straw Tulips
Absolutely beautiful, these easy-to-make flowers are perfect for springtimes.  – Check tutorial: iheartcraftythings.com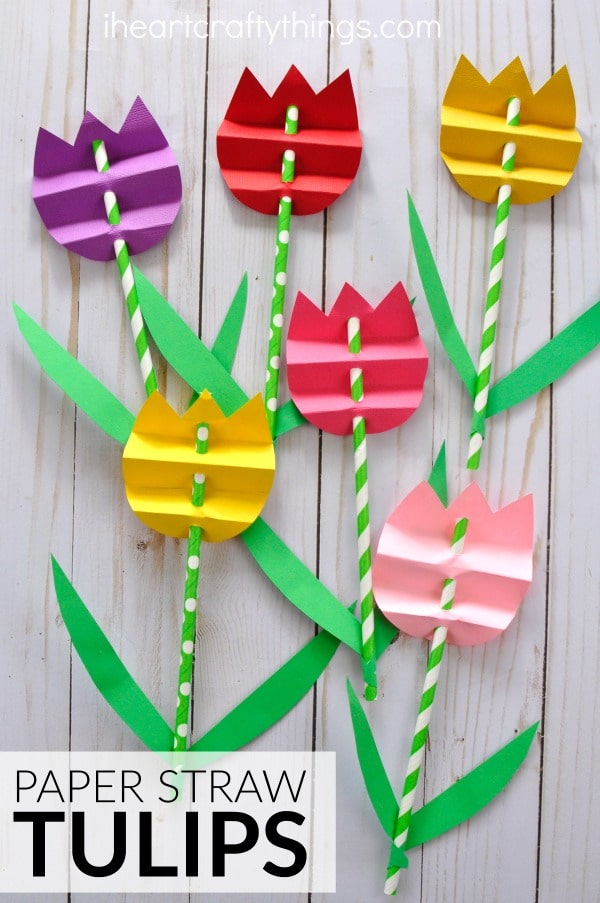 2. Hand & Footprint Flower Vase
A super cute option for those that love to use their hands (and feet!). Just add a little paint to your hands or feet and some scissors to cut out the design, and just like that, you have a great keepsake and a beautiful piece of art. – Check tutorial:  alittlepinchofperfect.com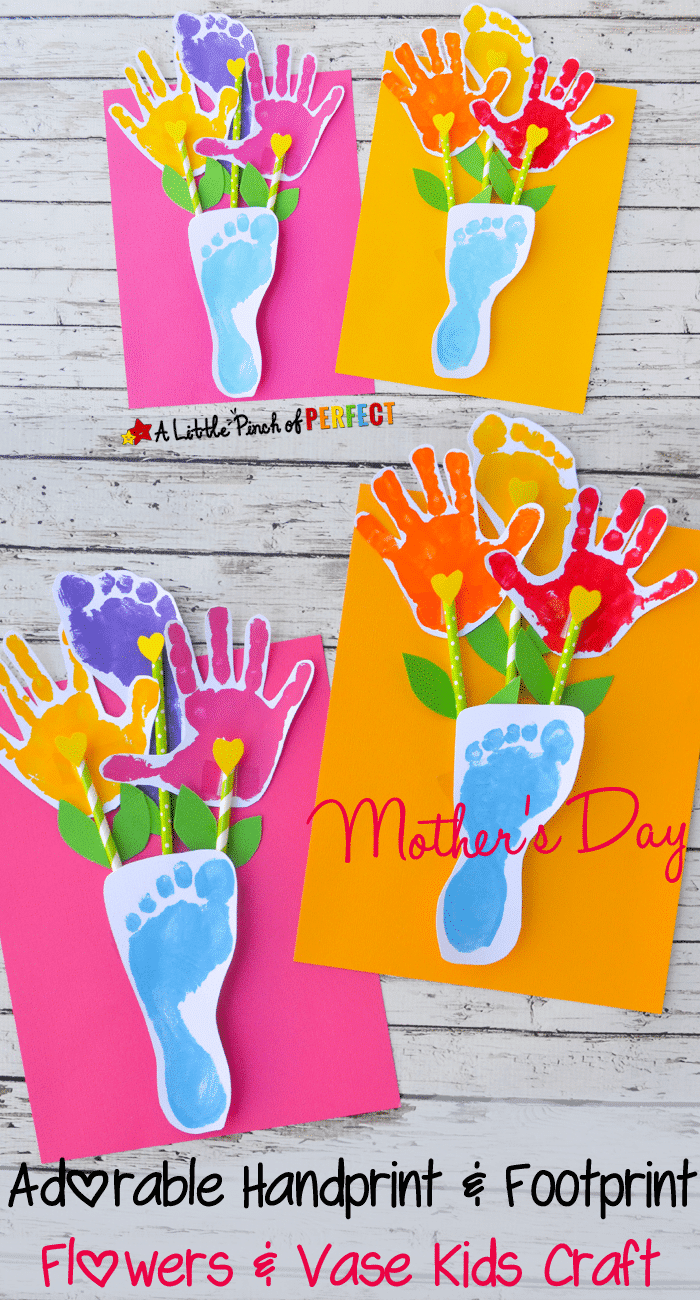 3. Painted Flower Pot
An easy option that works great for gardening mothers. Simply get some paint and a flower pot to create a beautiful design. – Check tutorial:  kcedventures.com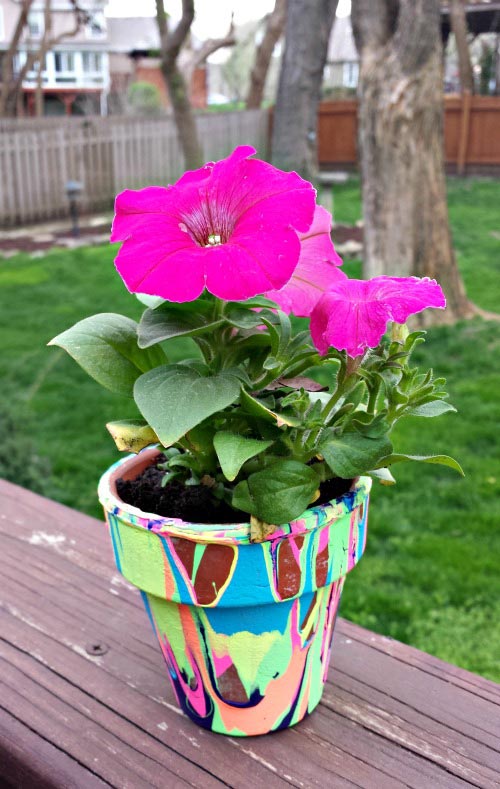 4. Fingerprint Flowers
By using some cupcake liners, a straw, and a bit of paint/glitter with your thumb, you can make the perfect little flower for mom. – Check tutorial:  planningplaytime.com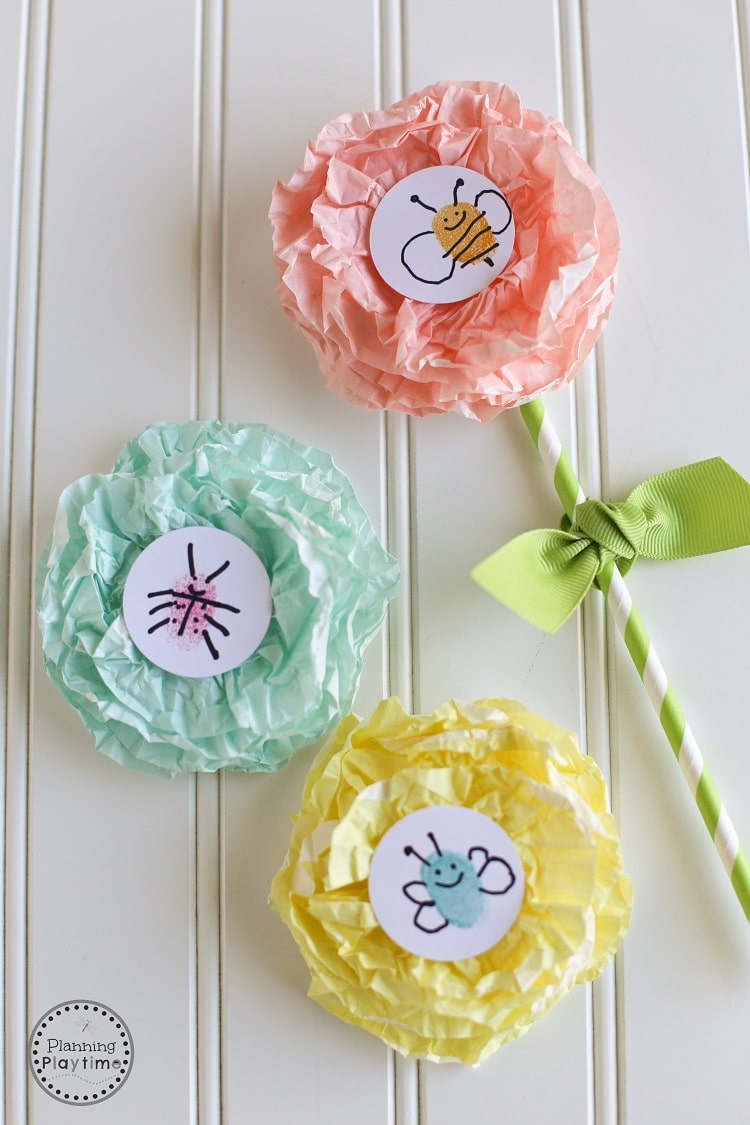 5. Craft Stick Flower Pots
Simply collect a few craft sticks and some string, and you can make a fun and adorable mother's day gift this year. – Check tutorial:  typicallysimple.com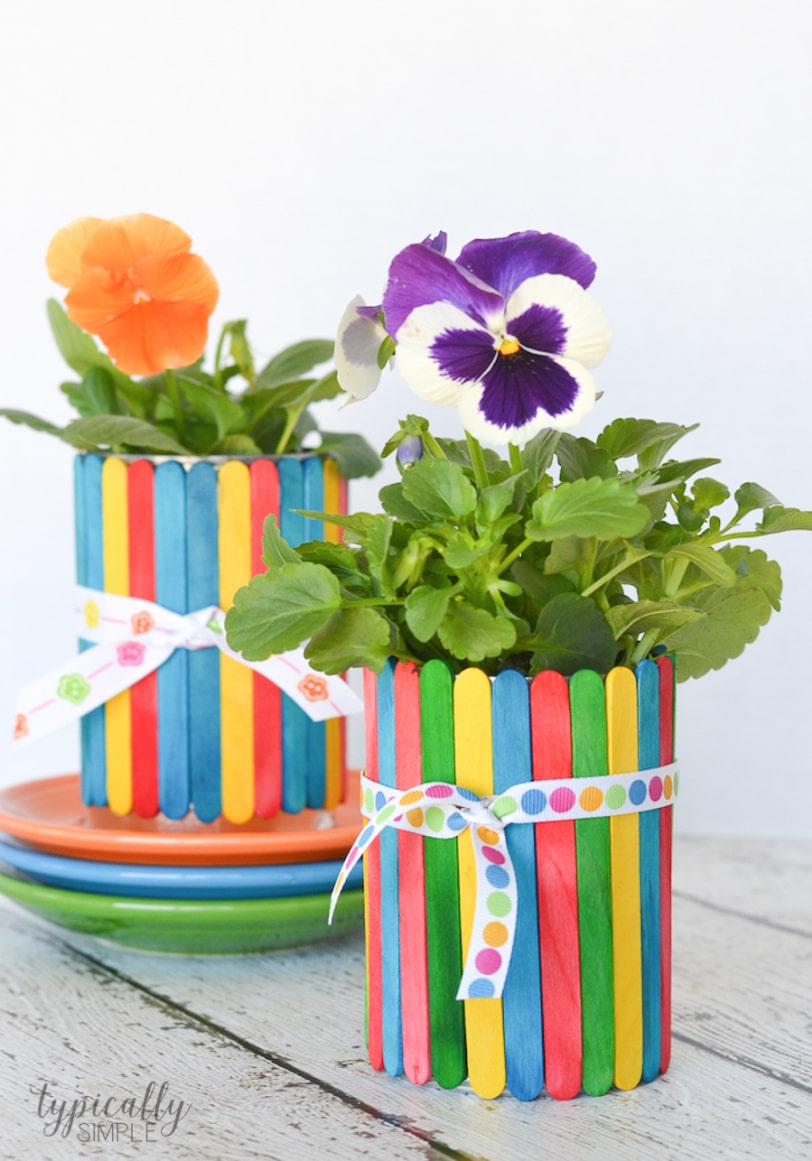 6. My Sunshine Card
A simple message that will make every mother tear up. This card tells her how much you care with a message she won't want to take away. – Check tutorial:  iheartcraftythings.com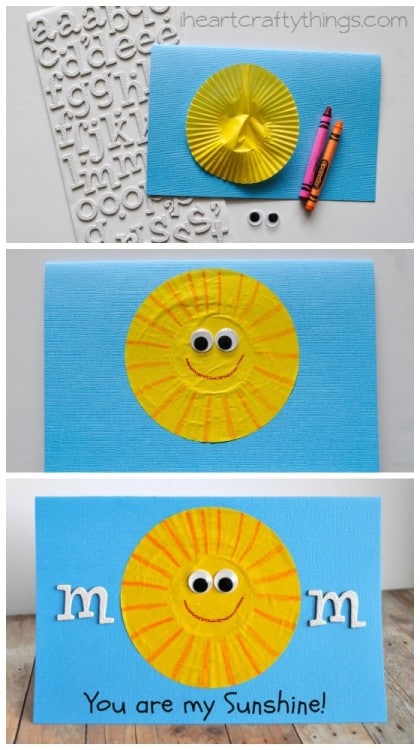 7. 3D Doily Flowers
Perfect for mother's day, this piece of art is something kids can do by themselves depending on how old they are. – Check tutorial:  craftymorning.com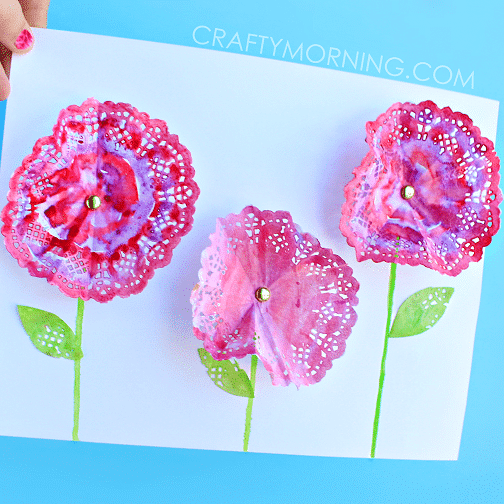 8. Kids Art Coasters
If you ever felt mom complained too much about not putting a drink on a coaster, now's your chance. Make a design she'll absolutely love and never forget. – Check tutorial:  diyanddinosaurs.com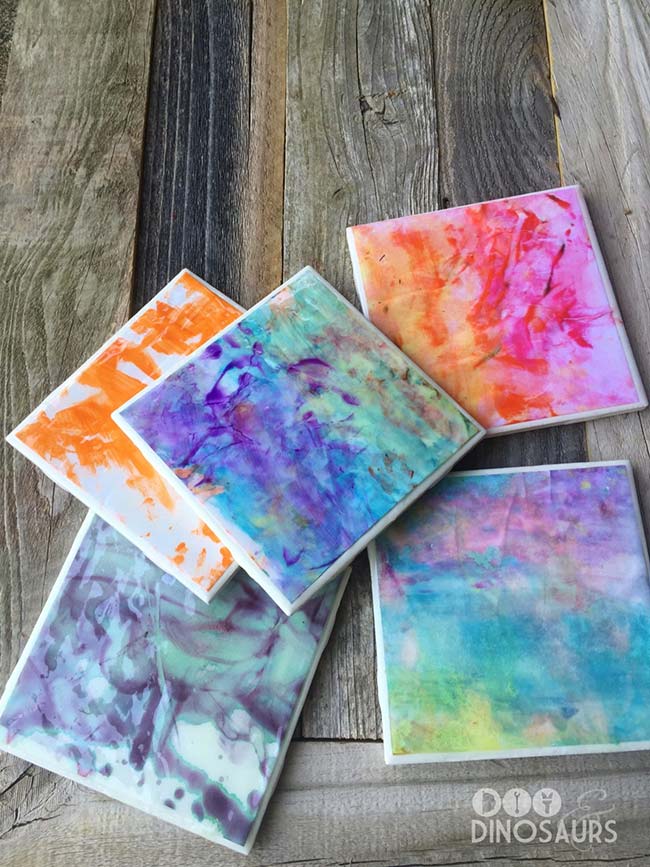 9. Simple Mother's Day Card
If you've got a little one that's just a wee bit too small for the other projects on this list, this option is great and super simple.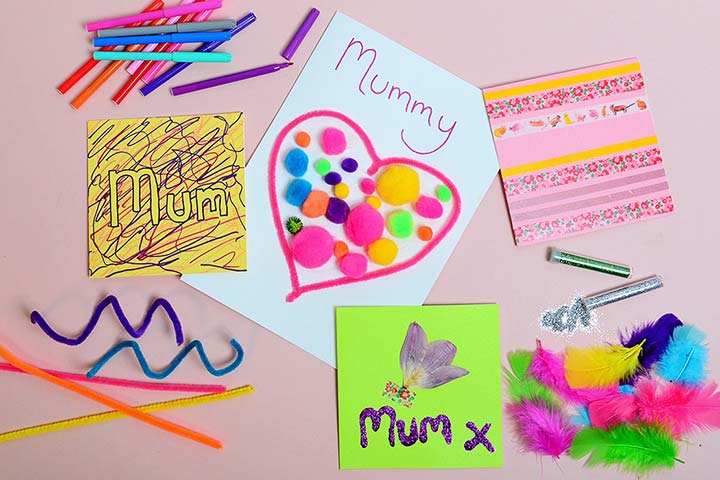 10. Handprint Flower Bouquet
Similar to #2, this adorable option simply requires your hand shape and some glitter before looking amazing. – Check tutorial:  gluedtomycraftsblog.com
11. Mother's Day Perfume
Probably one of the most impressive options on this list. By bottling up some lavender or roses, you can create a pleasant smelling scent that your mother will absolutely love. – Check tutorial:  hellowonderful.co
12.Hand Painted Flower Bouquet
Very similar to #10 but without any scissors required. Simply take some paint and your hand and you're good to go! – Check tutorial:  kindercraze.com
13. Heart Handprint Canvas
Perfect for either Grandma or Mom, this canvas mural can take a handprint from everyone either person knows and bring them together to show just how much they love them. – Check tutorial:  craftymorning.com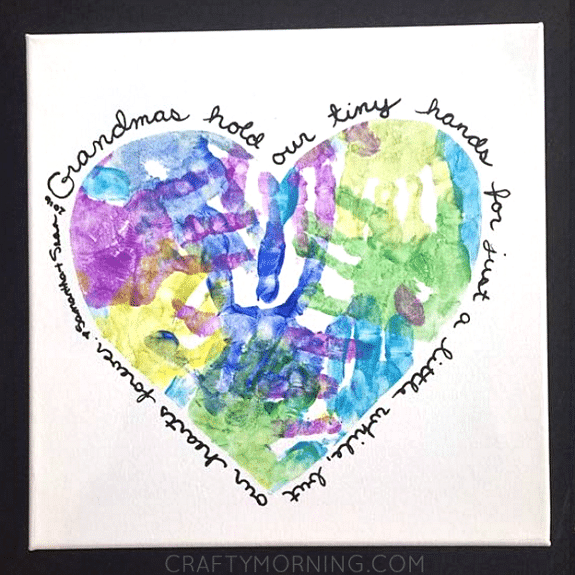 14. Bead Hearts
If you are particularly skilled with designs, this may be something worth trying yourself. Simply grab a few beads and make a heart-shaped design that mom will carry with her wherever she goes. – Check tutorial:  kidscraftroom.com
15. Handprint Plate
Finally, an option for young ones that want to tell momma how much they care. Simply get some paint and a favorite plate and you've instantly got a classic design. – Check tutorial:  gluedtomycraftsblog.com