Halloween is around the corner and most of us are already excited and considering what are we going to do this wonderful, exciting day. However, the COVID19 crisis puts a damper on our plans as we are supposed to be at home, socially distancing!
To make up for it, most of us are compensating by decorating our houses as much as we can ! If you don't want to spend too much money, creating some do it yourself decorations is a great way to not only decorate your house while still staying within budget but also spend a fun, entertaining evening either by yourself or with your family!
If you are looking for some ideas on how to make some beautiful, cute and spooky Halloween decorations for your house, how about creating Halloween decorations from Trash Bags? It is perhaps one of the best ways to make beautiful decorations while staying within budget ! Let's get down to exploring some ideas !
1. Decorate the Flower Pot with the Black Trash Bag to Get a Spooky Look
Tutorial: momendeavors.com
2. Litter the Lawn with Some Body Bag Decor
Source: hauntforum.com
3. Halloween Bats Made From Trash Bags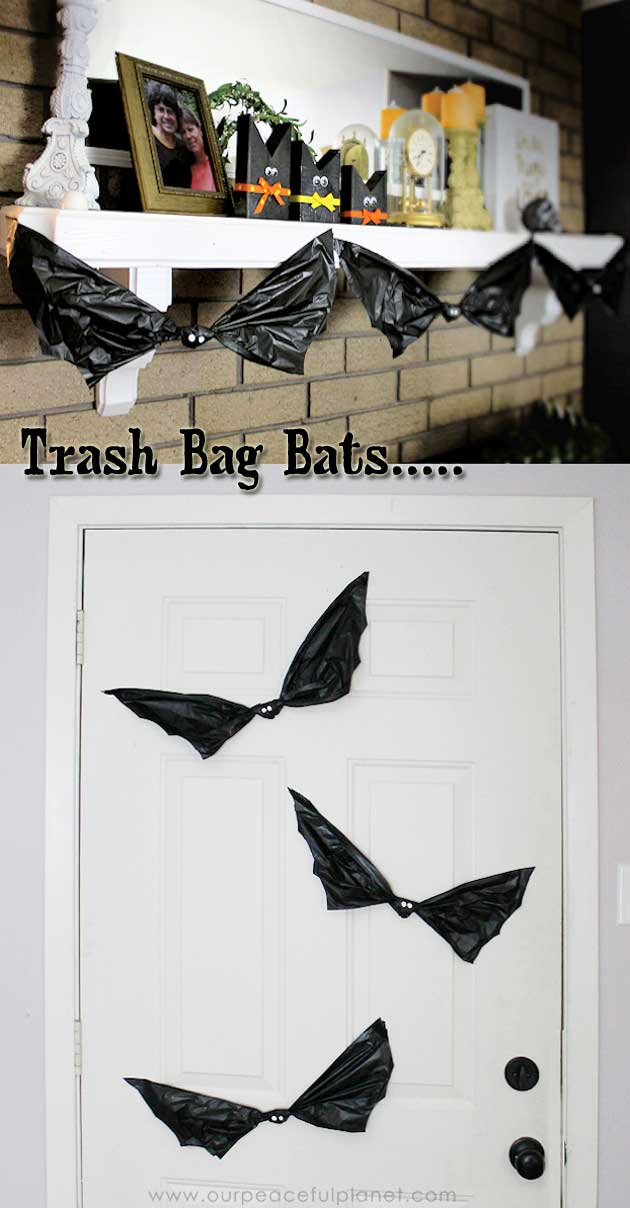 Tutorial: craftyourhappiness.com
4. Trash Bag Witches and The Ring of White Garbage Bag Ghosts
Source: styleblueprint.com  &  pinkpixieforest.blogspot.ca
5. Ghost from White Garbage Bags Appears in the Front Porch
6. Use Newspaper and Trash Bags to Create this Wrapped Corpse
Tutorial: instructables.com
7. Use Thick Black Trash Bags to Really Keep Out the Light
Source: thefullyfedrecipes.blogspot.com
8. Create a Garbage Bags Curtian for Halloween
Source: discuss.micechat.com
9. Gaint Snake Made Out of Trash Bags and Duct Tape
10. Trash Bag Spider Webs
Tutorial: thesitsgirls.com
11. Halloween Witch Was Cleverly Fashioned Out of a Trash Bag
Source: thespruce.com
12. Three Sister Witches Out of Milk Jugs and Black Trash Bags
13. Black Plastic Cut in Strips and Pulled to Create these Awesome Strands
Source: photos-ramblingsofrorikochphotography.blogspot.com
14. Halloween Pumpkins From Trash Bags
Tutorial: thestonybrookhouse.com
15. Giant Trash Bag Spider made from trash bags
Source: signsofmotherhood.blogspot.com  &  facebook.com  &  facebook.com
16. DIY Tin Can Ghost Windsock
Tutorial: chickenscratchny.com
17. Hang These Black Garbage Bag Strips from The Ceiling
18. Skeleton Made of Plastic Bags
Tutorial: instructables.com
19. Fully Stuffed Bags can Make some Fun Looking Ghosts Scattered Throughout the Yard
Source: our-everyday-art.com  &  facebook.com
20. Evil Trash Bags But They Are Also Pumpkins
Source: instagram.com