There's a world of possibility in your kitchen trashcan. You don't necessarily have to dig through old meat and greasy paper towels to make clever use of some "disposable" items you may have overlooked, but maybe if you take a second look at some of the items you regularly throw away you might discover that yogurt container can do more than … hold yogurt. Additionally, you're likely to find that some untapped charm is waiting to shine through a repurposed coffee container, pasta sauce jar, can of carrots, or anything else that formerly went to the landfills without further consideration.
Need more convincing before you reuse empty containers?
Well, do you like saving money? Of course you do – so why not save a few dollars here and there by creating your own storage solutions, garden supplies, tools, decor, etcetera by simply not throwing something out? Don't worry – these ideas won't reek of trash.
1. Water-Resistant Housing – Meal prep containers can help keep extension cord plugs functional for some time to come.
via: familyhandyman.com
2. Peanut Butter Container Bird Feeder – A good ol' jug of peanut butter (the epitomic human-feeder) can feed the lovely birds outside, too.
via: naomimarcus.wordpress.com
3. Biscuit Cutter – What is a biscuit other than a circle of dough? Well, delicious – but seriously, a tin can is all you need.
via: doublenickelfarm.blogspot.com
4. Seedling Beds – Baby food containers can cultivate young humans and young plants. Also, a rotisserie chicken container is a perfect greenhouse.
5. Cupcake Liner Storage – An empty pasta jar is a convenient and eye-catching way to store and display cupcake liners.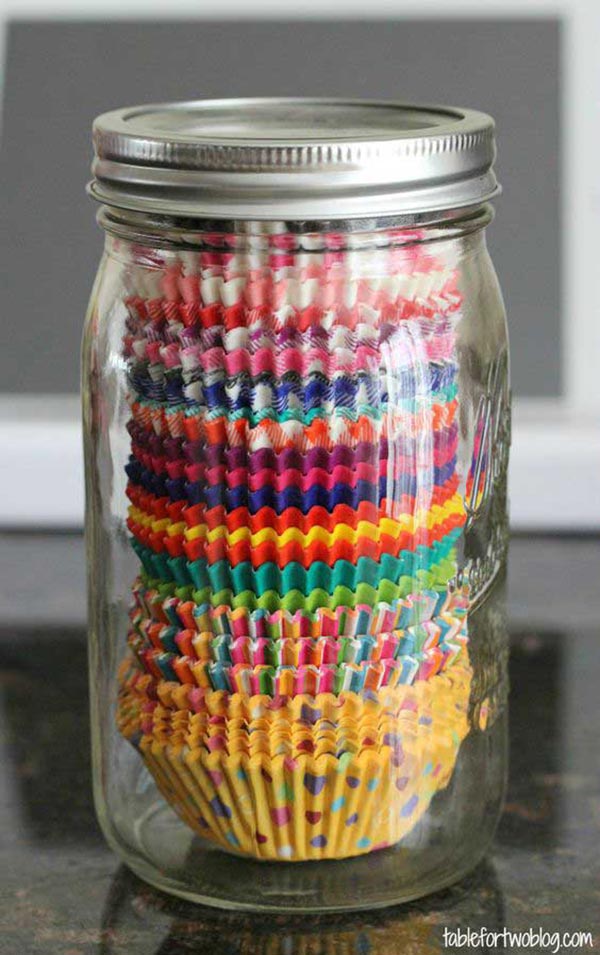 6. Baby Treat Container Bowling Pins – When your baby grows into a toddler, these containers can continue to provide joy. Introduce your young one (or young ones) to the wonderful sport of bowling with easy-to-make pins.
7. Coffee Container Plant Pots – A jug of coffee grounds makes for a perfectly sized vessel for flowers and herbs. Simply coat with non-toxic paint if you want to get rid of the branding.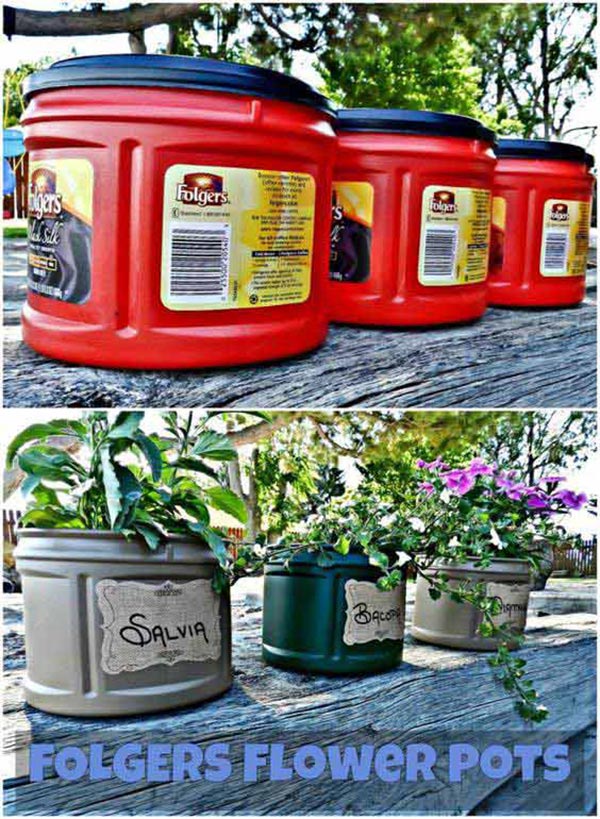 via: afrugaldesteny.com
8. Watering Pot Made of Maple Syrup Jug – After making some small holes at the bottom and an additional hole in the lid, simply remove your thumb to reintroduce air pressure and let the water work its magic.
Instructions: funinthemaking.net
9. Spice Jars – Old food jars still work after made empty once, so turn these kitchen MVPs into spice containers and label them with chalkboard paint.
Instructions: craftymisadventures.com
10. Snack Dispensers – Coffee creamer bottles are designed to dispense creamer, but they can do the same thing for snacks.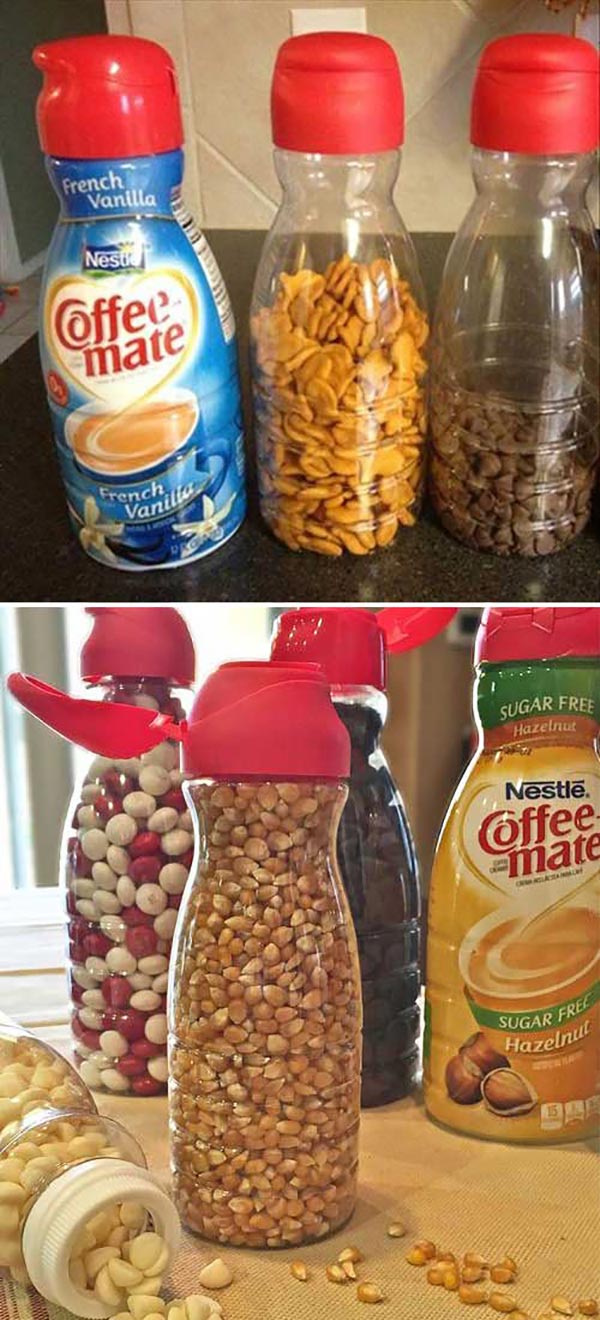 via: frugelegance.com
11. Dispenser Jar Lid – A Morton Salt dispenser lid can be cut and attached to the lid of a jar so you can easily pour other spices as well.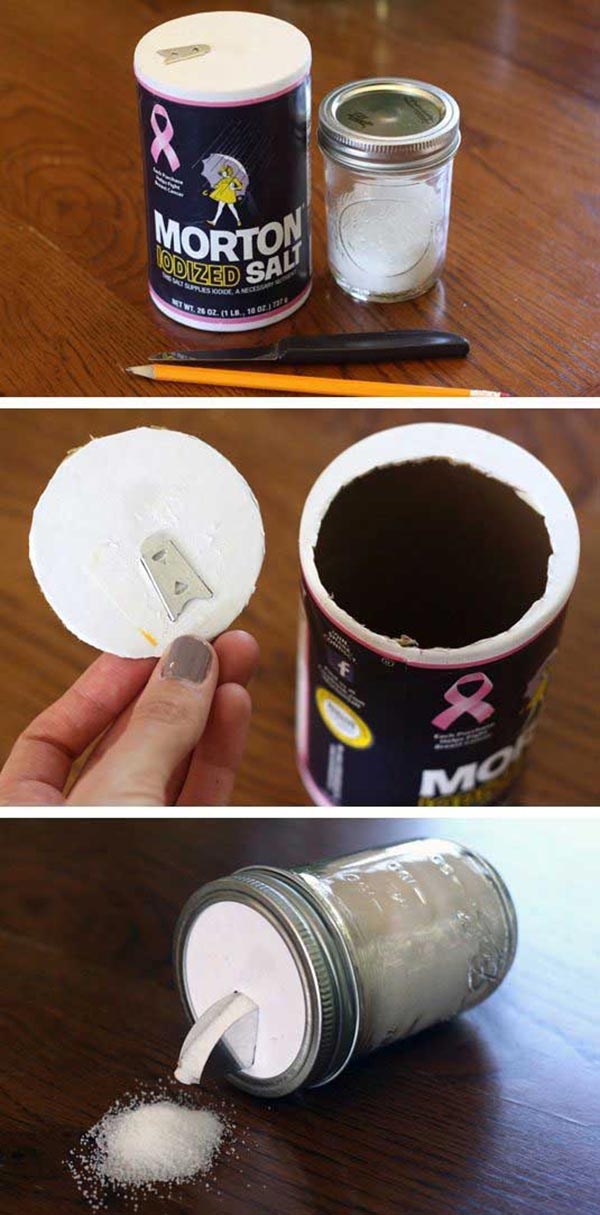 via: putitinajar.com
12. Repurposed Milk Jug: Garden Edition – If you need a garden scoop or greenhouse for seedlings, an empty jug of milk eagerly waits to fill the role.
13. Ribbon Dispensers – Bottled Frappuccinos, once the last drop of sweet and creamy caffeinated goodness is sucked out, are convenient vessels for storing ribbons with a hole drilled in the lid for the easiest access possible.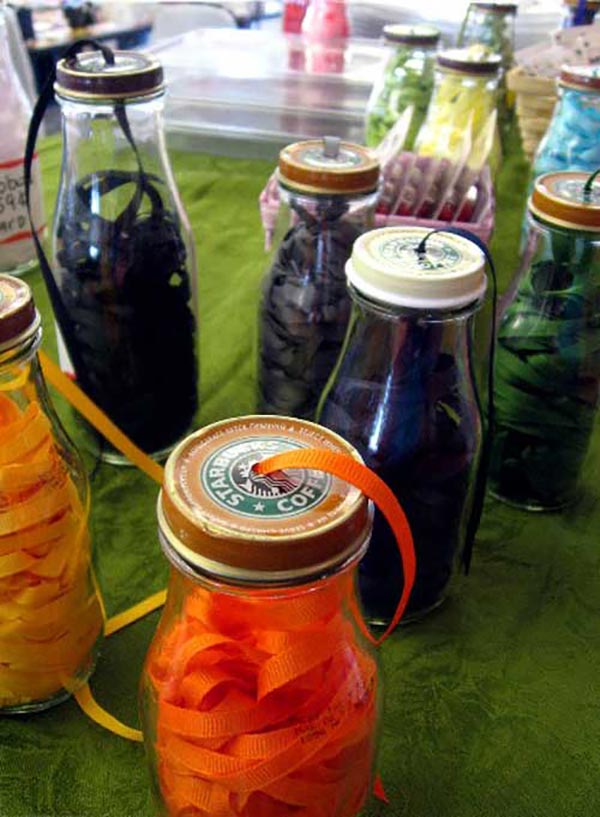 14. Miniature Candles – A twist-off wine bottle cap can be repurposed so that your next bottle may be enjoyed by charming candlelight.
via: recycledawblog.blogspot.com
15. Tin Can Spice Planters – By adding a rustic chalk label, your spices instantly taste better (don't look this up).

Instructions: homeyohmy.com
16. Ultimate Snack Container – Made with an empty mason jar and a fruit cup, you can store crackers in the top with a delicious dip at the bottom.
Instructions: soupspiceeverythingnice.blogspot.com
17. Measuring Container Made from a Yogurt Container – If the label says that there are 4 1-cup servings, you can be pretty sure of an accurate 4-cup measurement.

18. Tin Can Utensil Holders – Once again, tin cans prove their unmatched value. Several may be joined together for a portable silverware storage solution.
19. Repurposed Glass Coke Bottles – If you're in need of some breathtaking Christmas lights or a do-it-all vessel for soap, salt, sugar, and oil, glass coke bottles are here to make your life just a tick better.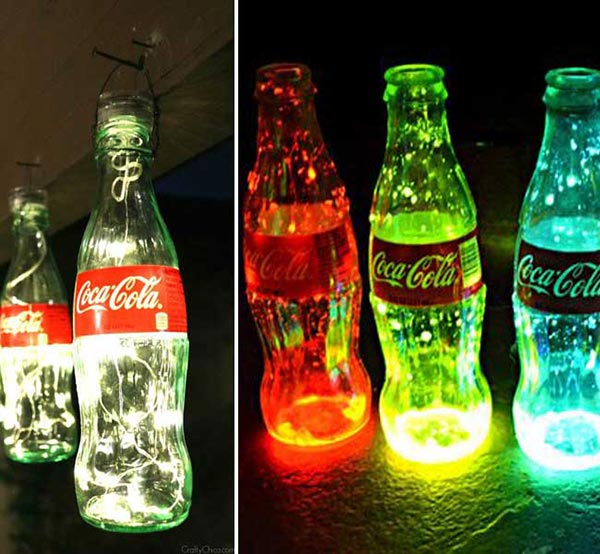 Instructions: craftychica.com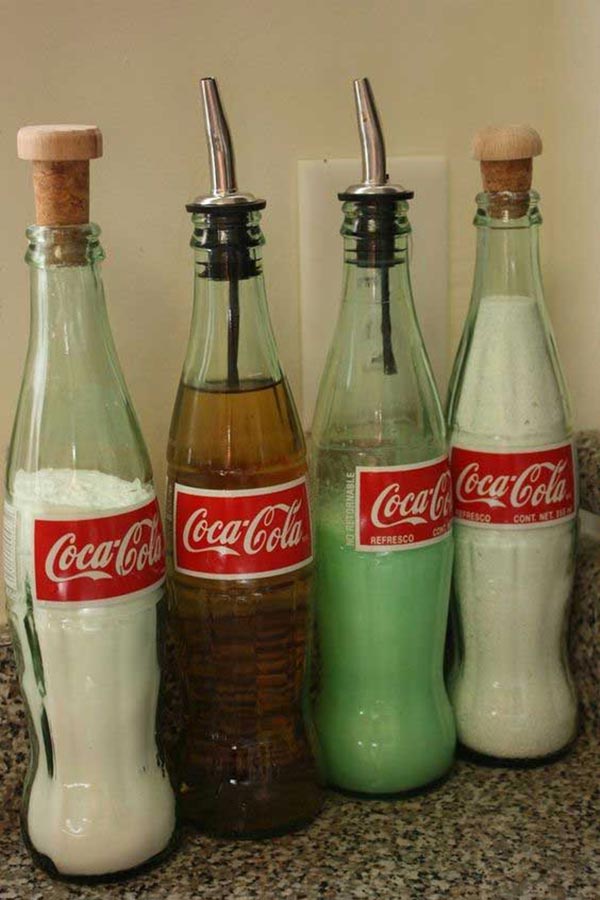 via: nuannaarpoq.wordpress.com
20. Pacifier Containers – Keep them clean and sterile by sealing them in plastic souffle cups.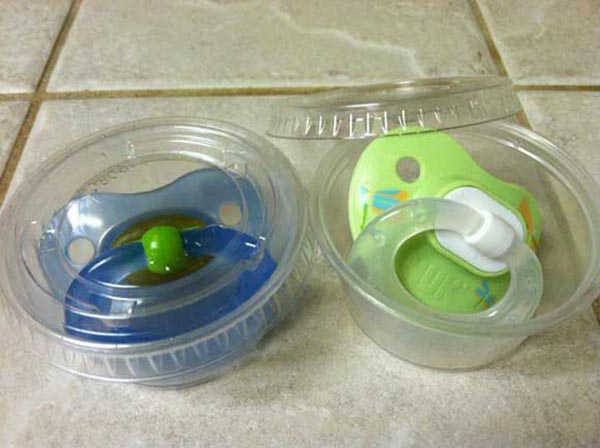 21. Non-Ugly Soap Dispensers – Short of buying a dedicating soap dispenser, an empty glass bottle of olive oil is perfectly suited for dispensing soap in a way that doesn't stab you in the eyes.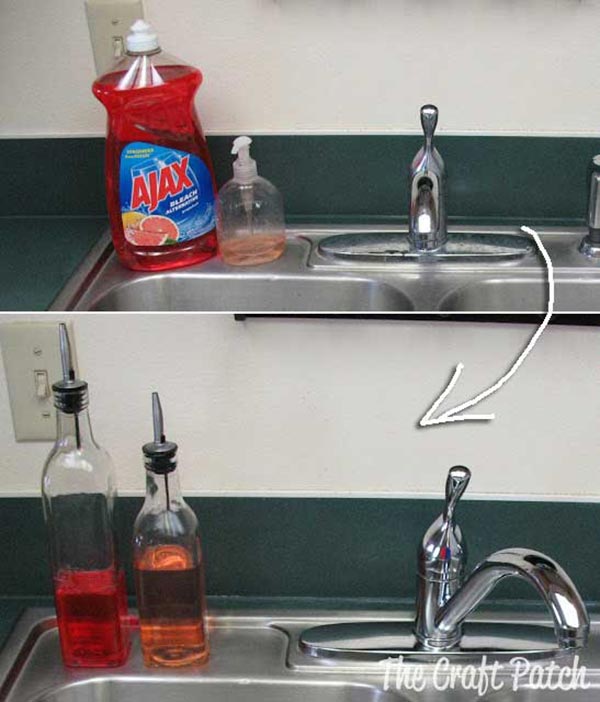 23. Repurposed Water Jug – There is a world of storage possibilities from these things once cut in half and equipped with a handle. Store clothes pins, or really anything else within for an ultra-affordable way to get organized.